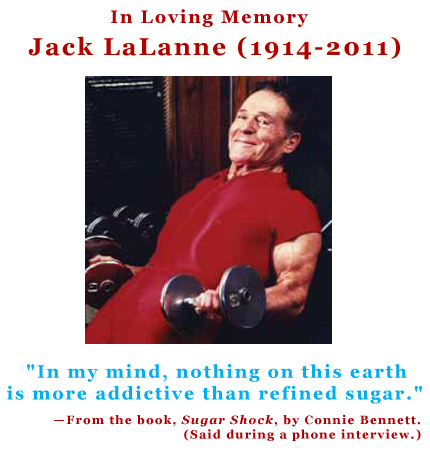 As you'll be able to learn from listening to my Tribute to Jack LaLanne show, what's so remarkable about the Superman-like health legend was not that he lasted into his 90s, but that the energetic, effervescent health aficionado knew how to live well.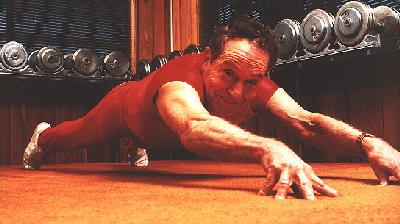 Decades before Americans realized the value of fitness, Jack opened his first own health spa and, of course, he worked out regularly himself -- two hours a day, as he once revealed to me.
What's more, decades before people knew that sugar was bad for you, Jack spurned the sweet stuff. (Actually, people are still waking up to sugar's dangers, which is now keeping me busy.)
More importantly, because of Jack LaLanne's determination to stay healthy, fit and happy, he thrived.
In fact, the idea of "just surviving" or "getting by" was completely foreign to him. I mean, the "Godfather of Fitness" really lived, as I've had the pleasure of witnessing.
Fortunately, in years, since becoming an anti-sugar advocate in 1998, I've had the honor and pleasure of interviewing Jack LaLanne several times.
First, in 2004 or 2005, he took time out for an interview for my book, Sugar Shock.. (For those of you who have my book, please turn to page 139, where you can read his compelling sugar story.)
Granted, I wasn't a close personal friend of Jack's, but from our few times chatting, what struck me about this amazing man was his infectious enthusiasm, his remarkable power to motivate people, his deep-seated joie do vivre (gusto for life), his die hard commitment to a healthy lifestyle, and his profound love and admiration for his wife Elaine (to whom he was married for 51 years).
As I take some time out from writing my next book "Beyond Sugar Shock," to reflect on this magnificent, inspiring man, I've trying to think of how best to pay tribute to Jack LaLanne.
What I've concluded is this: Each and every one of us can and should honor Jack by living gloriously, exuberantly and cleanly, as he did. In other words, fellow Americans -- or people around the world -- let's get off our tushes now. To begin, let's exercise often. No excuse is good enough, as Jack pointed out.
And let's ditch the sugar, which can, to put it bluntly, KILL you if you consume too much of the stuff. (Almost all of you fit into that category, as The Dr. Oz Show pointed out last week.)
For that matter, let me scare you more. Your excess sugar intake can trigger heart disease, type 2 diabetes and cancer so there's a good chance you won't make it anywhere near 96 like Jack. Now, let's all honor Jack LaLanne by making plans to get on a regular workout regimen.
And please, I implore you, also in his honor, get on the White-Out Wagon -- in short, quit the nasty white substance, sugar, that can cut your life short.
You can listen at any time:
Now, I invite you to watch what Jack said about sugar years ago, on his "Jack LaLanne Show."
Thank you, Jack, for inspiring me to help people to follow in the path that you've paved.
Join in the conversation, please. What do you think are Jack's lasting influences?
Connie Bennett is author of the book "Sugar Shock! (Berkley Books). She is now writing her next book "Beyond Sugar Shock: The 6-Week Plan to Break Free of Your Sugar or Carb Addiction & Get a Slimmer, Sexier, Happier, Sweeter Life" (Hay House/Early 2012). Connie is an experienced journalist, former sugar addict-turned Spiritual Sugar Liberator, Sweeter Life Coach, Radio Host (Gab with the Gurus), Certified Life Coach, Certified Health Coach, Speaker and Frequent Media Guest. She is founder of the groundbreaking Break Free of Your Sugar Addiction in 6 Weeks Program. You can listen to the Jack LaLanne Tribute Show anytime, at your convenience.

Related
Popular in the Community