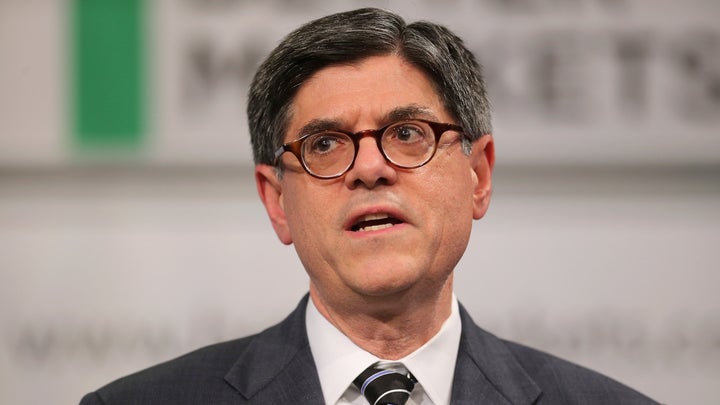 WASHINGTON -- Treasury Secretary Jack Lew on Tuesday warned Congress against attempting to slip financial deregulation efforts into must-pass year-end spending bills, saying he'd advise the president to veto the measures if they did.
In an interview with The Huffington Post, Lew said the Treasury Department is seeking to avoid a repeat of last year's budget standoff, in which top negotiators nearly sparked a government shutdown by packing subsidies for risky Wall Street derivatives trading into a bipartisan budget deal.
"My recommendation to the president would be that if there are legislative measures that will roll back the clock, that would take us back towards where we were before the financial crisis, I would recommend a veto," he added.
With a mid-December deadline approaching for Congress to pass an omnibus spending bill to fund the government, Treasury has been trying to fend off deals packed with Wall Street favors from being inserted into the final language. Officials have met with key lawmakers who will be part of the process, including big bank watchdog Sens. Elizabeth Warren (D-Mass.) and Sherrod Brown (D-Ohio), as well as Chris Coons (D-Del.), the top Democrat on the Senate Appropriations Committee, the key panel responsible for spending decisions.
The lobbying effort, combined with the public veto threats, underscore the aggressive posture that the administration has increasingly deployed with these types of high-stakes spending fights. Early in his administration, President Barack Obama invited negotiations around these government funding bills (as well as vehicles to raise the debt limit). But recently he has stayed away from the negotiating table, arguing that such talks were inherently destructive -- the equivalent of political hostage-taking.
With a year left to go in office, and with Congress simply needing to fill in the details on a two-year budget deal that would end such standoffs for the remainder of Obama's tenure, the president has once more shown little appetite for legislative bartering.
This appears to be especially true for financial reform. Lew was adamant that legislators should not approve of any policy riders rolling back Dodd-Frank, the Wall Street reform legislation Obama signed into law in 2010.
"Our general rule is, it is inappropriate to be putting controversial policy issues into must-pass bills. So we have taken a broad position not to use the process in that way," Lew said. "The thing I wanted to make clear is, just as it was not acceptable to us when there were proposals to repeal Dodd-Frank straight up, it is not acceptable for us to dismantle it piece by piece."
As examples of intolerable riders, Treasury officials have specifically cited legislation that would curb the effectiveness of the Consumer Financial Protection Bureau and bills that would create lengthy delays in efforts to impose tougher rules against major financial institutions. Less clear is whether the department would risk a government shutdown over other financial protections that were not part of Dodd-Frank. A Department of Labor rule that would require financial advisers to act in the best interests of their clients, for example, has the backing of the administration, which estimates that Americans lose $17 billion a year to conflicted retirement advice. But it also is the target of congressional critics who point to research financed by the mutual fund industry suggesting the rule would increase the cost of financial advice to low-income people.
Listen to the most recent HuffPost Politics podcast episode here: 
Calling all HuffPost superfans!
Sign up for membership to become a founding member and help shape HuffPost's next chapter