 WASHINGTON -- Last summer's debt ceiling negotiations demonstrated how political inhibition can often arise even in the face of economic catastrophe. But it also helped define the players with the most clout within both President Barack Obama's administration and the congressional Republican leadership. And in his new book on those negotiations, the Washington Post's Bob Woodward routinely comes back to one such player.
White House Chief of Staff Jack Lew has been an unassuming figure during the Obama years. His media appearances are dull; his presentation is a bit bookworm-ish -- as if Harry Potter grew up and replaced his magic wand with Excel spreadsheets. When he speaks, the tone is usually measured and unemotional.
Behind the scenes, however, Lew has proven to be Obama's most skillful consigliere in matters of political trench warfare. Time and again during the debt ceiling debate, as Republicans attempted to get the administration to bend on top domestic priorities, it was Lew who proved to be a stick in the mud. Then serving as Office of Management and Budget Director, his insistence on playing out the practical impact of those cuts irritated Republicans to no end.
"What is infuriating to Republicans is that no one knows the federal government, the budget, these policies, better than Jack Lew," Kenneth Baer, a former senior adviser to Lew, told The Huffington Post. "Just as I imagine it would be frustrating to hit batting practice off Sandy Koufax."
Below are just a few excerpts from Woodward's book, "The Price of Politics":
[Brett] Loper [House Speaker John Boehner's policy director] found Lew obnoxious. The budget director was doing 75 percent of the talking, lecturing everyone not only about what Obama's policy was, but also why it was superior to the Republicans'.

[Barry] Jackson [Boehner's chief of staff] found Lew's tone disrespectful and dismissive.

Lew was incredulous when he considered the Republican proposal as a whole. The changes they were considering sounded simple. But the speaker's office was laying down general principles and looking to apply them to extremely complex programs. The devil was always in the details.
Boehner was sick of the White House meetings. It was still mostly the president lecturing, he reported to his senior staff. The other annoying factor was Jack Lew, who tried to explain why the Democrats' view of the world was right and the Republicans' wrong.

'Always trying to protect the sacred cows of the left,' Barry Jackson said of Lew, going through Medicare and Medicaid almost line by line while Boehner was just trying to reach some top-line agreement.
[Ohio Governor John] Kasich called [economic adviser Gene] Sperling at the White House, suggesting that he meet with Boehner. Lew, he said, did not know how to get to yes.

Sperling realized it was not a compliment that they wanted him. It essentially meant, 'Lew's being too tough. Can we get Sperling?'
Lew's wonky stubbornness during those negotiations didn't make him a progressive hero. In private caucus meetings, congressional Democrats laced into him for keeping them out of the loop and placing sacred cows on the negotiation table. But it did establish Lew as a true hub of power within the administration, and it showed that he, perhaps more than any other top adviser, had Obama's ear.
"I was in many meetings," Sperling recalled in an interview with The Huffington Post, "where Jack would say, clear as a bell, 'Mr. President, I think we can accept this. I'd have to go through all these little tiny cuts and stuff.' And the president would say, 'Jack ... you know my values. I trust your values.'"
For someone in a position of immense power, Lew remains a difficult figure to pin down philosophically. His youth was spent in New York City where -- as a June 2011 Politico profile noted -- he rallied against the Vietnam War and touted the import of immigration and public housing while serving as the editor of his high school newspaper. At Carleton College, his faculty adviser was Paul Wellstone, then a political scientist and later a famously liberal senator. Lew worked with Rep. Bella Abzug (D-N.Y.), another unapologetic progressive, before gravitating towards more moderate, establishment ground. He went to work with Rep. Joe Moakley (D-Mass.) and then took a job with House Speaker Tip O'Neill (D-Mass.).
Along the way, his view on D.C. politics changed. "[T]here's a space in Washington that is not deeply populated, which is a bridge between the highly technical and the political," he would tell Politico. "[I]f you could be fluent in both worlds and respected enough in both worlds, you could have an opportunity to be a translator and to make a difference."
Those who worked with him during that time period recall a type of pragmatism that seems antiquated today.
"It was a much different world, with a lot of collegiality amongst the Senate and House, the Republicans and Democratic staff people," said Lynn Sutcliffe, chief executive officer of EnergySolve, LLC, who worked with Lew while general counsel of the U.S. Senate Commerce Committee. "It was the art of the possible, not the art of promoting oneself or your boss' re-election."
Lew's work would prove influential in forging the famed Social Security deal made between O'Neill and Ronald Reagan in 1983. And when he departed the Hill in 1986 to join the lobbying shop that Sutcliffe once helped run, it was an important enough development to merit a small item in The New York Times.
Lew returned to government during the Clinton years, gradually rising to the ranks of OMB Director. He packed in long hours six days a week, taking off every Saturday to observe the Sabbath (he is an Orthodox Jew), honing the type of negotiating acumen that would prove useful for Obama. In talks with House Republicans, Lew would use fluency in economics -- despite not being an economist -- and a mastery of budget details to essentially out-will the president's priorities into legislation.
"What makes him a tough negotiator is not that he can't get to yes or that he's some kind of bulldog," Sperling said. "What makes him a tough negotiator is he knows his stuff so well ... He negotiates well by being a master of the detail."
In the Obama administration, Lew has been comfortable working largely in the shadows. His predecessor as OMB Director, Peter Orszag, matched his budget expertise with a sharp media savviness. His two predecessors as chief of staff, Rahm Emanuel and Bill Daley, were veritable celebrities.
Lew stepped into that position after the high-profile budget and debt ceiling fights of 2011 had passed. But aides and friends stress that he's been handed heavy tasks: not just managing a White House with half of its focus on the reelection campaign, but also restoring damaged relations with congressional Democrats.
"[Senate Majority Leader Harry] Reid didn't know much of Jack Lew until he started having to deal with him because he couldn't trust Daley," said Jim Manley, Reid's former top spokesman. But once he did, a strong relationship was established. In a private meeting shortly after the debt ceiling deal was concluded, it was Lew who helped convince attendees that the final legislation wasn't such a bitter pill.
"Democrats soon became comfortable with it because he outlined the blow back or ping pong effect that would occur," Manley said. "He knew his facts cold. And he knows his stuff better than Boehner and just about anyone else on Capitol Hill."
Still, it's tough to tell what type of ideological imprint Lew has had on the administration. Aides credit him and Sperling with scoring major victories during the government shutdown debate in the spring of 2011 and the debt ceiling debate later that summer. House Republicans left the former thinking they'd secured $100 billion in savings, only to discover, upon closer inspection, that it was $32 billion. The $1 trillion sequester included in the debt ceiling deal included defense cuts, while leaving out top Democratic priorities like Medicaid (in one late-stage phone call with Republican aides, Lew screamed down attempts to make that program part of the trigger).
But in each instance, the broader debate was waged on Republican terms: additional stimulus spending took a backseat to deficit reduction. One Lew confidant said that Lew personally views himself as a progressive, despite having a reputation as a Clinton-era, new Democrat budget hawk. Sperling would only describe him as someone who straddles, if not outright ignores, the labels and lines.
"I've worked with Jack a large part of my adult life and I mean, he is what you see," he said. "He is very serious about deficit reduction but he operates from core progressive principles. In other words, he is not the type of person who either lets conservatives pressure him into backing down on basic issues of fairness, but on the other hand, he is never beholden to litmus tests from progressive groups that he does not believe are reasonable from a policy context."
Before You Go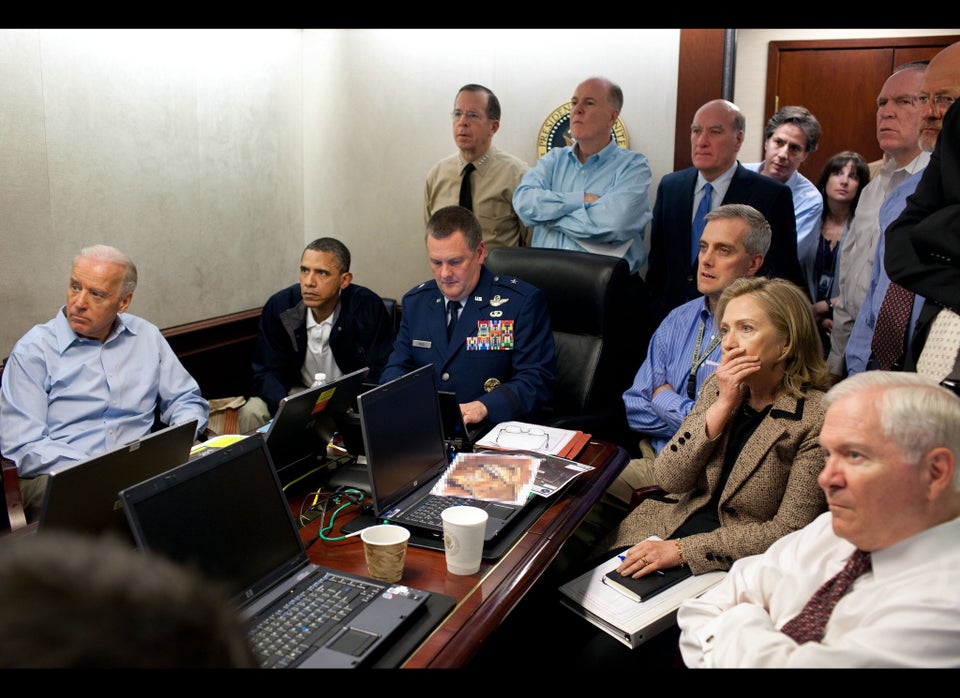 Most Iconic Photos Of Obama's First Term
Popular in the Community