 The chatter in Washington and on Wall Street is that White House Chief of Staff Jack Lew is the favorite to replace Treasury Secretary Timothy Geithner in President Obama's second term. The decision could disappoint critics hoping for a dramatic change in the administration's approach to banks.
Throughout Obama's first term, Geithner has been constantly criticized as looking out for the interests of Wall Street over Main Street, particularly for what some critics say was his opposition to mortgage relief for underwater homeowners out of concern for bank profits. Lew seems likely to be less of a lightning rod than Geithner, who is the protege of bank-deregulator Robert Rubin. Lew is widely seen as a smart, tough negotiator and an able public servant.
But his professed lack of expertise in financial regulation, along with his own tenure at Rubin's old firm, the original too-big-to-fail bank, Citigroup, has raised warning flags among critics. They fear a Lew Treasury might not aggressively push back financial industry efforts to water down the Dodd-Frank financial-reform law or keep an eye out for the next financial crisis.
"He is very bright and has the capacity to be an honest broker," said University of Maryland law professor Michael Greenberger. "But I think it would be better to have more than an honest broker. [We need] someone intimately familiar with what went wrong in 2008 and what's gone wrong since then. Those are, for the American economy, life-or-death issues."
Lew, who previously ran Obama's Office of Management and Budget, is known in Washington as a top-notch negotiator who understands federal spending like few others and who can make difficult decisions in order to cut a bipartisan deal. Lew's reputation was forged in the Clinton administration, where he played a pivotal role in the negotiations that resulted in Clinton's historic 1997 Balanced Budget Act.
To Beltway insiders, Lew's appointment as Treasury Secretary would be taken as a sign that Obama intends to prioritize budget and tax policy negotiations in his second term, in spite of a fiercely divided Congress.
"Jack has experience negotiating balanced budgets with a Republican Congress, and he'd bring that to bear on anything he worked on," said Michael Barr, a former assistant secretary of the Treasury for Financial Institutions under Obama who worked with Lew in the Clinton administration.
One potential upside of a politically neutral pick, like Lew, for the top job at the Treasury is that it could provide some cover, politically speaking, for the appointment of more progressive candidates to lead specific agencies reporting to Lew. If this were the case, potential beneficiaries include Gary Gensler, chairman of the Commodities Futures Trading Commission and a strong proponent of derivative trading regulation, and former FDIC chairwoman Sheila Bair, whose recent book, "Bull by the Horns: Fighting to Save Main Street from Wall Street and Wall Street from Itself" leaves little doubt as to where she stands on financial industry regulations.
Lew is also generally seen as somewhat more palatable to critics on the left than some other candidates, such as deficit hawk Erskine Bowles and BlackRock CEO Larry Fink.
Lew does have some experience in the banking sector: a brief stint at Citigroup, ending in late 2008, as chief operating officer of two now-defunct units at the bank, Citi Global Wealth Management and Citi Alternative Investments. The Huffington Post reported in 2010 that CAI, which included Citi's proprietary-trading desk, hedge funds and private equity, made money on the housing collapse, betting against subprime mortgages.
There is no crime in that, and Lew's role at both Citi units was running the back office -- not managing investments. But Lew's time at Citigroup, particularly serving the very proprietary trading -- betting with the bank's own money -- that the Volcker Rule of Dodd-Frank seeks to prohibit, also has reform advocates worried where Lew's loyalties will lie.
"The Treasury Secretary should be somebody whose feet are firmly planted on Main Street," said Bartlett Naylor, a financial policy advocate at Public Citizen, a nonprofit reform advocacy group. "Lew's feet are much closer to Wall Street."
"He's not viewed as hostile to the business community, like most policymakers are," the banker told the National Journal. "From an industry standpoint, we could do a heck of a lot worse."
At the same time, Lew has also suggested that he has not thought deeply about matters of financial regulation. During his Senate confirmation hearing for his OMB chairmanship in 2010, Bernie Sanders (I-Vt.) asked Lew if he thought the deregulation of Wall Street had contributed to the financial crisis. Lew's answer was disturbing to some reformers.
"Senator, I don't consider myself an expert in some of these aspects of the financial industry," Lew replied. "My experience in the financial industry has been as a manager, not as an investment adviser.
Lew went on to say that he didn't think Wall Street's problems had all that much to do with deregulation, including the removal of barriers to creating too-big-to-fail banks such as Citigroup. Instead, Lew said he thought the financial crisis was due mainly to derivatives and too much leverage.
"I don't believe that deregulation was the proximate cause," he said, adding, "I would defer to others who are more expert about the industry to try and parse it better than that."
To some, these are not the sorts of answers you'd like to hear from the man who, as Treasury Secretary, would sit at the helm of the Financial Stability Oversight Council, charged with keeping an eye out for risks in the financial system.
"Somebody who can't answer that question, to me that sends up red flags," said Greenberger of the University of Maryland. "I think too little importance is being placed on having a steady hand to ensure the economy does not sink into a systemic risk problem."
Related
Before You Go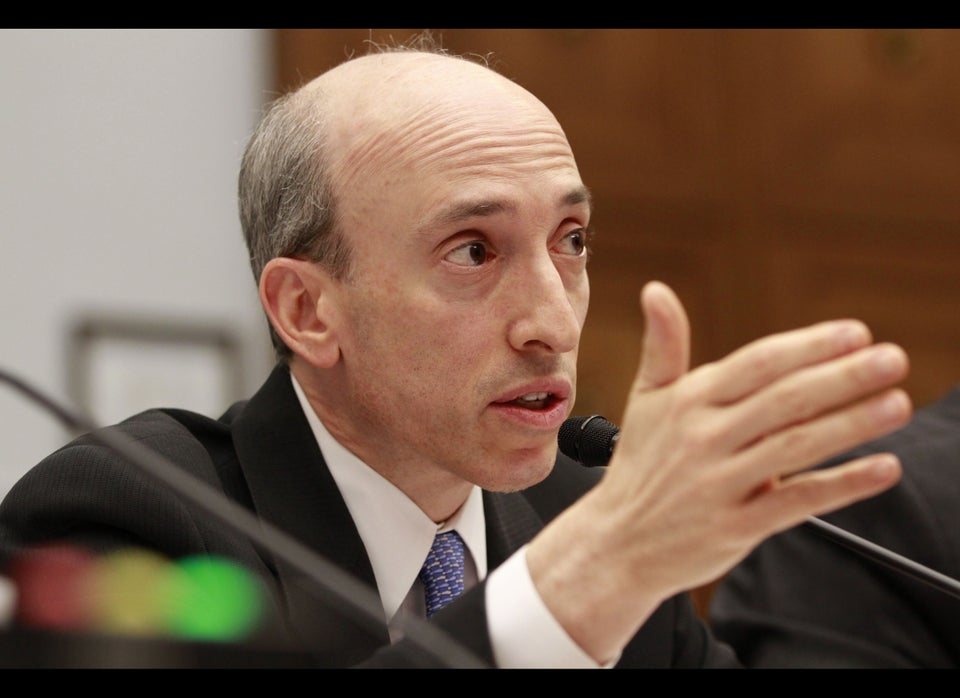 Wall Street's Amazing Revolving Door
Popular in the Community