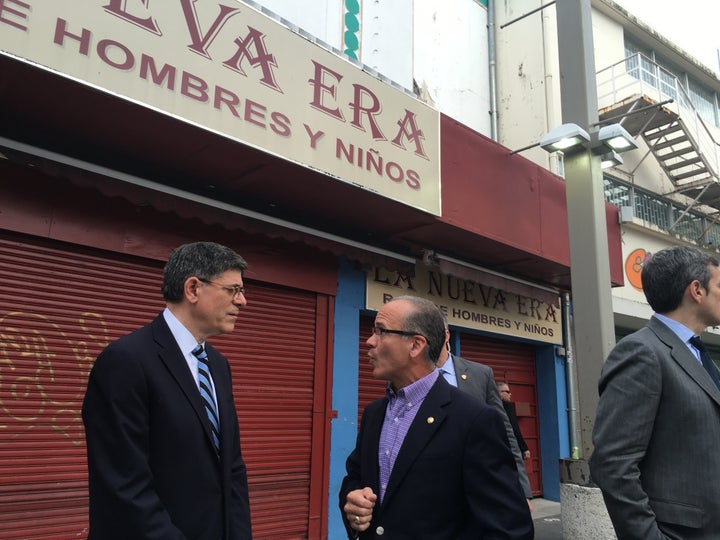 SAN JUAN, Puerto Rico -- Prospects for the deeply troubled commonwealth of Puerto Rico only stand to get worse if the U.S. Congress doesn't intervene, Treasury Secretary Jack Lew argued during a trip to the island on Monday.
Lew visited the island for the day to draw attention to its crumbling education, health care system and economy. Puerto Rico is facing $70 billion in debt that it cannot pay.
As the House returns from a brief recess this week, Republicans are poised to unveil a third draft of legislation that would establish an oversight board to help the Puerto Rican government restructure its debt and craft a broader economic recovery plan.
Previous drafts failed because they didn't get enough votes to be carried out of committee. Partisan divisions also haven't helped: Conservatives haven't supported any of the drafts because they say the legislation leans too heavily toward a bailout, and Democrats are wary of giving the oversight board too much authority.
Lew's visit lent a sense of urgency to that legislation, and put pressure on lawmakers. But it remains to be seen if they will act expeditiously.
Locks bolted every door on the Paseo de Diego Pedestrian Corridor, a once-thriving strip where vendors fought for space, as Lew and his staff walked to a meeting with local business leaders. José Vazquez Barquet, president of Puerto Rico's Chamber of Commerce, explained that nearly 80 percent of the businesses in the shopping mall are now shuttered -- an impact of the debt crisis, which has forced islanders to leave in numbers not seen in 50 years.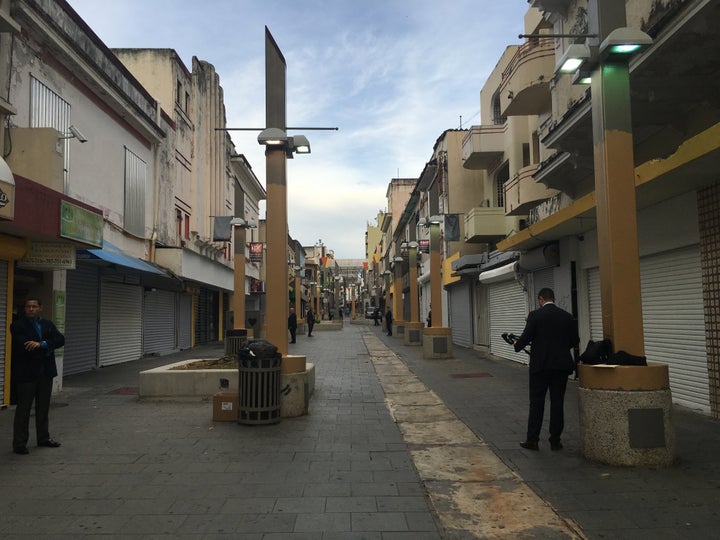 Much of the debate in Washington has taken a financial focus, as those opposing any kind of restructuring legislation argue it would be "unfair to Puerto Rico's creditors." Last year, Lew explained, lawmakers were able to shrug off Puerto Rico's dire state of affairs because the commonwealth avoided crises -- even if just barely -- until November. It used such tactics as diverting money from pensions to pay near-term bills, but that's not possible anymore.
"I don't think it's helpful to anyone to pretend that there's not a crisis," Lew told reporters after touring San Juan. "It's important to know when you're no longer at the beginning, but well in the middle of a crisis."
Throughout the day Lew met privately with local business leaders, members of Puerto Rico's legislature and Rep. Raul Grijalva (D-Ariz.), the ranking Democrat on the House Natural Resources Committee.
With a 45 percent poverty rate -- plus a 56 percent poverty rate for children -- and dwindling public services, many residents can't afford to stay and are migrating to the mainland (84,000 people moved in 2014 alone). This has also only further hurt the economy.
Antonio Weiss, counselor to Lew, told the House Natural Resources Committee earlier this year that Puerto Rico's situation was not only a fiscal and liquidity crisis, but would turn into an "humanitarian one as well."
While visiting the Eleanor Roosevelt Elementary School, Lew saw the crumbling and unsanitary conditions that children must deal with every day. The restrooms didn't have toilet paper or soap. Fans and open windows provided the only respite from the 80-degree weather outside. Termites infected classroom walls.
Lew asked a kindergarten teacher if conditions had always been this poor, or if the deterioration was recent. She told him the problems had increased in the past year.
"Here in Puerto Rico, due to the crisis that we inherited, this is an everyday job of borrowing [from] Peter to pay Paul," Puerto Rican Gov. Alejandro Garcia Padilla told reporters when he joined Lew at the school.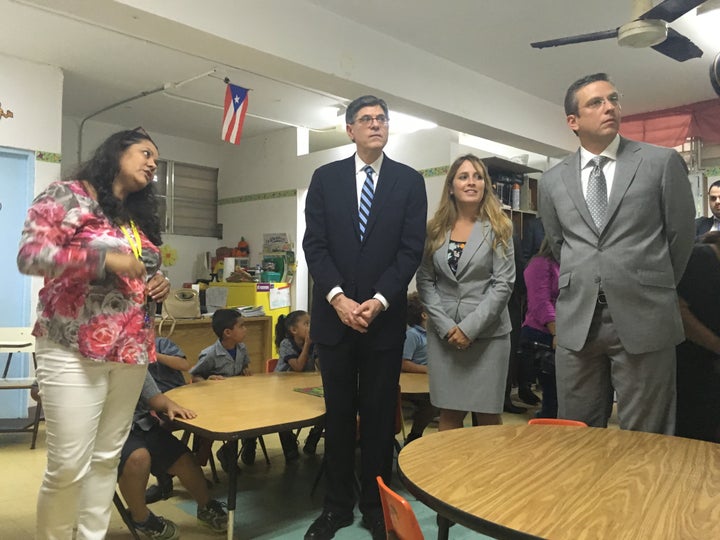 The secretary visited three more classrooms, including one filled with fourth-graders, according to a pool report. Teacher Elizabeth Claudio pointed to the room's one electrical outlet and said it isn't possible to run laptops, TVs and fans simultaneously. And if multiple classrooms try to run several appliances at once, the electricity will go out.
"You all keep doing your work, and we'll keep doing our work to help you," Lew told the kids on his way out.
Lew's trip to the island, which is home to 3.5 million Americans, was meant to shift the focus from more technical details of the debt crisis to the personal. But the government, creditors and retirees are still facing a struggle.
Retirees in the commonwealth who invested their pensions in Puerto Rico bonds have argued that previous drafts of the House bill would allow stateside bondholders to be paid back first.
"There's going to have to a be a balance of the interest of creditors and those who get the retirement benefits," Lew said.
"There's not going to be a Puerto Rico" if conservatives on the fence about the bill insist creditors must be paid before anyone else, he added.
That's why Lew has argued for an oversight board that would have the discretion when working with the local government to make tradeoff decisions.
"If the economy of Puerto Rico collapses even more, if the retiree income isn't in the economy, if people leave the island because they are not willing to work for a system that doesn't pay any benefits, how is that going to help all the bondholders?" Lew said.
The Treasury has worked closely with Republicans on the House Natural Resources Committee, but Lew said he hasn't seen the version that is set to be released Wednesday.
Congress has dragged its feet for some time on debt relief legislation, and has gone back to the drawing board after coming close to agreements. Lew said he hopes things will be different this time, even if it's only because time is running out.
"I hope Congress does not, as it sometimes does, try to find that last possible moment and miss it," Lew said.
July 1 is one of the largest debt payment deadlines Puerto Rico has faced so far -- $2 billion. And that's on the heels of defaulting on a nearly $400 million payment on May 1.
"What happened on May 1 was just bigger than anything that could be ignored, and what's coming in July is five times as large," Lew said. "It's ratcheting up, and what we saw today is that the crisis is immediate in terms of real life."
Popular in the Community