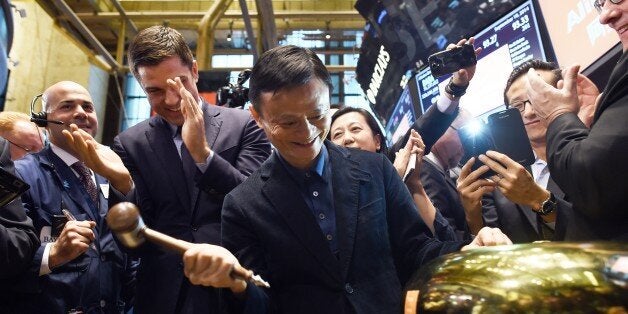 A year ago, few outside of China knew the name Jack Ma. Today, he's the most sought after man at Davos. The founder and face of Alibaba Group, "the Steve Jobs of China," the richest man in Asia -- Ma's appellations are as numerous as the industries he is conquering.
Alibaba Group is a sprawling Internet empire that took on some of America's leading online titans -- and won. Its consumer-to-consumer platform (Taobao) routed then-goliath Ebay, and its business-to-consumer megastore (Tmall.com) dominates Amazon. Alibaba has ventured into mobile payments, cloud computing, social media, and is now testing streaming international content. The company is second only to Walmart in global transactions, and its $25 billion initial public stock offering last fall was the largest in history.
Jack Ma spoke with Charlie Rose at Davos.
On Friday, Ma sat down with Charlie Rose at the World Economic Forum for a conversation that ranged from Ma's rejection from a job at KFC to his philosophy in dealing with the Chinese government.
What makes Ma so beloved in China, and around the world, is the scrappy charisma he exudes. In a country where connections are king and orthodoxy is rewarded, Ma and his company took a grassroots approach that has completely revolutionized commerce in China.
Alibaba gave upstart entrepreneurs a platform (and sometimes funding) to connect seamlessly with consumers, pulling the rug out from under entrenched industry giants that used mammoth capital and government connections to monopolize commerce. Ma's approach also has empowered traditionally marginalized groups in China -– disabled citizens or inhabitants of "Taobao villages," who now have a lifeline to tap into the country's growing wealth.
In the interview, Rose describes Ma's life as "a testament to the idea that nothing is impossible." Matching dropout-turned-billionaire lore of Silicon Valley, Ma described failing the college entrance exam, being rejected by the local police department, and finally being turned down at KFC. Having taught himself English by guiding tourists around his hometown, Ma spent years as a language teacher before falling in love with the possibilities offered by the Internet.
Despite having no technology background, Ma prophesied early on that his company would defeat Silicon Valley juggernauts like Ebay and Yahoo.
Those prophetic words would be borne out over the next 15 years, as Alibaba went from apartment scheme to the single most important and innovative company in China. Looking ahead 15 years, Ma sees Alibaba creating a world in which e-commerce is omnipresent.
"Compared to 15 years ago, we are big. But compared to 15 years later, we are still a baby," Ma told Rose. "I hope in 15 years people will forget about e-commerce because they'll think it's like electricity -- no one thinks it's high-tech today."
Looking at Ma's success in China's strictly regulated digital sphere, Rose asked Ma if this was possible only through a cozy relationship with the government.
When I "started the business, I told my people and team: [Fall] in love with the government, don't marry them -- respect them," Ma said. "A lot of people say, well, the government officers are talking about the Internet, the censorship and this that … I think it's an opportunity and responsibility, talking to them to tell them how the Internet can help."
Ma said his empire has grown to having over 100 million buyers on its site each day, and has directly or indirectly created 14 million jobs. Those are numbers sure to pique the interest of Chinese bureaucrats, who for years have struggled to turn the country away from reliance on heavy industry and toward a nimbler, more innovative and consumption-driven economic paradigm.
Logistics companies have been overwhelmed by the deluge of packages during Alibaba's biggest annual sale: Singles Day.
Small businesses have thrived on Alibaba platforms, and Ma claimed to be leading a revolution that will realign global markets and institutions.
"We can build up a what I call … an e-WTO," Ma said, referring to the World Trade Organization. "WTO is great for the past century, but it helps so many big companies sell things across nations. Today the Internet can help so many small business sell things across the oceans across the nations."
He went on to cite the example of entrepreneurs who have thrived by selling Washington state cherries and Alaska seafood in China. He said he now aspires to serve 2 billion customers globally.
Rumors have been flying about Alibaba's interest in connecting with Hollywood studios on streaming content. But when queried by Rose on his ambitions in that arena, Ma was cagey, preferring to wax poetic on his admiration for one of Hollywood's most beloved characters.
"I watched the movie in my friend's home -- 'Forrest Gump.' When I see him I say, 'This is the guy we should learn from!' Believe what you're doing, love it, whether people like it or don't like it -- be simple."
Related