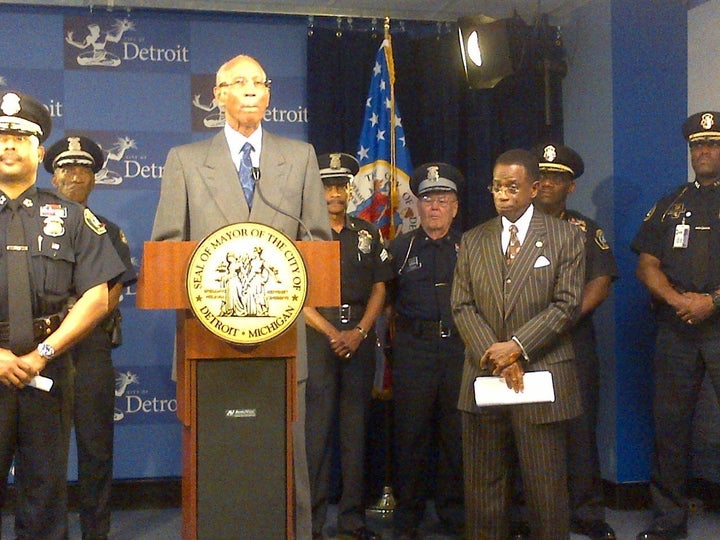 DETROIT -- Mayor Dave Bing on Thursday appointed Jack Martin the new chief financial officer for Detroit, a position required by the city's financial stability agreement with the state of Michigan. That landmark agreement, designed by a financial review team with input from the mayor, the Detroit City Council, the state treasurer and the governor's office, created the CFO job, as well as several other city administrative posts and mandates on budgeting and labor contracts.
Martin is a certified public accountant who founded Martin, Arrington, Desai & Meyers, an accounting and business consulting firm. He served as CFO of the U.S. Department of Education under President George W. Bush.
As Detroit CFO, Martin will have considerable power over operations as the city struggles to reach benchmarks set by the consent agreement. He will oversee the implementation of a budget that Bing hopes will bring the city enough surplus to start paying down its debt, albeit through a huge number of layoffs and major cuts to every city department. The mayor said Thursday that eliminating 1,800 jobs will save the city $100 million.
"These are aggressive reductions," Bing said. "We are being very aggressive in implementing our deficit reduction plan in the most responsible way possible to maintain the city's core services for our citizens."
Martin will join Detroit's yet-to-be-named project management director and nine-person Financial Advisory Board in overhauling the city's finances. He will be paid $220,000 per year.
He lives in Bloomfield Hills, a Detroit suburb. Critics have argued that the consent agreement is ushering in new, non-resident leadership for Detroit, and the City Council appears stymied in its efforts to find Detroiters to serve on the Financial Advisory Board.
"If anything, the experience with the review team having been there and talked with many of the leaders in the city gives me a much greater grasp of the level of the depth of problems," he said.
I believe that as emergency manager, I can be most effective if I communicate frankly with all District stakeholders; the mayor, school board members, city council, parents, teachers, union officials, students and citizens.
While he may keep the same "open door" policy he maintained in Highland Park, Martin on Thursday said he wouldn't focus simply on Detroit's bottom line.
"Most of discussion regarding the financial stability agreement focuses on deficit elimination, but equal concern and work must focus on fixing quality-of-life issues, which are causing citizens to leave the city of Detroit," he said. "The city cannot simply cut its way out of our current financial predicament."
Related
Popular in the Community