 When 30 Rock officially wrapped production back in December, it saddened sitcom fans to think that they weren't going to be able to see Kenneth Parcell anymore. But as it turns out, no one's going to miss this perpetually cheerful character more than Jack McBrayer, the talented comic actor who portrayed that NBC page for the past seven years.
"Playing Kenneth was one of the best jobs that I've ever had. So having to say good-bye to that character as well as all of my 30 Rock castmates made for a very emotional end of last year," McBrayer revealed during a phone interview earlier this week.
Mind you, what helped Jack get through this particularly difficult period was -- just as 30 Rock was winding down -- McBrayer was out promoting "Wreck-It Ralph," that Academy Award-nominated Walt Disney Animation Studios production which was just released on Blu-ray & DVD this Tuesday. Not to mention working on a brand-new animated series for the Disney Channel, Wander Over Yonder.
"A lot of what made Kenneth so much fun to play was that the writers on 30 Rock really enjoyed writing for that character. Which is why they kept creating all of this great material for me to perform over the years," Jack continued. "And the folks at Disney Animation did the exact same thing with Fix-It Felix Jr. They created this really great character with all sort of layers that I genuinely enjoyed doing the voice for."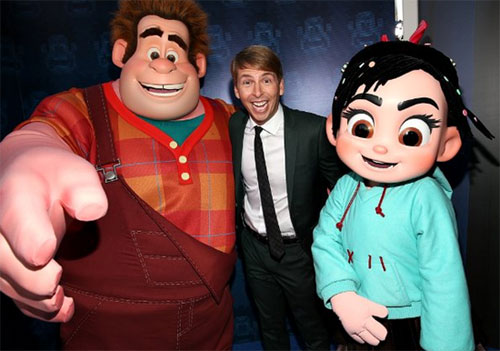 McBrayer was quick to point out the parallels between Kenneth Parcell and Fix-It Felix Jr. In that both of these characters were basically sweet, somewhat single-minded, hard-working nice guys who were kind of oblivious to what was going on around them.
"That's why I really have to commend Rich Moore (i.e. the director of Wreck-It Ralph) and Phil Johnston (i.e. the screenwriter of this animated feature). It would have been so easy to make Fix-It Felix Jr. like a lot of the other Disney Villains. That seemingly nice guy who's later revealed to have a dark side and a hidden agenda," Jack explained. "But to have Felix actually be what he appeared to be, a nice guy, and then have this character's eyes opened to the way things really are as he & Sergeant Calhoun begin game-jumping together, that's some really good writing."
Speaking of Sergeant Calhoun, one of McBrayer's favorite moments when it came to working on Wreck-It Ralph was when he got to be in the recording booth at the same time as Jane Lynch & John C Reilly, his co-stars on this Disney animated feature.
"Jane and I are both Second City vets, though we weren't in that improv company at the exact same time. So we both have this love of interacting with another performer, of feeding off of someone else's energy," Jack said. "And John C Reilly, he's one of the funniest guys on the planet. So just having him say something innocuous like 'Pass the salt' was enough to set me off in the recording booth."
Of course, one of the perks of being in a brand-new Disney animated feature was that McBrayer finally found a way to impress his six year-old nephew.
"I actually took him along with me when they held the premiere of Wreck-It Ralph in Hollywood back in October," Jack smiled. "I'm not entirely sure my nephew understood what was going on at the time. But he did seem to enjoy the movie."
In the future, McBrayer hopes to introduce his nephew to some of the other animated characters that he's been voicing for the Mouse House. Chief among these is Irving, Phineas & Ferb's biggest fan on that long-running series for the Disney Channel & Disney XD. Not to mention the title character of that yet-to-premiere TV show, Wander Over Yonder.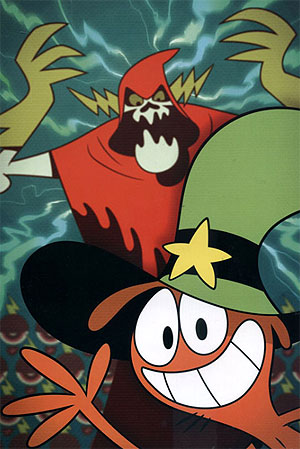 "You have to understand that I'm not just some guy who voices characters in animated movie and TV shows. I'm also a huge animation fan," McBrayer explained. "And there's just something about the shows that Craig & Lauren produce -- the style of animation, their character design, the quality of the writing -- that really appeals to me."
So much so that -- back in the early days of 30 Rock -- Jack requested a meeting with the McCrackens. He remembers the three of them getting together for lunch at some place in the Valley.
"I didn't even know that Wander Over Yonder was in the works at this time. I just put myself out there," McBrayer continued. "I told Craig & Lauren that I absolutely loved what they did. That -- if they were ever looking for an actor to come voice one of their characters -- that all they had to do was call."
As it turns out, Jack didn't have to wait all that long before he got a call from the McCrackens, You see, Craig had this idea for a new TV series about an overly-optimistic intergalactic traveler called Wander. Who (as his name suggests) wanders from planet-to-planet with his trusty steed Sylvia, helping citizens of the universe learn to have fun and live free.
"The writing on this show is so great. Wander is such a fun character to voice and his design is so trippy," McBrayer enthused. "Plus the people I'm working on this show are some of the very best voice actors in the business today. We've got April Winchell voicing Sylvia and Tom Kenny voicing Peepers, one of Lord Hater's watchdogs. It's a great, great cast."
Which isn't to say that -- if the rumored Wreck-It Ralph sequel which Walt Disney Animation Studios is supposedly developing were to be greenlit tomorow -- that Jack wouldn't be willing to step away from voicing Wander for a little while to go record some new dialogue for Fix-It Felix Jr.
"I'd love to find out what that character is up to these days. Now that (SPOILERS AHEAD) he and Calhoun are married, I wonder who it is exactly that wound up wearing the pants in that family," McBrayer laughed. "Of course, I wondered the same thing as 30 Rock was winding down. Whether Kenneth was really going to be happy running NBC."
But for now, McBrayer seems relatively at peace with the path that his career seems to be taking these days. Having closed the door on 30 Rock, Jack's genuinely looking forward to seeing where all of the voicework that he's been doing on Disney's Wreck-It Ralph, Phineas & Ferb and Wander Over Yonder may take him in the future.
"What all my years in improvisation taught is that -- if you're going to grow as a performer -- you have to try some new things. You've got to be willing to take a few risks," Jack concluded. "And when you're working with animation directors like Rich Moore and Craig McCracken, what's great about these guys is -- after you've recorded the lines as written -- they're always the ones who ask 'Do you have anything to add? Do you have any ideas that you'd like to try?' Those are the times that I live for in the recording booth. When I get to try new things and see what happens next."
Jim Hill is an award-winning entertainment writer who lives in New Boston, NH. Over the past 30 years, he has interviewed hundreds of veterans of the animation & themed entertainment industry and written extensively about The Walt Disney Company.
Jim is currently working on a behind-the-scene history of the development & construction of Disneyland. For his more immediate musings on movies, TV shows, books and theme parks, please check out his blog, jimhillmedia.com.
Related
Popular in the Community