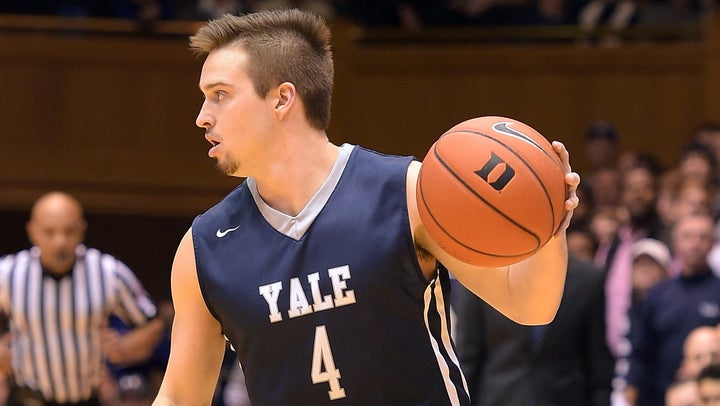 The captain of Yale's resurgent men's basketball team, Jack Montague, was expelled from the school in February after a university investigation into a sexual misconduct complaint, according to reports in the Yale Daily News and The New York Times.
A sexual misconduct claim was filed against Montague in November 2015 with Yale's University-Wide Committee on Sexual Misconduct, the Daily News reported, citing sources familiar with the facts of the case. According to the student paper, that body decided to expel Montague in February, and refused to hear an appeal.
Montague, who helped lead Yale toward its first NCAA Tournament berth since 1962, last appeared in a game for the Bulldogs basketball team on Feb. 6. On Feb. 10, his student status was changed to "withdrawn." The school's athletic office confirmed in late February that Montague would not return to the team; Montague's father told the New Haven Register that he had been expelled.
"We have strict orders from our lawyers," Jim Montague told the Register. "Soon enough, I'd love to tell the other side of the story. It's ridiculous, why he's expelled. It's probably going to set some sort of precedent. We're trying to do things the gentleman's way, so we're keeping things close-knit. But you guys will get a story."
Rumors have swirled around campus that a Yale student had filed a sexual assault complaint against Montague, particularly after posters appeared in campus buildings urging the men's basketball team to "Stop supporting a rapist." The posters followed the basketball team's Feb. 26 game against Harvard, when multiple Yale players donned tributes to their absent captain during pre-game warm-ups.
There were no police reports filed around the incident with either the New Haven or Yale police departments, according to previous reports.
Instead, it's possible that the incident was dealt with entirely within the University-Wide Committee on Sexual Misconduct, which handles Title IX sexual assault and misconduct complaints involving Yale students. 
In an email to The Huffington Post, a Yale spokesperson declined to confirm the reports, citing the Family Educational Rights and Privacy Act to say that "Information pertaining to a student's withdrawal from the university is maintained as part of the student's confidential educational record."
Calling all HuffPost superfans!
Sign up for membership to become a founding member and help shape HuffPost's next chapter
BEFORE YOU GO