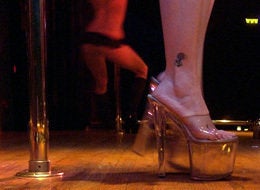 We're sure it can be confusing to illustrate to students how Platonic and Hegelian ethics can be applied to business. But La Salle University professor Jack Rappoport to the task to a new level by by hiring strippers to give him and his students lap dances in class.
For a $150 admission fee, students earned credit in the College of Professional and Continuing Studies, as well as extra credit in the professor's School of Business classes. The symposium's subject, the students say, was the application of Platonic and Hegelian ethics to business.

As part of the lesson, they say, three dancers, dressed in bikinis and/or miniskirts and high heels, had already arrived when the approximately 30 students (two of whom were female) entered the classroom. During the course of the presentation, lap dances were administered to willing students -- and even Rappaport -- while he lectured.

The strippers were "doing their normal job," as one student put it.

About 45 minutes in, the lecture was broken up by Paul Brazina, dean of the business school. The university then launched "full scale investigation" into the incident and Rappaport was suspended.
Rappaport has a history of blending extracurricular interests with his academic subject matter. As the Philadelphia Inquirer reports:

On the website RateMyProfessors.com, students described him as everything from "great instructor" to an "easy A," with one student remarking in a review from 2004:

"Extremely strange man. Loves gambling, horse racing, and strip joints. Talks about all of the above all the time.
It remains unclear how, exactly, the strippers were supposed to illustrate Platonic and Hegelian ethics. If you have a guess, let us know in the comments section.
Popular in the Community