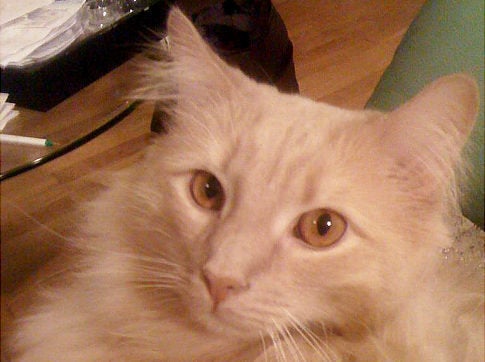 UPDATE: 9/2/11: The search continues for Jack the Cat, who was lost at JFK airport during the Hurricane Irene travel craze. American Airlines has expanded the scope of its operation to help reunite owner Karen Pascoe with her pet.
AA brought in a pet search-and-rescue specialist who searched the airport with a scent-tracking dog. The airline is also working on having a pet Amber alert issued to broaden the search efforts to include the surrounding community.
Also listed among the efforts:
Employees continue to walk the area
Posters have been placed in employee break rooms, on bulletin boards, and throughout AA's JFK facility.
An alert has been posted electronically, visible to employees from all departments.
Airside equipment, such as bag carts, is being inspected.
Video footage from the immediate and surrounding areas has been under review.
All airlines at JFK have received a flyer with a request for assistance.
Representatives from the Port Authority, including a Wildlife Management representative, have provided recommendations and humane traps, made patrols and distributed information.
American has consulted with the Mayor's Alliance Society for NYC to set up Have-A-Heart humane traps that have been placed throughout the area.
Daily briefings are occurring to review progress and generate ideas for locating Jack.
----------
Previously, 8/31/11: Karen Pascoe flew on American Airlines from New York to San Jose, California to start a new job on Thursday, putting her two cats in cargo kennels for the cross-country trip.
Except one of the cats, Jack, escaped, and now American Airlines has launched an all-out investigation to find the lost cat, who is, presumably, still roaming the halls of JFK.
The cat disappeared from his kennel and is probably still in the airport or its vicinity. Pascoe told the Daily News that she learned of Jack's disappearance about a half hour before her flight was scheduled to take off. She and her other cat, Barry, were put on a later flight.
Pascoe said she couldn't reach anyone at the airline for more than 60 hours. She even created a Facebook page, which has drawn some 6,000 fans who have, in turn, angrily flooded American's Facebook page.
Now American has taken to its Facebook page to keep worried animal lovers abreast of the situation, complete with a bullet-point list of ways in which it's searching for the cat, including:

* Karen (Jack's owner) has accepted our offer to fly her from California to New York to assist with the search and see first-hand our efforts to locate Jack. We have accommodated Karen's wish to travel this weekend and will escort her throughout JFK.

* Port Authority confirmed no sightings of Jack have been reported from patrols of the airfield.

* Daily briefings are occurring to review progress and generate any ideas for locating Jack.

* Representatives from the Port Authority of NY, including a Wildlife Management representative, participated in the 8/30 debriefing providing recommendations and offering extended support including extra traps.

* Contacts with search dog and other animal tracking services have been made and are being evaluated.

* Extensive CCTV footage in the immediate and surrounding areas are under review.

Adding: We have adopted some of your ideas into our search plan and thank the community for your ongoing support for Jack during this period. We understand that a cat is a loved family member for so many, including many of our own employees, and we are doing our utmost to find Jack.

Pascoe told the Daily News: "He's a member of my family. I just want my cat. I want whatever it takes to get my cat."
As of Tuesday morning, Jack the cat has yet to be found.
Related