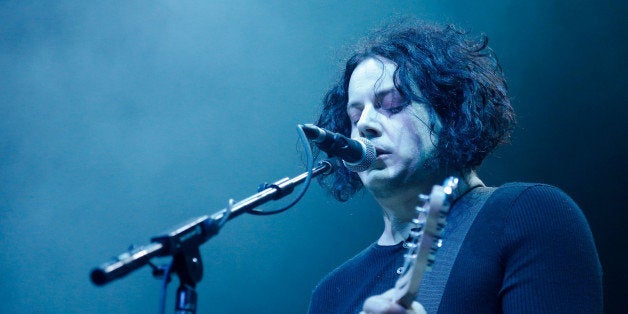 UPDATE: Jack White posted an apology on his website on Saturday, May 31. "I wish the band the Black Keys all the success that they can get," he wrote in a statement. "Lord knows that I can tell you myself how hard it is to get people to pay attention to a two piece band with a plastic guitar, so any attention that the Black Keys can get in this world I wish it for them, and I hope their record stays in the top ten for many months and they have many more successful albums in their career."
Read his full note, which also addresses his comments about Winehouse, Duffy, Lana del Reyand Adele, on JackWhiteiii.com.
EARLIER: Jack White and The Black Keys haven't gotten along in the public eye for months now. In a new interview with Rolling Stone, White continues to berate the band and suggests that its members, Dan Auerbach and Patrick Carney, rip off other people's music like it's no big deal.
"There are kids at school who dress like everybody else, because they don't know what to do, and there are musicians like that, too," White told the magazine. "I'll hear TV commercials where the music's ripping off sounds of mine, to the point I think it's me. Half the time, it's The Black Keys. The other half, it's a sound-alike song because they couldn't license one of mine."
He also went off on the music industry in general, taking another stab at The Black Keys. "Some people will hear that and say 'Oh, Jack White thinks he's the first person to play the blues.' But certain acts open up a market for a certain style. Amy Winehouse: Did she invent white soul? Wearing a beehive? No. But she did something brand new and fresh, altogether as a package, and you see who's in her wake, from the Duffys to the Lana Del Reys. Adele selling 20 million records? That would not have happened if Amy Winehouse was alive. The White Stripes did the same thing, and in our absence, you're gonna find someone to fill that. And you get a band like The Black Keys, who said they never heard of The White Stripes? Sure."
The feud between White and The Black Keys began when TMZ obtained and published White's private emails that mentioned his disdain for Auerbach. The letters were sent from White to ex-wife Karen Elson during their divorce last year and White was trying to remove his children from the school that Auerbach's children also attended in Nashville. In an email he called Auerbach an "asshole." At the time, White and Elson were also struggling with a custody battle and she had filed a restraining order against her ex-husband.
The Black Keys responded mildly to the leaked emails in an interview with Rolling Stone. Carney said, "I actually feel embarassed for him. I don't hold grudges, man." Auerbach didn't engage but said, "I don't know him, so it's extra-unexpected."
Calling all HuffPost superfans!
Sign up for membership to become a founding member and help shape HuffPost's next chapter
BEFORE YOU GO
PHOTO GALLERY
Celebrity Feuds