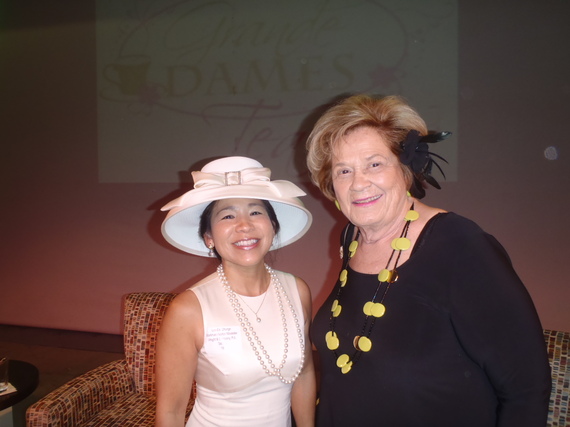 Kudos to Jacke McCurdy (formally known as M. Jacqueline McCurdy) -- but we all know and love her as "Jacke" -- for becoming crowned 2015 Grande Dame! I graciously attended the seventh annual Grande Dames Tea (benefitting PACE Center for Girls of Lee County) for the first time in Fort Myers on Friday, March 20, 2015 and was blown away by the elegance and grandeur. Donning our hats as if we were at the Kentucky Derby sipping mint julep or at Kensington Palace chitchatting with Duchess Kate Middleton, a cool 300+ ladies (and a few gentlemen) filled the sold-out Broadway Palm Dinner Theatre for afternoon tea and scones. The theme was "The Wisdom of Age -- Honoring the Female Spirit," and Mei Mei Chan (president & publisher of The News-Press Media Group) presided as mistress of ceremonies in her white hat accented with dangling ribbons. Dawn-Marie Driscoll had the honor of introducing Jacke to the captive audience.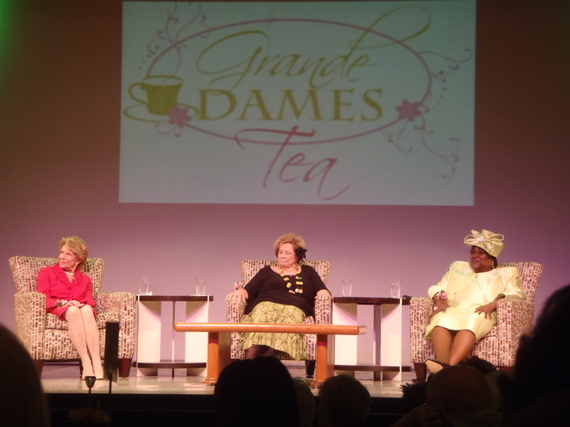 The day before attending this fine afternoon event, I read up on the three women being honored: Sharlene Hamel Dozier (former First Lady of Fort Myers who was instrumental in the city's Centennial in 1985 with celebrations throughout the year), Melvin Morgan (former teacher, first social worker in Lee County's school system and one of the first black teachers at Dunbar High School -- even dubbed "125 Most Influential People in Southwest Florida History" by The News-Press, plus there is a Lee County building named in her honor: the Melvin Morgan Constitutional Complex) and our beloved Jacke McCurdy. I came across "Congratulations to latest PACE Grande Dames" featured in Fort Myers' local newspaper The News-Press on March 17, 2015. Wow! I never knew Jacke was THAT amazing!!!
I knew she was an executive of Seagram in NYC (back when corporate leadership was primarily male.) I did an architectural analysis of the iconic architecture of the Seagram building in midtown Manhattan back in my inspiring Arts Humanities class at Columbia -- even compared your Seagram skyscraper to Philip Johnson's modern architecture of the AT&T building. Our assignment was to analyze one building's architecture, but I got overly excited and chose two NYC landmarks because my architect mom had just died and I had never seen such colossal towers before. The hardest part of that assignment as a sophomore in college -- being somewhat clueless in NYC from Florida -- was figuring which city bus to take from the Upper West Side to midtown (till today, I have no idea how I ended up back on Columbia's campus.)
I never knew that Ms. Jacke was the first woman admitted to the Baltimore County Bar Association, first woman Assistant State Attorney of Baltimore County and first female Vice President of Joseph E. Seagram and Sons! But wait, there's more... She became the first female Chair of the Distilled Spirits Council and the National Association of Beverage Importers. And she served as one of the first female delegates in the Maryland House of Delegates.
Although back then, she owned homes in Annapolis and NYC, she traveled 83 percent of the time and rarely was able to enjoy them. She retired in Bonita Springs (south of Fort Myers) and lives with her sister Arden.
Now I totally understand why Jacke is such a fun travel companion. At an international conference in Atlanta last fall, we were at the same table for the gala (of course, the grande dame herself was seated with a stunning neckline with ruffles next to her seated sister Arden in glasses.)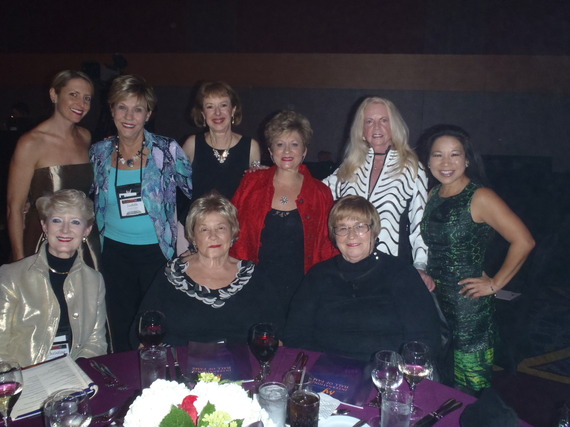 For our Atlanta conference's Opening Reception, I felt fortunate to walk with Jacke's loving sister Arden to discover the new National Center for Civil and Human Rights (which is located on land donated by Coca-Cola Company and adjacent to Centennial Olympic Park, The New World of Coca-Cola and the Georgia Aquarium). The Center is known as the epicenter of the American Civil Rights Movement.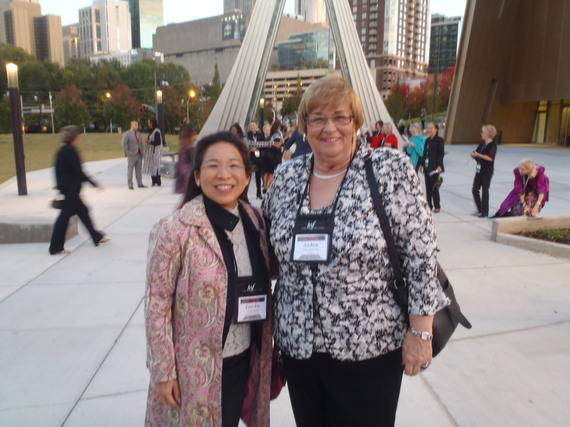 In 2012, at our international women's conference in Rabat, Morocco, Jacke McCurdy graced us with her presence (dressed in zebra-patterned gown) at Le Palais Tazi: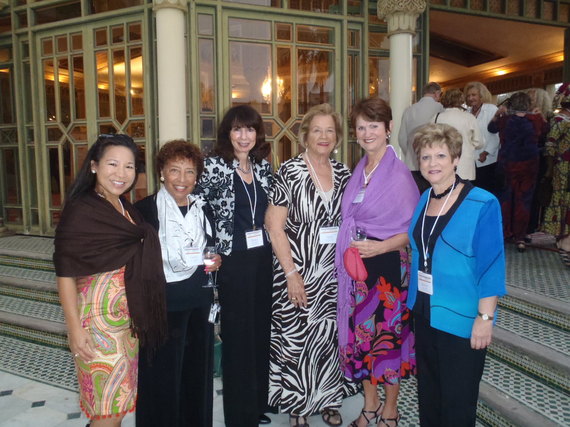 The next day, we took an afternoon excursion to the Kasbah des Oudaias and spotted Arden and her sister Jacke McCurdy relaxing and strolling thru the majestic gardens: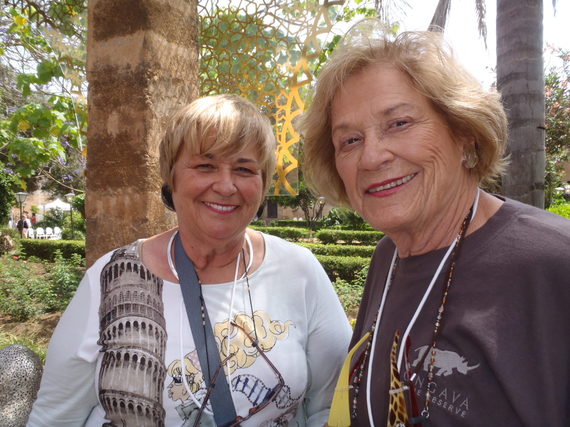 Perhaps I have known Jacke for easily 10 years. At last week's Grande Dames Tea, I was energized by what a magnificent career Jacke has led and what a compassionate heart she possesses.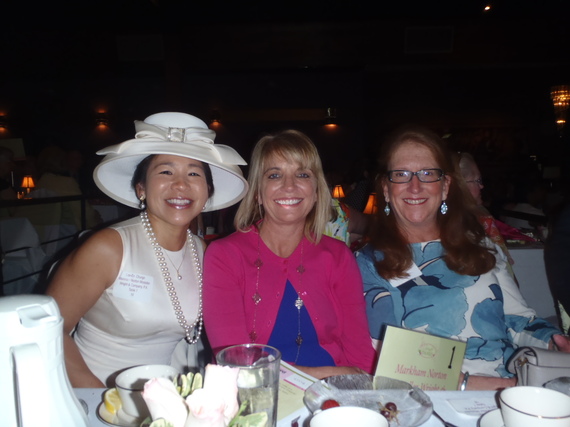 While I sipped my decaf ginger peach black tea, Sarah Owen (CEO of the Southwest Florida Community Foundation) and Amy Gravina (Founder of the marketing/PR firm of Gravina Smith Matte & Arnold) had already sampled their assortment of tuna salad on wheat bread and chicken salad on croissant. I savored the cucumber mini-sandwiches and scones sans whipped cream. Later I indulged in divine morsels delicately displayed by Noela Chocolate & Confections - total yum! But Sarah, Amy and I were privileged to be seated at the Markham Norton Mosteller Wright and Company's reserved table, hosted by our fellow Gail Markham (whose name is carried on the PACE Center for Girls of Lee County's building, which opened on March 24, 2014). [Gail Markham is pictured standing with white feathery hat matching her white and black outfit.]
Similar to Jacke, we too believe in girls... Jacke's words of wisdom for young girls: "Do not discount any education you can get. You cannot imagine how far you can go if you pay attention to education."
From all the ladies at the Grande Dames Tea and Southwest Florida, we tip our hats and salute Jacke for her honorable spirit!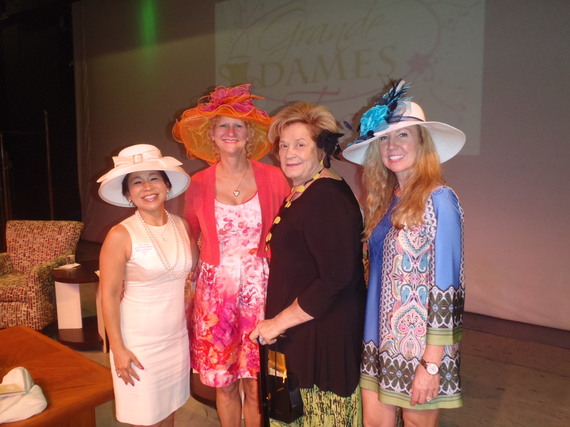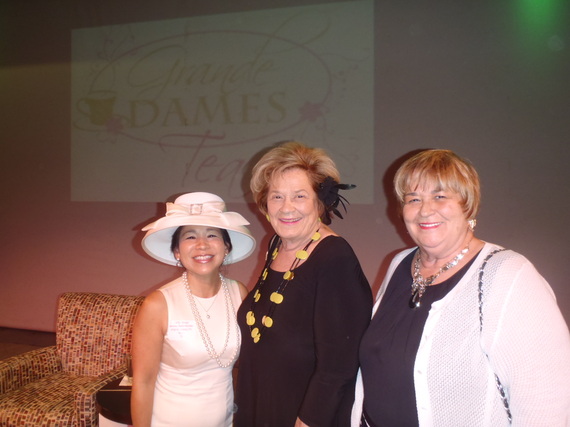 Calling all HuffPost superfans!
Sign up for membership to become a founding member and help shape HuffPost's next chapter