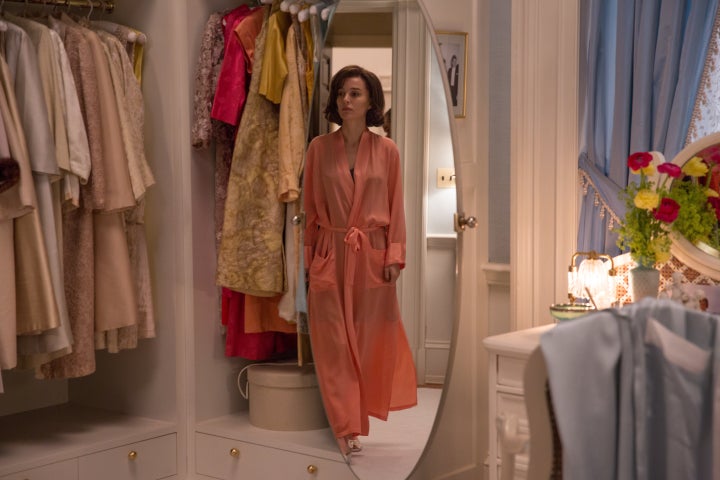 One week after John F. Kennedy's 1963 assassination, Jacqueline Kennedy planted a seed that revolutionized the image of her husband's three-year presidency. During an interview with Life magazine at the Kennedys' Cape Cod compound, the 34-year-old widow likened her family's time in the White House to Camelot, the idyllic castle where King Arthur reigned.
The Camelot analogy resurfaces in the new movie "Jackie," a haunting psychodrama that chronicles JFK's murder from the first lady's perspective. Before concluding her lengthy conversation with the Life reporter (Billy Crudup), Jackie (Natalie Portman) asks to say one last thing. Revealing that she and JFK would often listen to the Broadway musical "Camelot" before bed, Jackie recounts the lyrics of the show's final number, her husband's favorite. "For one brief, shining moment, there was a Camelot," and it was the Kennedy White House, drenched in elegance. "There won't be another Camelot," she says in the film. "Not another Camelot." This rare interview from the notoriously press-averse Jackie Kennedy reverberated throughout a grieving America, prompting a new mythos about the dazzling political dynasty to take hold.
Jackie's Arthurian allegory remains synonymous with Kennedy folklore. It also plays a role in the best scene from Pablo Larraín's masterful film. In the midst of deciding whether JFK's funeral will entail a grand procession through the streets of Washington, à la Abraham Lincoln's, Jackie spends an evening popping pills and sipping vodka. She puts on the titular song "Camelot," which insists "there's simply not a more congenial spot for happily-ever-aftering." Pacing through the White House chambers as Richard Burton croons about Camelot's perfection, Jackie tries on a series of designer outfits in quick succession. Pouring more alcohol, she strolls from room to room, testing her mournful march with pearls and gowns. How about fire-engine red? Peach? Perhaps a pale teal? Gold brocade?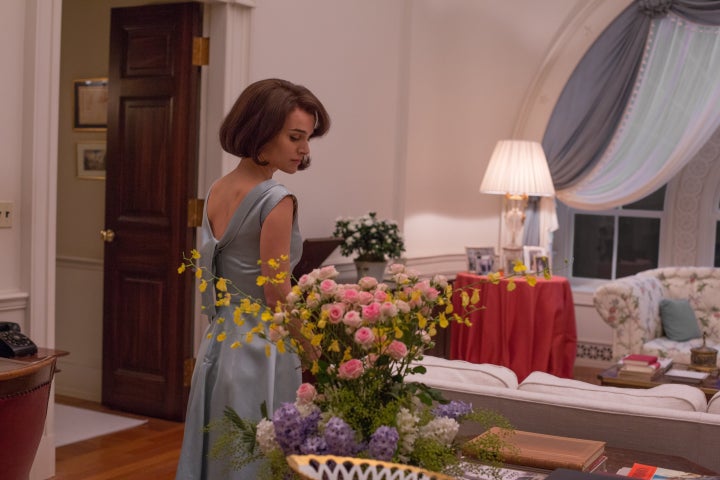 This sequence was not part of Noah Oppenheim's original script. Larraín, a Chilean unfamiliar with the Kennedys' Camelot affiliation, felt we needed to see Jackie ponder that "brief, shining moment" before feeding it to the Life reporter in the film's finale. Larraín conceptualized a ravaged Jackie imbibing substances and traipsing through the White House's private residence, where she and JFK slept in separate bedrooms. That expression of grief mirrors the public's campy infatuation with Jackie's appearance.
"To me, she was trying to find her own identity," Larraín said of the scene. As the director sees it, the first lady and well-documented style icon had spent years dressing to be paraded about as JFK's pageant queen. Finally, she could dress for herself ― but ultimately, "she just wears a black dress and says, 'Let's go to bed,'" Larraín said. She can't yet flee the persona of a politician's wife.
Larraín filmed the sequence in long tracking shots, with Portman calibrating Jackie's emotions as the gowns grow more somber and the intoxicants more anesthetizing. When editor Sebastián Sepúlveda put the scene together, he spliced it up so the dresses change along with the rhythm of Alan Jay Lerner and Frederick Lowe's song. (Fun fact: Lerner was JFK's college classmate.) Not wanting to emulate one of those clichéd movie montages where a teen girl tries on outfits to the sounds of a rowdy pop song, Sepúlveda edited the spectacle so its frenzy unfolds in one continuous crescendo.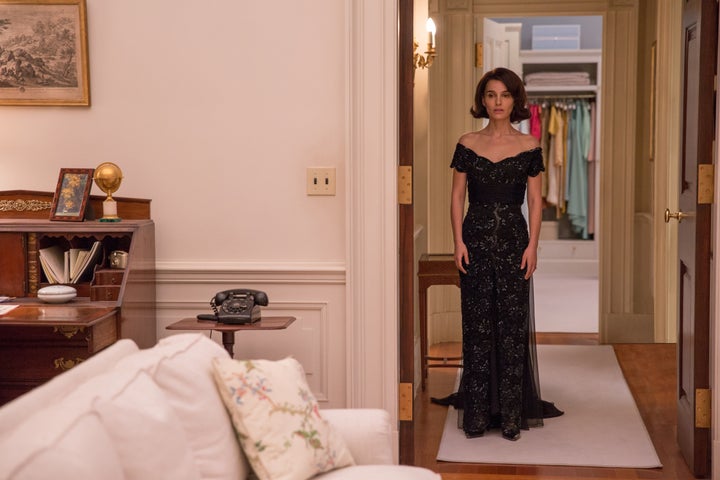 "I thought it was like a ghost story in this part of the movie because she's alone in the White House and she's trying to live in that space, to give [the clothes] life," Sepúlveda said. "It was like a complex dance of a mind that's really starving. It's not that she puts on her clothes because she's happy. She's trying to be the Jackie that all the people remember, the Jackie with the beautiful clothes. But she can't be that. She's not that anymore. That was a very beautiful journey because you have to do it in a playful way at the same time."
The scene marks the first of only two instances in which "Jackie" features music other than Mica Levi's nightmarish score. Jackie firing up that record becomes a wake-up call. It's also one of the few times she is alone, removed from the prying gaze of cameras and advisers and crowds. For one brief, shining moment, she is an aching wife instead of a political dignitary, even if she is walking the corridors of the White House (constructed with intricate detail on a set in Paris). When the song ends and Jackie is left crying at JFK's desk, we feel ravaged by the emotional excess.
The scene invokes the duality of the Kennedys: the intimacy Jackie and John shared while listening to "Camelot" before bed, juxtaposed with the frosty notion of her closing the door to her conjoining room and climbing into a different bed after its conclusion. It summons the impermanence of life inside the White House, where Jackie's inevitable eviction notice arrived earlier than expected. It forces us to consider the calculations of the complicated, unknowable Jacqueline Kennedy.
"If you look at Jackie Kennedy in photos or in videos, she could be telling you what she thinks and feels about whatever is around her," Larraín said. "But you look at her and you say, 'What is going on inside?' And this movie is her point of view."
"Jackie" is now playing in select theaters.
Before You Go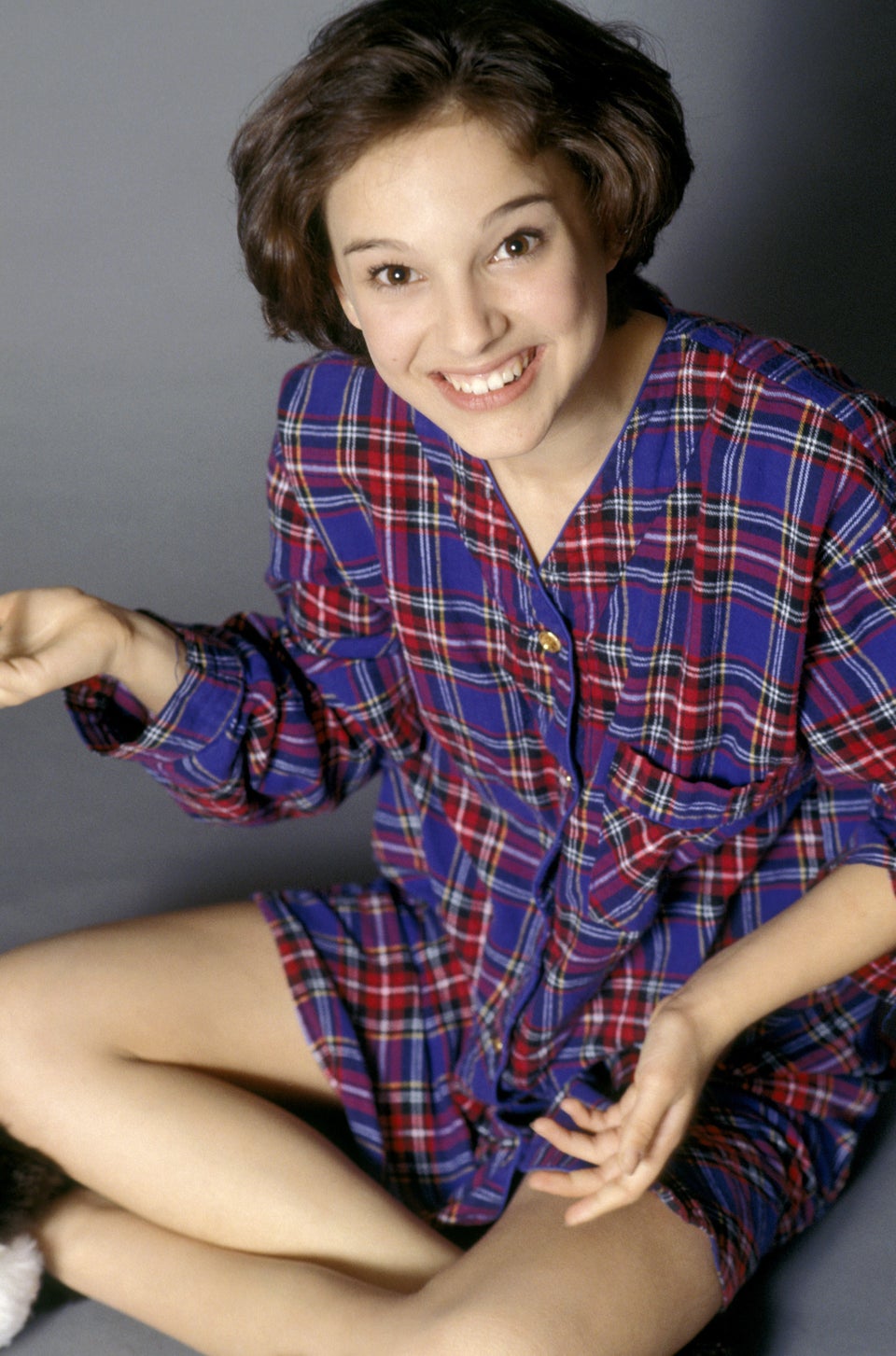 Natalie Portman's Style Evolution
Popular in the Community