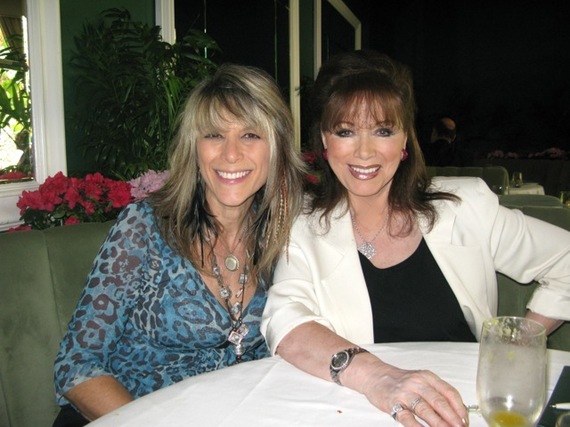 "Is it true that Jackie Collins passed away today of breast cancer?" The message came via Facebook Saturday afternoon. The world spun and stopped in the same instant. How could it be possible? We'd exchanged emails only a few weeks ago -- enthusiastic congratulations on my upcoming book. (She had championed it, and me.) How could there be not a hint of an illness so severe it would take her life less than a month later? I held hope it was an Internet hoax.
My fingers raced to Twitter, a platform where Jackie regularly engaged personally and passionately with her fans -- like no celebrity I'd ever seen. A search of her name confirmed the unfathomable.
I met Jackie in February, 2010, when she came to read at Women Who Write, a literary salon held in my home. I'd eaten up Hollywood Wives when it dropped, but knew her more from her celebrity than I did from her work. Preparing for the day, I discovered that to date, she'd sold over 400 million books (over 500 million now), and all 28, now 32 books, had graced the New York Times Bestseller lists. Every single one. Who does that? Jackie does. Jackie did.
Arriving by chauffeur-driven limo (a first on my street) with the festivities already underway, she appeared a tad nervous, as do just about all of our celebrity readers. A living room jammed tight with 60 women, who are close enough to breathe on you, can be pretty intimidating to anyone. She sat in the back with her arms and legs folded tight. With each artist who preceded her, I watched her ease into the day a bit more. By the time I introduced her, she was uncrossed, kicked back, and laughing heartily. As I was transferring the lavalier microphone to her, my hand accidentally (that's my story and I'm sticking with it) brushed her breast. I said, "So soft. They're real, and they're magnificent." To which Jackie retorted, "That's the most fun I've had all day." In that instant, we all relaxed and settled in for the fun that was to come.
Now, knowing what took her, and that she knew back then that she had stage 4 breast cancer, this memory takes on new, chilling meaning. I never had a clue. How anyone could look that good, period, is amazing -- but, with that going on -- astounding.
During the group discussion, she listened intently as others spoke, and regaled us with stories of Joan, and Warren. She was funny, sexy, and accessible -- one of the girls.
Two years later, Jackie took me under her wing and out to lunch at the Polo Lounge -- showering me with generosity in innumerable ways. She was the best girl date, ever -- modeling "bawdy babe" with such class, she made naughty, nice.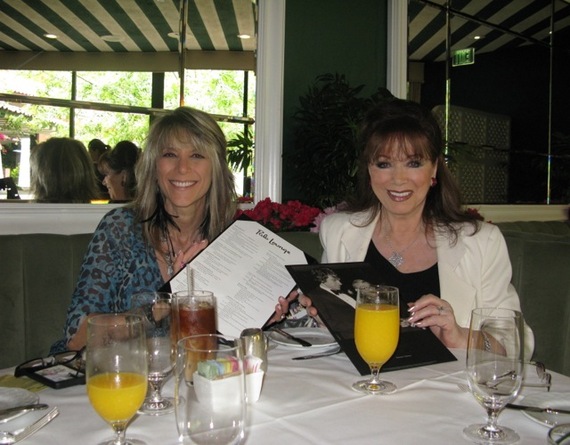 Determined to help me get my book to market, we talked writing practices, publishers, the possibility of creating our own publishing company -- then dished men, marriage and managers -- oh my. On the spot she set out to arrange a dinner with her before-mentioned manager, to help me further.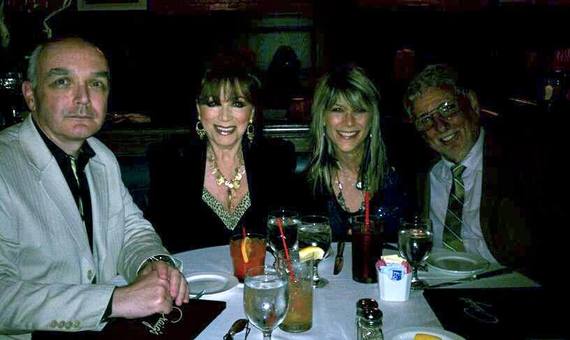 There I sat betwixt them at the table at Craig's, with her sister Joan at the table to our right and Robert Wagner and his daughters to our left. It was one of the most surreal evenings of my life -- transfixed in old school Hollywood glamour -- whilst talking like truck-drivers -- we ate with a gusto I suspect few women in Beverly Hills dare to do in public.
A few weeks ago, I reached out to Jackie for a quote for my book, finally about to drop. She congratulated me -- told me how thrilled she was -- and that everything had gone exactly as it was meant to (just as she had said it would). She updated her fabulous words from this video, shot after she'd heard me read from said book, at that years ago first meeting.
The treasure of this gift so much more profound today.
Jackie's days were filled with exploits most of us only dream about ... but, there was also the woman, who, when writing, maintained such discipline, nothing interfered. Until she was done.
Jackie was a one-of-kind dynamo who lived her life, every moment to the full. What a legacy she leaves. Too soon. Still stunning, vibrant, sexy and vital ... she belied her years in every conceivable way.
The world's gonna be less glam, less fun, and less saucy, without her in it.
If in the end the love we take is equal to the love we make -- she's taking a fuckload.
That would've made her laugh, I think.
Many knew Jackie longer, and better. I'm just one whose life she enriched and forever changed. She was a friend, a mentor, and a role model whose sexy stilettos I will spend the rest of my days aspiring to fill.
Brava, Jackie! RockStar Woman.
Don't Jump by Vicki Abelson, coming Oct 27, 2015, from Random Content, is available on Amazon
PHOTO GALLERY
Natural Ways To Reduce Anxiety And Get Better Sleep
Calling all HuffPost superfans!
Sign up for membership to become a founding member and help shape HuffPost's next chapter