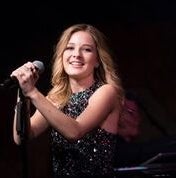 Jackie Evancho has a voice big enough to fill Madison Square Garden but she adapts it perfectly to the intimate surroundings of the Café Carlyle. At 17 years old, Ms. Evancho is the youngest performer to play the room, yet she is as poised and talented as any adult who's been there before her.
Unlike many of her predecessors, Ms. Evancho's set list is not standard Café Carlyle fare. Rather than the Great American Songbook or jazz standards, she covers a lot of what my mother always referred to as "showstoppers," like The Impossible Dream, Over the Rainbow and The Music of the Night as well as some classical pieces sung in Italian and I enjoyed every one of them.
As remarkably talented as she may be, Ms. Evancho is still a charming young woman from Pittsburgh, and she makes that clear to us with anecdotes about singing songs while walking around the house as a young child or playing Streisand while driving to talent shows with her mother. When she introduced Starry, Starry Night by Don McLean she said she listened to the song "back when I was in A.P. Art in high school – a long time ago."
"I could have never imagined what doors my voice would open for me."
I'm not a big fan of Andrew Lloyd Webber or Barbara Streisand (two of Ms. Evancho's "muses"), and prior to last night I knew almost nothing about Ms. Evancho, but as a Carlyle regular, I've been surprised and pleased with the unique booking choices they've made this year. For me, in a room like the Café Carlyle it's important for the artist to interact with the audience and Ms. Evancho does so with ease and no pretense whatsoever. When it was time for an encore she said to the audience: "We'll do one more, just because I like you." I felt like I was in my living room.
"We'll do one more, just because I like you."
Ms. Evancho is accompanied by a pianist, Peter Kiesewalter, who is also her musical director and his straightforward arrangements are spot on. She will be at the Café Carlyle through April 22nd. Twitter @jackieevancho
Related
Popular in the Community