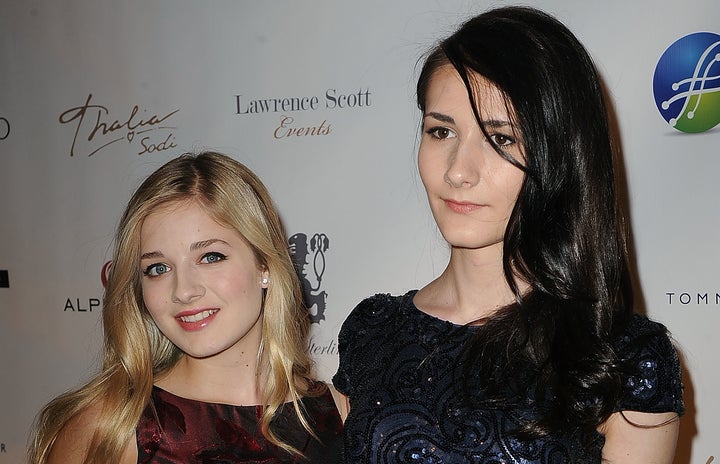 Evancho has long been in the public eye, coming in as the runner-up on "America's Got Talent" when she was just 10 years old. But more recently, she and her family have been getting national attention as well for their fight for transgender equality.
They are currently asking a federal judge to force the school to allow them to use restrooms corresponding to their gender identity until the case is heard by the court or settled.
Juliet was born Jacob, and in a new piece for "Teen Vogue," she says she slowly began to tell people about her gender identity as her family was increasingly under the microscope due to Jackie's fame: 
My mom was the first person I told, although she already suspected it. She simply smiled at me, told me she loved me, and said she'd always be there for me. I then told my sister Jackie. She too was not at all surprised and was very supportive and happy that I found my true self, but at the same time she was terrified about the potential ridicule I'd face for the rest of my life. Finally, I told my dad. My dad took it the hardest, and I couldn't blame him, even if it hurt me a lot. He tried to hide it, but I could tell. He was, after all, losing his oldest son. Not just his, but the son that had his name as a middle name. My youngest siblings Zach and Rachel were a little too young to fully understand, but I told them, too. Not even my best friends knew the real me. Everyone just assumed I was a feminine gay boy.

All of these circumstances — feeling like an outsider, not fitting neatly into society, and cutting my hair — caused me to slip into a depression. I constantly wondered, "Why me?" Having a close relationship with my family, we decided it would be best for me to seek professional help. For the next 2 years I went to a therapist to help me with my depression, and to uncover the truth of what and who I am. Basically, my therapist just confirmed what I already knew: I am a transgender woman.
Jackie told local Pittsburgh TV station KDKA in May that she was incredibly proud of her sister's courage. 
"The Evancho family is under the microscope enough as it is," she said. "And for her to come out is just really hard. But she's so brave and I'm proud of her for that."
A representative for Evancho did not return a request for comment.
Under President Barack Obama, federal agencies like the Department of Justice and the Department of Education have been allies in the fight for transgender equality. A handful of states are currently suing the administration over its guidance to schools that if they receive federal funding, they must "treat a student's gender identity as the student's sex for purposes of the law." 
Indiana Gov. Mike Pence (R), the incoming vice president and a long-time opponent of LGBTQ equality, has made clear that in the next administration, the federal government will not be stepping in and fighting for these rights. In October, he told The Christian Post that the matter should be left to individual schools: "Washington has no business intruding on the operation of our local schools."
Want more updates from Amanda Terkel? Sign up for her newsletter, Piping Hot Truth, here.
Calling all HuffPost superfans!
Sign up for membership to become a founding member and help shape HuffPost's next chapter
BEFORE YOU GO
PHOTO GALLERY
History-Making Transgender Politicians