Jackie Kennedy Onassis played many roles during her lifetime: first lady, America's widow, wife to Greek shipping magnate Aristotle Onassis and book editor. Throughout all these parts, one thing remained the same: her amazing wardrobe. She appreciated all things aesthetically pleasing and was a big supporter of the arts. She said of husband John F. Kennedy, "I don't understand it. Jack will spend any amount of money to buy votes but he balks at investing a thousand dollars in a beautiful painting."
She also believed in spending the big bucks for her clothes, often outspending her husband's presidential salary on her Chanel suits. By the '70s her style changed in a big way -- gone were the modest tailored suits she wore in the White House, and in were billowy loose silhouettes and vibrant prints. But she always carried herself with the same "Jackie O." grace and elegance.
In this 1974 photo, Jackie Kennedy Onassis arrives at a dinner in honor of politician Averell Harriman looking completely breathtaking. We can only imagine the gasps in the room at the sight of her flouncy printed maxi dress. Now that is how to enter a room! Will you try Jackie's look at a party this holiday season?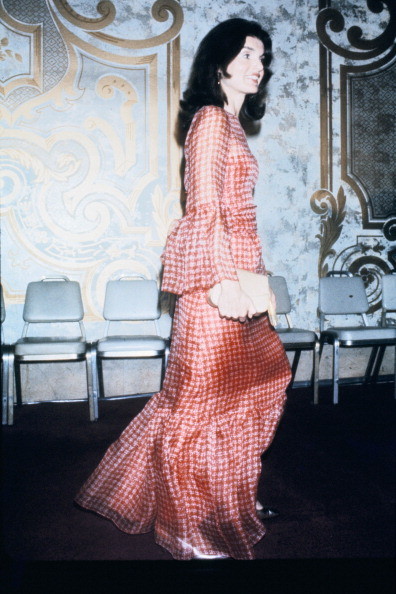 Shop the look and check out more from our A Look Back archives: