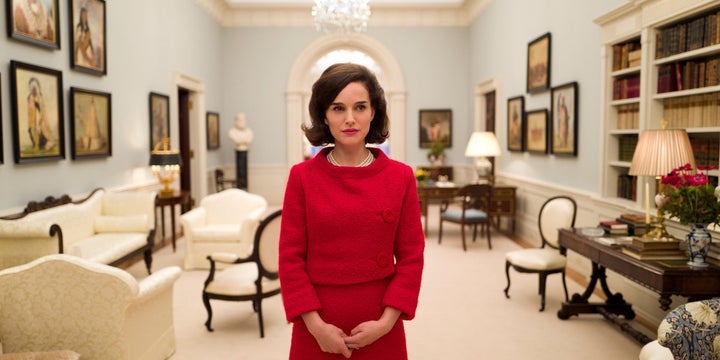 Toward the start of "Jackie," a stunned Jackie Kennedy wipes her late husband's blood from her face ― slowly at first, and then more and more feverishly, as though the sight of it becomes too much to bear. The camera lingers tightly on the First Lady's face as she scrubs the splotches, her expression becoming more pained and panicked with each second. It's like watching a scarred debutante's privilege fade into the ether, a charmed life ripped at the seams by a ghastly crime. 
Such is the work of Natalie Portman, who seethes and grieves throughout the movie, a 95-minute examination of Jackie's psyche in the hours and days immediately following John F. Kennedy's 1963 assassination. I call her Jackie, rather than Kennedy or any of the formalities we assign to our presidential royalty, because Pablo Larraín's stunning film grants her so many dimensions. She is not just Mrs. Kennedy, the blueblood whose life on and off the political stage became (and remains, 22 years after her death) a national pastime.
This is one of the sharpest films of 2016. It is an unconventional biopic so artfully rendered and emotionally astute that it becomes soul-tugging. I've shed a lot of movie tears during the ongoing Toronto Film Festival, but none more debilitating than while seeing "Jackie" at a press screening on Monday. In fact, I am tearing up as I write these words. 
Larraín and his cinematographer, Stéphane Fontaine, shot "Jackie" predominately in haunting close-ups. Cutting between various threads surrounding Jackie's grieving process and the funeral preparations for her husband, we meet a Jackie Kennedy who lives a large part of her life in front of cameras. "I want to talk to the press," she says a few times throughout the movie, much to her confidants' discouragement. In one chapter woven throughout the film, Jackie talks to the Life magazine journalist (Billy Crudup) who wrote the famous article in which the new widow compares her experience in the White House to the mythical Camelot, now come and gone. The comment stings because we don't know how many of Jackie's reflections are artificial, carefully managed by someone with a keen awareness of her public image, and how many are earnest. Considering both the heartache of a lost spouse and the mythology surrounding the Kennedy clan, particularly that of JFK's many affairs, the remark is wrenching either way. "Nothing is ever mine, not to keep, anyway," she says at one point, resigning herself to the fact that even the poshest of lives cannot guarantee all of the spiritual luxuries one needs to thrive. 
It takes guts to play someone so widely probed, someone whose polished mannerisms and complicated psychology still haunt her image. Portman is a marvel. She is Jackie Kennedy, and yet she also creates a character completely original. "How do I do this?" Jackie asks her close friend (Greta Gerwig), referring to the process of informing her children of their father's death. But she hardly waits for an answer before turning around and doing so with such performative poise ― a poise that is drenched in rage throughout much of the rest of the story. She is mad at her husband's death, but she also may be mad at him. "Sometimes he would walk through the desert, just to be tempted by the devil," she tells the Life reporter, implicitly conjuring the rumors of JFK's mistresses. "But he would always come back to us, his beloved family." It sounds like a rehearsed speech, and for someone who grew up surrounded by socialites, perhaps it is. Portman gives every moment exceptional weight, heightened as Larraín continues to monitor Jackie's face in tight shots. The movie is claustrophobic in the best possible way. 
"Jackie" entered the Toronto Film Festival without theatrical distribution. Fox Searchlight, the studio that pushed "12 Years a Slave" and "Birdman" to recent Best Picture wins, snatched up the film late Monday night, coasting on the positive buzz that has circulated throughout Toronto. The movie will open on Dec. 9, assuring Portman has Oscar potential. She deserves it, as does Larraín, who is having a great 2016 thanks to "Jackie" and a forthcoming Pablo Neruda biopic. 
More important than Oscar chatter is the film itself. At once arty and accessible, "Jackie" unfolds in devastating layers. As its title subject walks through the White House and its surrounding area, we walk through her mind. It is astonishing. We mourn for her. We ache for the system that has subjected her to such scrutiny. We hope for her future, the one we know will be plagued by paparazzi and depression. The gilded life, in all its riches, is never as golden as it appears.
Now I have to go, before I start crying again. Oh, wait. Too late.
Calling all HuffPost superfans!
Sign up for membership to become a founding member and help shape HuffPost's next chapter
BEFORE YOU GO
PHOTO GALLERY
Fall/Winter Movie Preview 2016