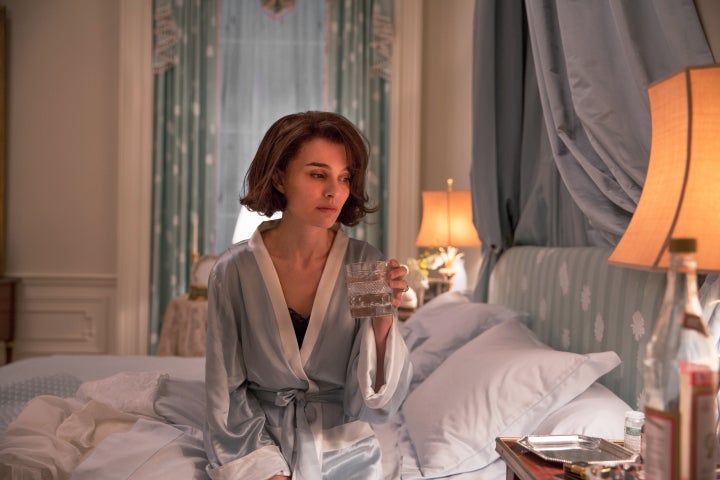 Once a theme is implanted into the nebulous zeitgeist of history, it is hard to accept revision. We favor tidy packages and finite answers, no matter how illusory the truth may be. Jacqueline Bouvier Kennedy is the perfect case study. Often reduced to a housewife whose signature contribution to American culture were the clothes she wore, Kennedy may be the 20th century's most enigmatic luminary, despite being among its most dissected. In 1995, cultural critic Wayne Koestenbaum published an entire book about Jackie Kennedy's unknowability, as seen through the prism of our collective infatuation. "The ability to rearrange Jackie has made it easy to fictionalize her," he wrote.
The new film "Jackie" threatens to upend the mythology surrounding this former first lady. Opening in limited release this weekend, Pablo Larraín's unconventional psychodrama portrays the immediate aftermath of John F. Kennedy's 1963 assassination as a tightrope walk. Played by Natalie Portman in a career-defining performance, Jackie carries an unsettling mix of fragility ― one more step and she may combust ― and unflappable dexterity. She had, after all, lived her adult life as a public figure with limited agency, part of the first political clan to be defined by television. When she lost a third child three months before her husband's death, Jackie left the hospital to the click-click-click of cameras. After the assassination, when the Kennedy advisers suggested she exit from the rear of Air Force One to avoid the press, Jackie refused. "Let them see what they've done," she says in the film, referring to the bloodstains on her famous pink Chanel suit and pillbox hat.
Once "Jackie" began shooting, Larraín decided to telegraph the first lady's misfortune through her expressions, which always seemed to conceal something that Jackie wouldn't reveal. On the first day, the Chilean director of "No" and "The Club," who was handpicked by Darren Aronofsky to take over the project after Aronofsky's exit, kept moving the camera nearer and nearer to Portman.
"It was grief and pain and people saying things and bullets and asphalts and Kennedys and families and funerals," Larraín said, ticking off the revelations in Portman's eyes during a conversation with The Huffington Post in October.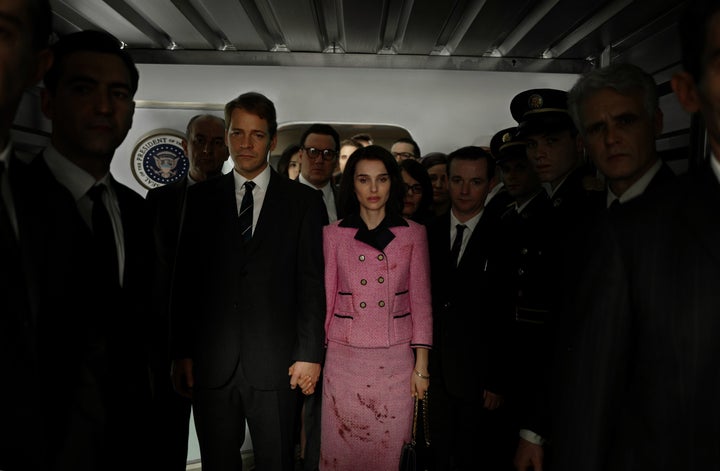 Larraín and his cinematographer, Stéphane Fontaine, filmed "Jackie" predominately in extreme close-ups. When Jackie wipes her husband's blood from her face, the shot is so tight that she is bursting out of the frame, as though her trauma is too heavy for the camera to absorb. At times the camera seems anxious to draw away from her, and yet it cannot. Her experience is too transfixing.
"We are seeing this movie not just from her perspective, but through her eyes," Larraín said. "And they're the eyes of a mother. This is the story of a mother."
Therein lies another item on the laundry list of Jackie Kennedy lore. Scripted by author and "Today" show executive Noah Oppenheim, "Jackie" interweaves several chapters of its subject's life: the 1962 televised White House tour (in which she showed off her heavily criticized restoration efforts), the assassination itself, the funeral arrangements in the few days that followed, an intimate conversation with a priest about death and grief, and the Life magazine interview where, one week after JFK's murder, Jackie planted the Camelot analogy that still pervades the Kennedy mythos. Sprinkled throughout each chapter is the heartbreaking role her two children, 5-year-old Caroline and 2-year-old John Jr., play in the tragedy.
Before she tells the children about their father's death, Jackie nervously turns to assistant and confidant Nancy Tuckerman (a sweet Greta Gerwig). "How do I do this?" the new widow pleads. And then, like clockwork, Jackie turns, walks into the room where Caroline and John Jr. are playing, and puts on the same brave face she bore for the public throughout ongoing political and marital travails. She needed no help in deciding what to say. As Portman portrays her, Jackie remains the consummate performer, the children her devoted audience. She dismisses her personal despair to soothe the young ones, as though it, like so many regrettable things, is her job.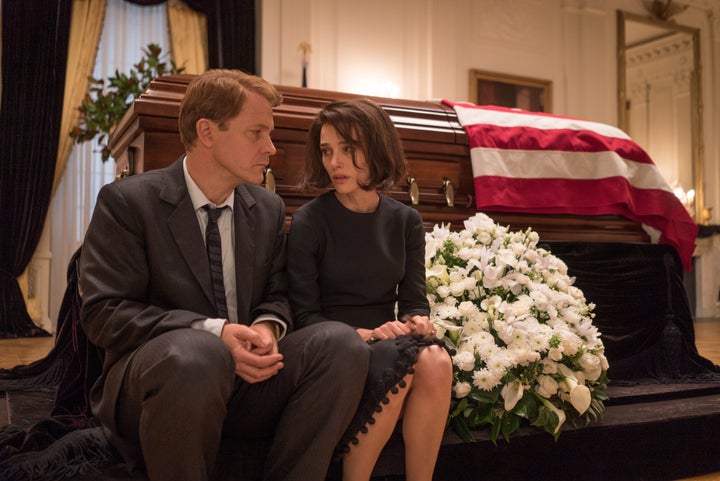 In the first "Jackie" cut, editor Sebastián Sepúlveda used only extreme close-ups. He then interspersed the film with wider shots so viewers could understand its settings. That horrific intimacy ― a "hypnotic approach," as Sepúlveda described it ― gives "Jackie" the scope of a psychological thriller, like a nightmare ensconced in what we perceive to be history. Mica Levi's dissonant score doubles the film's intensity.
But the finest achievement in "Jackie" is its firmness in ascribing the Kennedy legacy's creation to this scrutinized widow, from JFK's notorious assignations to his governmental cachet. In a come-to-Jesus discussion with Bobby Kennedy (Peter Sarsgaard), Jackie worries future annals will deny JFK glorification because his accomplishments in office were curtailed. From there, she confirms his funeral should be a pageant similar to that of Abraham Lincoln, the most memorialized of America's slain presidents. Between that spectacle and the Camelot imagery, Jackie Kennedy persuaded the world to immortalize her husband as a dignitary. Once American royalty, always American royalty.
"I read a lot of stuff and I talked to a lot of people, and no one knows who she really was in this country," Larraín said. "She's unreadable. Forget it. That mystery is so beautiful because it makes you think and feel things that are not being said."
If anyone has a read on Jackie Kennedy, it is Portman. The register of Portman's voice rises and falls depending on Jackie's performativity at any given moment. Confidence and fear operate in tandem. Most importantly, Jackie is a student of history, as well as a skeptic of it. She knows that, with the entire planet watching, she alone can shape the Kennedy endowments. And so, in 95 haunting minutes ― the best 95 minutes on the big screen this year ― we watch as she falls apart but keeps everything around her in check. We watch as she rewrites history.
"I believe the characters we read about on the page end up being more real than the men who stand beside us," she tells the Life reporter (Billy Crudup). The movie confirms her hypothesis.
"Jackie" is now playing in select theaters.
Before You Go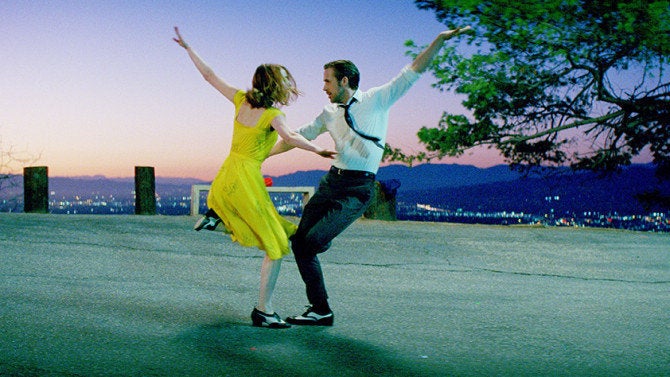 An Overview Of The 2017 Oscar Race
Popular in the Community