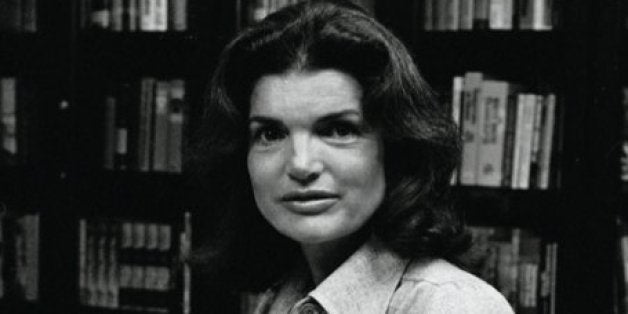 In many ways, Jacqueline Kennedy Onassis was a quintessential New Yorker. In a city that prides itself on style and anonymity for those who seek it, Jackie had both.
No matter how casual the event, she was always appropriately dressed, never overdressed nor wearing conspicuous jewelry—except of course on black-tie occasions. When she lived on Fifth Avenue and worked as an editor at Doubleday, she would walk through Central Park on her way to the office wearing a silk scarf on her head and large sunglasses, wishing not to be noticed. She loved the Park and ran around the reservoir, as so many other New Yorkers did, bicycled with her children there, and took long walks enjoying its beauty. People respected her privacy and (except for certain photographers) did not invade it. One day in the elevator at Doubleday, a fellow passenger looked at her and exclaimed "You are Jackie Onassis." Without a beat, she responded "No I'm not." This was typical of her. And she had a brilliant, and rather wicked, sense of humor.
It was only in matters of consequence, like the preservation of Grand Central Station, that she let her "celebrity" serve causes she believed in. Otherwise, her work as an editor at Doubleday was like that of many other editors. She dressed plainly, wore low-heeled shoes and was most often seen in well-tailored pants and a T-shirt of cotton or wool. She stood on line with others if she wanted to see the president of the company about a book acquisition and was mindful of the importance of authors and tried to be sure her presence did not distract from them.
She loved books all her life and so to be involved with them was also to be absorbed in something meaningful. The point of our initial meeting was to talk about publishing—but she was first of all a mother—so what we spoke about that day was mainly our children. She was gracious, elegant in the simplest way, and had a style that I will always think of as New York.
Photos from Jacqueline Kennedy Onassis's career in book publishing, and life in New York City:
Calling all HuffPost superfans!
Sign up for membership to become a founding member and help shape HuffPost's next chapter