 By Christina Rice, Senior Librarian - LAPL Photo Collection
When Jackie Robinson broke through Major League Baseball's unwritten, but understood, color barrier in 1947, he instantly became an inspiration for people across the country. He also became largely associated with Brooklyn, the city where he rounded the bases with his team, the Dodgers. However, long before he was launched into immortality on Ebbets Fields, Jackie Robinson was a hailed hero of Southern California.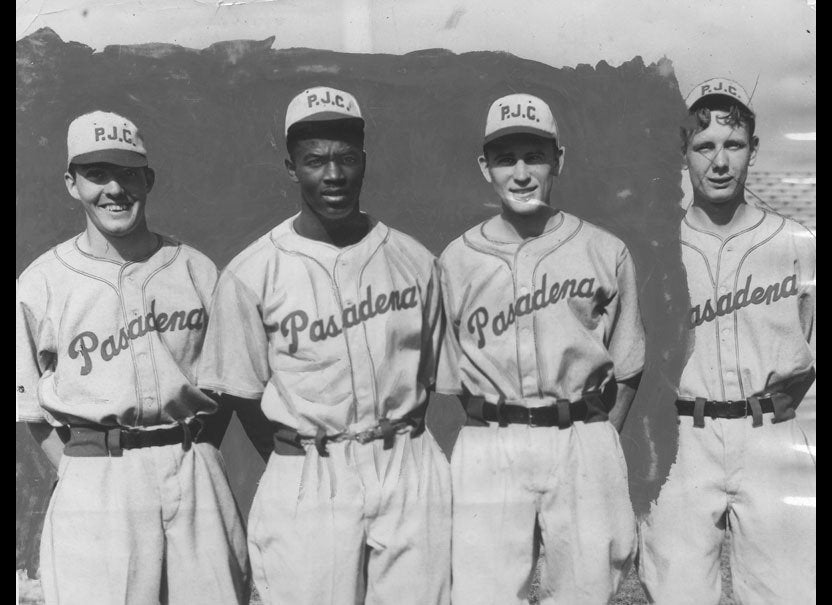 Jackie Robinson
Robinson was born in Georgia in 1919, but his family relocated to Pasadena when he was only a year old, so that city was usually referred to as his hometown. While attending John Muir High School, it became apparent that Jackie's athletic abilities were on par with his older brother Mack, an Olympic silver medalist. Mack, along with Frank Robinson took notice of their kid brother's talents and encouraged him to pursue these interests.
While attending Pasadena Junior College, Robinson began to garner press attention with achievements in basketball, baseball, football, and track. Commonly described as a "sensational" or "exceptional" all-around athlete, the Los Angeles Times would also frequently refer to the teenager as "dusky." In additional to his achievements with the college, Robinson also played for the Pasadena Sox, a team sponsored by the Chicago White Sox as part of an integrated amateur baseball league. Robinson helped lead the team to victory in the California State Amateur Baseball Championship, prompting the California Eagle newspaper to declare that this success was, "the biggest argument for the participation of the Negro in major league baseball."
Soon after the amateur baseball championship, Jackie Robinson began attending the University of California, Los Angeles (UCLA). Here, he made national headlines by becoming the university's first student to letter in four sports; baseball, football, basketball, and track. Robinson left the school just shy of graduating, but UCLA would have a lasting effect - this was where he met Rachel Isum, a Los Angeles native whom he married in 1946.
After entering Major League Baseball with the Brooklyn Dodgers, Robinson began distancing himself from Southern California, and would ultimately retire in Connecticut. He still made occasional trips to the southland to visit his mother, Mallie, who remained in Pasadena, or as a spokesperson for the National Association for the Advancement of Colored People (NAACP).
Jackie Robinson's experiences as the first African-American to play Major League Baseball in the 20th Century were not always positive, and he later exhibited a great deal of antipathy towards the game. However, on June 4, 1972, he allowed his former team to publicly honor him at Dodger Stadium with a ceremony retiring his uniform number, 42. Only 53 years old at the time, his health was rapidly diminishing and he would in fact only live a few more months. Still, he attended the festivities where Sandy Koufax and Roy Campanella were also having their numbers retired, delighting fans by signing autographs. It was only fitting that one of Robinson's final public appearances was in the county where he was looked upon as a hometown hero.
Popular in the Community