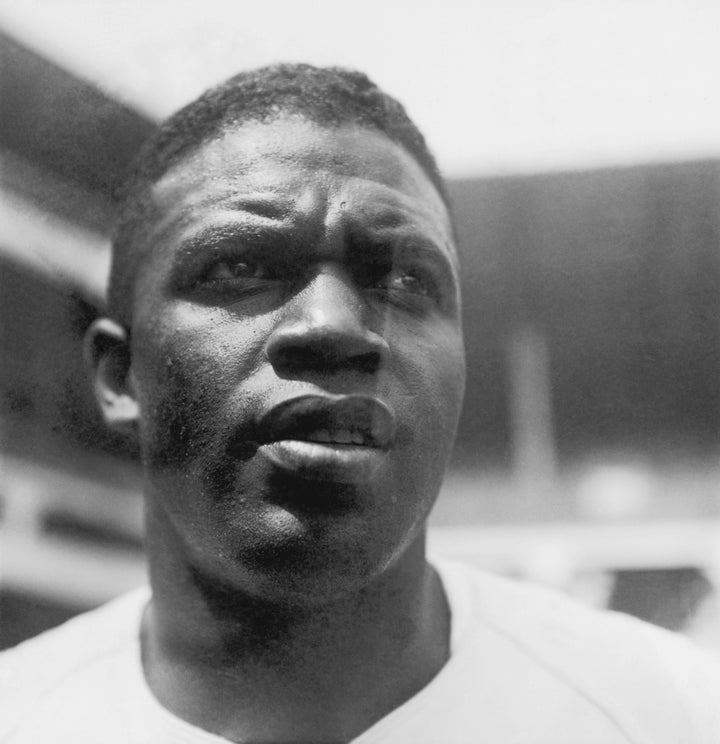 On March 4, 1946, Jackie Robinson arrived for his first day of spring training in Sanford, Florida, with the Montreal Royals, the Brooklyn Dodgers' AAA team. He was trying to become the first black player in six decades to make the roster of a Major League team.
Standing in his street clothes, Robinson paused and looked out over the practice field at scores of white ballplayers who were taking batting practice, shagging flies, and playing catch. The ballplayers stopped what they were doing. Robinson could feel their eyes burning through him.
Robinson disappeared into a locker room where he put on a uniform and walked past several spectators, sportswriters and photographers, muttering, "This is it." When the practice was over, Robinson met with reporters. He later described the interview as contentious. One of the sportswriters asked Robinson what he would do if a pitcher threw at his head. "Duck," Robinson said.
The scene is in the Robinson movie, 42, which opened on April 12, and stars Chadwick Boseman as Robinson.
The story of Jackie Robinson breaking baseball's color line generally begins on April 15, 1947, when he took the field for the first time with the Brooklyn Dodgers.
The story, as the movie gets right, begins a year earlier when Robinson came to Florida for spring training with the Montreal Royals. If Robinson had not succeeded during the spring of 1946, he would not have been in a Brooklyn uniform in April 1947.

Never before -- and never since -- in American sports has so much been riding on an athlete, in surroundings so hostile as Robinson found himself in Florida, where segregation was legal and brutally enforced, and where blacks who challenged discrimination were often jailed, beaten or murdered. At least nine blacks were lynched in 1946 and more than 20 others were rescued from angry mobs.
Brooklyn Dodgers president Branch Rickey secretly signed Robinson on August 28, 1945, to a contract with the Montreal Royals after the ballplayer gave his assurances he would not respond to either physical or verbal acts of racism. The Dodgers announced the signing of Robinson on October 23, ending the color line that baseball had been established in the 1880s.
On March 2, 1946, Jackie arrived with Rachel, his wife of three weeks, in Daytona Beach after enduring a 36-hour journey from his home in Los Angeles. During the trip, they were denied entry to segregated restaurants and hotels and were twice bumped from planes and replaced with white passengers. At one point, Robinson was ordered to the back of a Greyhound bus by the driver who called him "boy."
By the time Robinson reached Daytona Beach, he wanted to quit what was called "baseball's great experiment," but two journalists, Wendell Smith and Billy Rowe, working for the black newspaper, the Pittsburgh Courier, convinced him that he had to endure certain indignities so other blacks could have opportunities that were now closed to them.
"We talked all night. That calmed him down," Rowe later remembered. "We tried to tell him what the whole thing meant."
Daytona Beach lacked sufficient space for all the returning veterans and other prospects hoping to find a spot with the Brooklyn organization. The Montreal team began spring training 40 miles away in Sanford. Robinson was joined by a second black prospect, Johnny Wright, a pitcher who Rickey had signed in late January.
Toward the end of spring training, Rickey announced he also had signed Roy Campanella and Don Newcombe for the organization's double-A team in Nashua, New Hampshire. In an ironic piece of history, Eddie Klep, a white pitcher, integrated the Negro leagues during spring training. In addition, the Los Angeles Rams of the National Football League signed Kenny Washington, Robinson's backfield teammate at UCLA, ending the league's 12-year color ban.
When practice was over, the white players back to their restricted lakefront hotel while Robinson and Wright went to private homes in the black section of town.
After the second day of practice, a white man approached the home where Robinson was staying. He told Smith and Rowe, who were sitting on the porch, he had come from a meeting of seventy townspeople with a message. If Robinson did not leave town by sundown, his life would be in danger. The Robinsons, Wright, Smith, and Rowe immediately returned to Daytona Beach.

More than six decades after Robinson was forced leave Sanford, the city finds itself embroiled in racism. On February 26, 2012, a black teenager, Trayvon Martin, was killed during a confrontation with George Zimmerman, who stands trial for the murder.
When Robinson played his first game that spring on March 17, 1946, at City Island Ball Park in downtown Daytona Beach, Florida, it was the first time since the late nineteenth century that a black player took the field with whites in a game in organized professional baseball.
As blacks sat in church that morning, they prayed for Robinson and ministers gave sermons about him. When church was over, blacks by the hundreds walked to the ballpark. Mothers and fathers held the hands of small children, others clutched the arms of the frail, and young boys hurried ahead excitedly ahead of their families.
Daytona Beach was the only city that spring that allowed Robinson to play in a game.
When the Montreal team arrived for a game in Jacksonville, it found the stadium padlocked. Deland canceled a game because it said the park's lights weren't working -- even though the game was to be played in the early afternoon. When the Montreal team later returned for a game in Sanford, Robinson was escorted off the field by the police chief.

Robinson struggled through most of spring training with a weak bat and a sore shoulder, which seemed metaphorically fitting for someone who was dragging the hopes and dreams of millions of black Americans into the future from the dark ages of American apartheid.
By the end of the spring, both Robinson and Wright had proved themselves good enough to make the Montreal team. Wright, however, struggled during the early part of the season and was released.
Ed Charles, who would later be the New York Mets' third baseman when they won the 1969 World Series, was a 12-year-old living in Daytona Beach during the 1946 spring training. Robinson made a profound impression on him.
When the team left Daytona Beach on a train north to begin their regular season, Charles and several black children ran after the train until it disappeared from sight. "And when we finally couldn't hear it any longer, we ran some more and finally stopped and put our ears to the tracks so we could feel the vibrations of the train carrying Jackie Robinson," Charles said. "We wanted to be a part of him as long as we could."
Chris Lamb is the author of Blackout: The Untold Story of Jackie Robinson's First Spring Training.
Popular in the Community