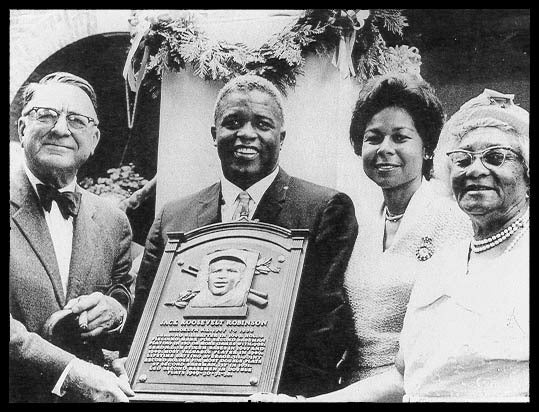 Mallie McGriff Robinson refused ether when her fifth child Jackie was born at the Robinson home in Cairo, Georgia, on the evening of January 31, 1919. She was so frightened by a tale about a pregnant mother accidentally killed by the anesthetic that she chose to experience every ounce of pain caused by delivering Jack Roosevelt Robinson.
While she cradled her newborn, named for the progressive president Theodore Roosevelt, she surveyed the poverty around her and whispered a blessing. "Bless you, my boy," she said. "For you to survive all this, God will have to keep his eye on you."
Little did she know how true this would be.
April 15 will mark the 70th anniversary of Jackie Robinson's debut with the Brooklyn Dodgers, a landmark event that changed the color of baseball and the character of the United States. The story of Robinson in 1947 is a familiar one, but there's a backstory that helps explain his courageous decision to "turn the other cheek" and persevere in the face of racist jaunts and jeers. This story is about an unsung woman whose border-breaking faith guided Jackie as he navigated through the dangerous storms he faced on and off the baseball diamond.
Mallie knew that Jackie's young life would never be easy in Georgia. The Ku Klux Klan terrorized blacks throughout the South in 1919, and the local economic system, propped up by unfettered sharecropping, also crushed them without mercy.
Mallie and her husband Jerry lived and worked on Jim Sasser's farm just outside Cairo. As a hired laborer, Jerry earned twelve dollars a month, hardly enough to feed the Robinson family.
Mallie was not one to suffer in silence, and she was loud and clear when she learned during butchery season that Sasser, a white man with a reputation for being mean and stingy, would not let his black workers take home anything except the hog's lungs, liver, and other organs. "Slavery is over," she told Jerry.
Trapped in poverty, Mallie concocted a plan that called for Jerry to tell Sasser he would leave the farm unless he could "half-crop"—keep half the crops he farmed on Sasser's land. It worked: Jerry was a precious commodity, an excellent worker, too valuable to lose.
As an adult, Jackie marveled at his mother's plan. "She had that strength and determination which has been characteristic of so many Negro women of the South," he remarked. "She had faith and trust in God, and she believed that God wants human beings to work and speak for the freedom and equality which is rightfully theirs, even if they must suffer because they do this."
But everything did not turn out well. The uptick in finances could not stop Jerry from wandering, and he left Mallie for another woman during the middle of the crop harvest in 1919. Poor and deserted, Mallie gathered her children and walked off the Sasser farm, leaving behind four bales of cotton, fifteen hogs, four barrels of syrup, and acres of peanuts, peas, and potatoes.
Mallie bowed in prayer, and after long talks with God, she decided to migrate to California, where some of her relatives lived. On May 21, 1920, Mallie and her five children boarded a steam train for the long trip west. She called it "the Freedom Train." Looking back on the momentous occasion, she simply said, "Well, I put my trust in God and moved."
Jackie was just an infant at the time, but in later years he often acknowledged that his mother's determined spirit had transformed his life. "I often wonder," he said, "what would have happened to the baby in whose ear she whispered on a January day in 1919, if she hadn't had that spirit—if she had been afraid to break away from a land of hopelessness and to go forth to a place where there was a better chance of survival."
Mallie's spirit and determination intensified after she moved her family to Pasadena, California. She saved her earnings from domestic work and purchased a single-family house in a white neighborhood. Furious neighbors burned a cross on her lawn, but Mallie dug in, believing that life at 121 Pepper Street was God's will for her family.
With a faith that grounded divine promise in human action—"Take one step toward God, and he'll take two toward you" was one of her favorite expressions—Mallie reassured her children that life on Pepper Street would eventually grow better. As she did so, though, she also taught them to be proud of the color of their skin.
One of her more creative lessons centered on the story of Adam and Eve. In Mallie's creative telling, Adam and Eve were originally black but "turned pale" when God caught them eating the forbidden fruit in the Garden of Eden. After God scared them white, Adam and Eve gave birth to two sons, one black and the other white. The color of the black child, Mallie said, was lasting evidence of God's original hopes for humanity.
And so was Jackie, with his very dark skin. Thanks to Mallie, his hero, Jackie grew up proud of his black skin. So proud that he wore bright white shirts to accentuate his dark skin. So proud that he believed all African Americans, together, deserved the freedom that God had bestowed on them. And so proud that he worked and sacrificed for God's gift of freedom for the rest of his life, first on the baseball diamond and then in the civil rights movement.
More than proud, Jackie was grateful for Mallie and her faith. He expressed this gratitude publicly when winning an award from the NAACP in 1956. "The love and devotion of my mother, who sacrificed all her life so that her children could have all the things she missed: and the struggle she had trying to keep a poor family going, are things I can never forget," he said. "Her faith in God and her constant advice that I, too, place that same faith in Him, has proven itself time and time again. I am humbly thankful that God gave me such a mother."
Proud, humble, and thankful, Jackie Robinson was Mallie's son.
Calling all HuffPost superfans!
Sign up for membership to become a founding member and help shape HuffPost's next chapter