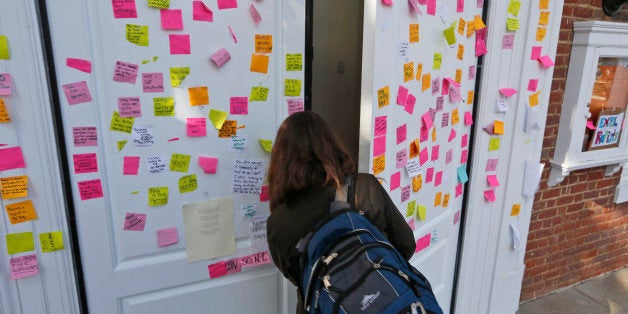 The former roommate of Jackie, the woman at the center of a much-criticized Rolling Stone article about rape, said she does not think she is lying about being sexually assaulted.
"While I cannot say what happened that night, and I cannot prove the validity of every tiny aspect of her story to you, I can tell you that this story is not a hoax, a lie or a scheme," Clark wrote. "Something terrible happened to Jackie at the hands of several men who have yet to receive any repercussions."
Clark wrote that she fully supports Jackie and believes "wholeheartedly that she went through a traumatizing sexual assault" during her first semester of college. In retrospect, she noticed several signs that Jackie was not doing well, and Clark wished she'd asked her about it.
In December 2012, Jackie broke down. All of a sudden she was going home and none of us knew why. It was right before finals, and I couldn't believe she was leaving. She was distraught, and only said she needed to go home. Her teachers had given her allowance to take her finals over break. At that point, we knew something big had happened. I didn't know until this year with the publication of Rolling Stone's article how bad that time was for her.

Sometime that year I remember her letting it slip to me that she had had a terrible experience at a party. I remember her telling me that multiple men had assaulted her at this party. She didn't say anything more. It seemed that was all she'd allow herself to say. I wish I had done something sooner. I wish I had known how to help. But I applaud Jackie for telling her story, now two years later. It was a story that needed to be told.
Friends of Jackie have said she is under "extreme duress" right now, and advocates on campus said they never had reason to question Jackie because that wasn't their role.
The fraternity pushed back last week on the details of Jackie's account, but stopped short of outright saying there was no sexual assault at all. Police have said they are still looking into what happened.
Julia Horowitz, an assistant managing editor at the Cavalier Daily, noted in a Politico piece over the weekend the story in Rolling Stone may have been sensational, "but even the most sensational story, it seems, can contain frightening elements of truth."
On Friday, Twitter users started tweeting in support of Jackie with the #IStandWithJackie hashtag, though trolls started using it to insist the whole rape account was a lie. Advocates and survivors told HuffPost they worry the botched Rolling Stone article will set back the effort to tackle campus rape.
REAL LIFE. REAL NEWS. REAL VOICES.
Help us tell more of the stories that matter from voices that too often remain unheard.