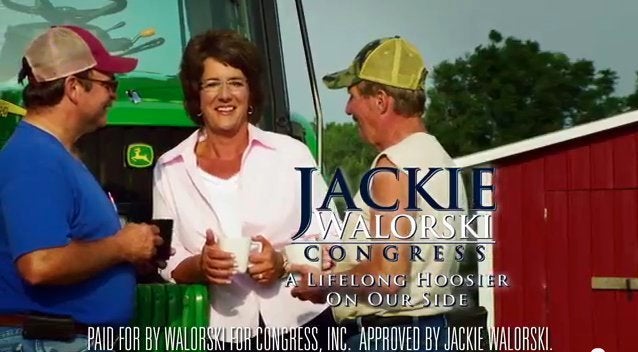 WASHINGTON -- Rep. Jackie Walorski's (R-Ind.) latest campaign ad goes after her Democratic challenger, Brendan Mullen, as a Washington, D.C. insider who doesn't share Hoosier values. To underscore the point, the ad publicizes Mullen's home addresses.
"Mullen likes Washington, D.C. so much he owns three homes there," the narrator says in the ad. "Washington liberals recruited him to move from D.C. to Indiana to run for Congress. They've showered Mullen's campaign with huge special interest contributions, because Mullen supports their liberal agenda, including Obamacare."
The ad flashes three addresses on-screen, along with what appears to be photographs of the residences. The addresses were taken from publicly available disclosure forms, thought it's rare to see such information featured in a campaign ad.
Andy Reynolds, Mullen's campaign manager, called Walorski's charges "laughable," saying the candidate lives in Indiana with his wife and two daughters. He added that the D.C. addresses are of rental properties.
"Brendan is proud to have served his country honorably as an officer in the United States Army, and was stationed in Washington D.C. -- along with being stationed at the DMZ in Korea and near Mosul, Iraq in combat as part of Operation Iraqi Freedom," he said in a statement. "Brendan is proud of his South Bend roots, being born and raised here. That's why he and his wife are raising their two daughters here in Indiana, and why Brendan runs a small business here helping Hoosier veterans and their families."
Republicans have lately been decrying Democratic trackers who have filmed the homes of GOP candidates and posted the raw footage on the Internet. They have argued that it's an invasion of privacy and puts their families at risk.
"Our trackers serve as eyes and ears to hold Democrats accountable in public events and public spaces only. Anything beyond that would be a violation of our policy," said National Republican Campaign Committee spokesman Paul Lindsay in an email to Politico, arguing that the Democratic trackers go too far.
When asked for comment on Walorski's ad, NRCC Deputy Communications Director Andrea Bozek replied, "Unfortunately Brendan Mullen hasn't been honest with Indiana voters about where he lives and whose interests he is fighting for. If he can tell Hoosiers which ones of these homes in Washington he lives in, we will do everything in our power to make sure his privacy is respected."
Mullen's campaign put out an ad on Wednesday responding to Walorski's spot, featuring Army veteran Chad Gibson, who served in Iraq with Mullen.
"So when I see Jackie Walorski smear Brendan, who has spent his life defending our country and working for veterans -- while Walorski spent her's as a career politician -- that's downright un-American," Gibson says in the ad.
The Walorski campaign did not return a request for comment.
Watch Mullen's response ad:
Calling all HuffPost superfans!
Sign up for membership to become a founding member and help shape HuffPost's next chapter
BEFORE YOU GO
PHOTO GALLERY
Below-The-Belt Political Attacks