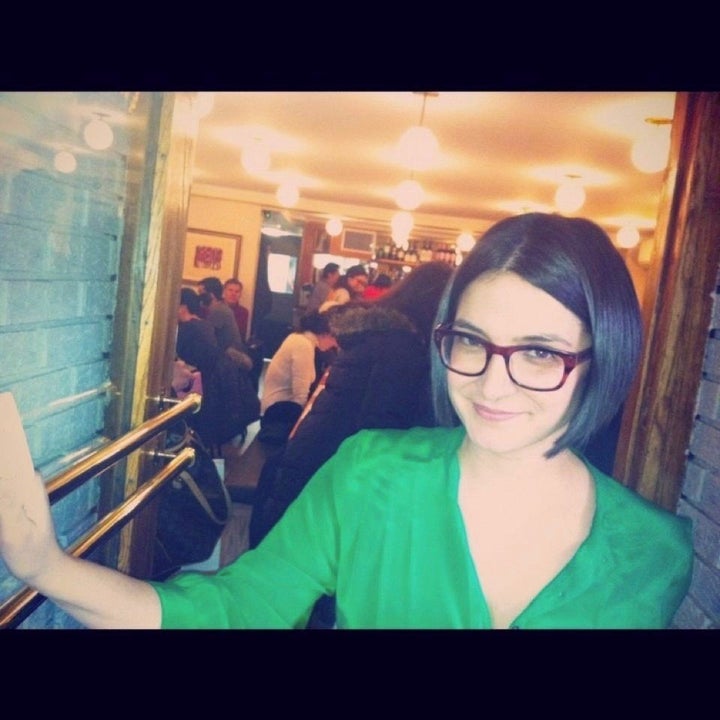 Maya and Dean Jankelowitz, both veterans of the Keith McNally universe (Balthazar, Schillers, respectively) have spun off their own creation called Jack's Wife Freda. JWF, which just opened on Spring street, seems to be an instant neighborhood joint. Named after Dean's grandparents, the breakfast-to-dinner cafe serves the Israeli (Maya) and South African (Dean) comfort food the couple has come to love.
And it really is homey. Already Jack's Wife Freda has regulars, and as I sat trying to talk with Maya she kept getting up to say hello to newcomers, and make people feel welcome. One such regular even told me the fittingly charming secret to the key lime pie dessert special: the sous chef's wife, a city planner, comes to the restaurant after work to bake the pies so she can hang out with her husband.
The place has created some good buzz since opening. The Village Voice noted their Zucchini Chips ("Once you pop, you just won't stop"). Serious Eats highlighted their rosewater waffles. New York magazine dubbed the food South African Israeli Jewish Grandmother Cuisine, and that JWF had "effortless charm and simple, delicious grub." It's a sort of elevated comfort food -- everything is familiar but has a twist, like soft-boiled eggs served with challah "soldiers", or the peri-peri giblets, which are sublimely prepared gizzards and liver (PHOTOS below).
Being comfy and cozy and cash (is that the correct shorthand for casual?) was essential to Maya and Dean. "It's really important to me that people feel that it's not 'cool'," she says, "that they can come with their parents, they can come with their boyfriend, they can come on a date, they can come by themselves. Just not intimating but comfortable. I don't know if it's like that in Paris, but when you go into cafes it's not a big deal. There are so many cafes. You go in, you know that the food is decent, and that's it! It's not like a big deal."
HP: Describe your food.
Maya: Everything has a little twist to it. The waffles have rose water, and then the Lebanese yogurt. The green Shakshuka is my favorite. Do you like spicy?
Not really.
It's not too spicy, it has a mild flavor, just has a little kick. It's a traditional Israeli baked eggs dish, and the sauce is green tomatillos and green peppers. And the challah toast is sweet, so it's nice to mix it up together.
Or try the grapefruit: It's a small girly dish. I love it, though.
How did you and Dean meet?
We met at Balthazar. Then we ran into each other one morning at Tomkins Square Park and we had cigarettes and he came over in the evening, and he never left.
Do you have any favorite places to go in NYC?
My favorite place is Café Mogador. Dean proposed to me there. And I've been going there since 1999, in my single days. I like the way it feels. It's the only place we go to. I go there sometimes on automatic pilot. And we sit down and I'm like I don't even want to eat anything, but I just need to sit there, kind of. Sometimes it's about how you feel in a place.
And you want JWF to feel the same?
We wanted the feeling to be clean and simple. I talked it over with [designer Adam Tihany] that people don't come in and wanna start analyzing [the decor]. We didn't try to overdo it. We didn't have a huge budget.
Why'd you decide to start Jack's Wife Freda?
We can't get into any places. I mean there are a handful of really great places, and we go to the same places all the time, but whenever we wanna try a new place, it's a disaster. We went to a place on Houston. We just wanted to look, maybe have a drink at the bar. They wouldn't even let us go in without a reservation to look!
I like going to a place that feels familiar. That's why I go to Mogador.
Tell me about the name.
Everyone hated the name. Like when you're pregnant and you tell people what the name of your baby's going to be they're like 'no, i dont think so...' But now people are really taking to it.
Who comes in here?
Kind of what I hoped for, which is weird. Old people, boring people, interesting people, celebrities. I really didn't want it to have that hipstery thing. We're not really hipsters, so I guess it's obvious that it didn't work out like that. Oh! The Beastie Boys came in.
And you have regulars already?
Lots of people have come back all the time, so that's a good thing. I feel like crying every time someone comes in. You don't even understand. There's a scene in the movie Cars, the cartoon? They're on Route 66 and nobody goes there, and one car -- Luigi, the Italian -- anytime a car passes he's like "customers! Customers!" I feel like that every time. I don't know why people come. It's like having a party and everyone shows up.

Everyone here seems nice.
Nice people! You realize you've been in the city long enough, you know a lot of people from the streets. We worked in the restaurants for so long, so lots of the staff come in. Keith's kids come in.

What do people order the most?
People love saying "Shakshuka" it's kind of funny hear Americans --
"Shakshuka"
[Turns to her friend] How funny was that? [laughs]
What?
It's really funny hearing people try to say "Shakshuka."
But I'm an example of saying it well.
You said it well! but it's still cute because you don't now what it means, because you've never said it before in your life.
What language is this?
I don't even know. It's probably a Moroccan thing.
Jack's Wife Freda
224 Lafayette Street, New York, NY 10012 (map)
212-510-8550
http://jackswifefreda.com

Related
Popular in the Community