Another Philadelphia elementary student has died after falling ill at a school that didn't have a nurse on duty. The death comes several months after a 12-year-old fellow Philadelphia public school student died on a day her school also didn't have a nurse on duty.
On Wednesday, the 7-year-old Andrew Jackson Elementary School student -- whose name has not yet been released -- died after suddenly collapsing in his classroom, according to CBS Philadelphia. He was soon transported to a local hospital where he died. There is not yet word on what might have caused the child to collapse.
"Approximately an hour before the end of school we had a very tragic incident where one of our first-graders had a medical emergency and needed immediate assistance. The staff in the classroom provided the student with CPR and also were able to quickly get emergency services to come into the school and assist the student," School District of Philadelphia spokesman Fernando Gallard told the outlet.
There was no nurse on duty at the school at the time the child collapsed.
The K-8 school, which serves over 450 students, only employs a nurse on Thursday and every other Friday, according to the Philadelphia Daily News. Gallard told CBS Philadelphia that "we don't know if things would have changed if the nurse had been there or no," but that the school had "on site, CPR trained personnel who were able to help the child and were able to transport the child quickly to Children's Hospital."
Education advocate and retired teacher Lisa Haver told the Philadelphia Daily News "we need to find out what happened and whether this child's death could've been prevented if the nurse had been there."
Massey's death brought awareness to a school nurse shortage taking place in the cash-strapped district. The district employs about 179 nurses that tend to 331 schools and more than 200,000 students, many of whom are low-income with outstanding health needs.
Katrina Ohstrom, a photographer who has spent time documenting school nurses in Philadelphia, spoke to The Huffington Post about this shortage in January.
"I don't know how there aren't fatalities every month," Ohstrom said over the phone at the time. "It seems like there's something lucky going on because after spending so much time in these schools and the nurses' offices, I would say probably every single school nurse over their career has saved multiple lives."
Before You Go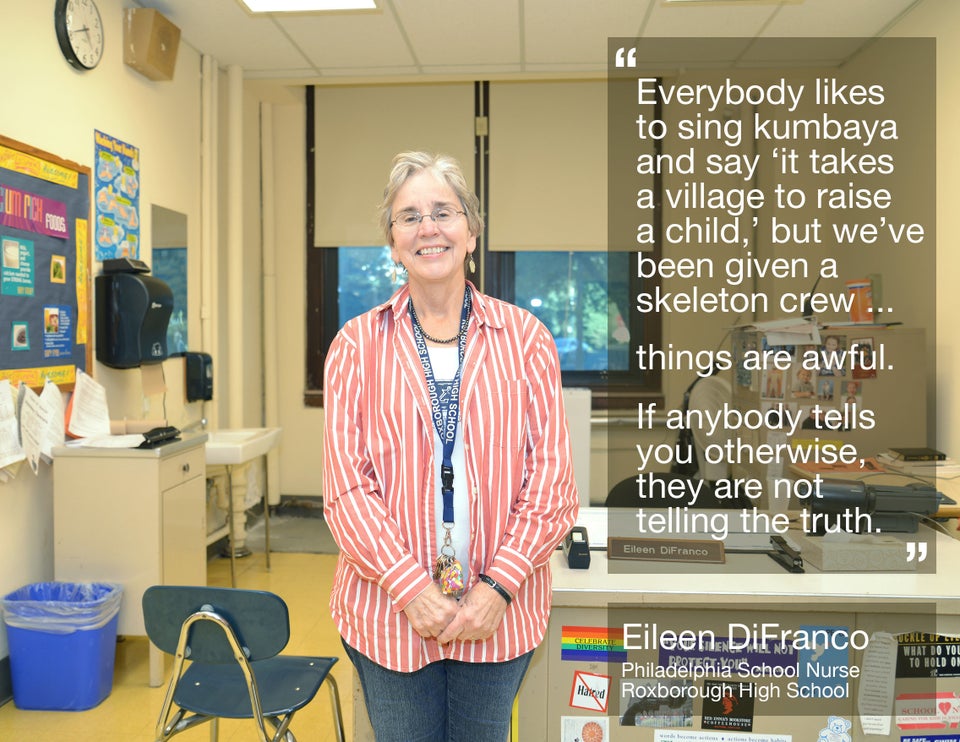 Philadelphia School Nurses And Nurse Offices
Popular in the Community