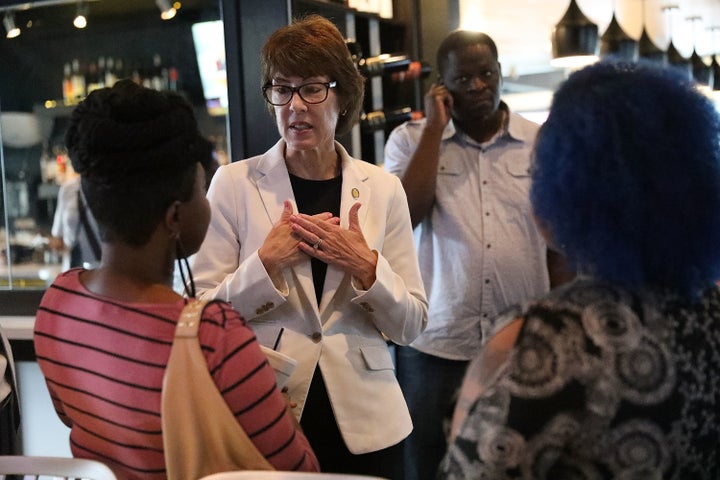 With Florida's primary election coming barely two days after a mass shooting at a video game tournament in Jacksonville, how much will that tragedy affect the race for governor?
All five of the Democratic candidates vocally oppose the National Rifle Association and support measures such as a ban on assault weapons. The GOP's two leading candidates, state agriculture commissioner Adam Putnam and U.S. Rep. Ron DeSantis, are taking the standard Republican position of supporting the NRA and opposing new gun restrictions.
"Both of those guys are pro-gun. They're not going to change at this point," said longtime Florida pollster Brad Coker. "There's not much difference between the Dems, either."
Two men competing in a video football tournament were shot to death Sunday afternoon by a fellow player, who then killed himself. Eleven others were wounded at the downtown Jacksonville Landing tourist destination.
The death toll is significantly lower than the 17 who were killed at Marjory Stoneman Douglas High School in Parkland, Florida, early this year and the 49 who were murdered at the Pulse night club in Orlando in 2016.
"Unfortunately, the half-life on these incidents is getting shorter as time goes by," said Steve Schale, a Democratic consultant who led former President Barack Obama's two wins in the state and who is now an adviser to former U.S. Rep. Gwen Graham's gubernatorial campaign.
One political consultant who spoke on condition of anonymity said the Jacksonville incident, in a high-profile tourist area where most of the tournament attendees were relatively well-off, is getting far more attention than most shootings in the state, in which the victims are black or Latino, such as the one two days earlier.
Schale agreed that the Jacksonville shooting would not affect either gubernatorial primary much, but said he did think the issue would help Democrats in the November general election. He pointed to the decision of both Putnam and DeSantis to cancel planned events in Jacksonville ― a major population center for both Republican and Democratic primary voters ― while several of the Democratic candidates, including Graham, kept their scheduled visits to the city. "The purpose of the visit obviously changed," he said.
Schale recalled a time not long ago when Democratic candidates for statewide office in Florida would avoid speaking about guns entirely. "I do think the tone around gun safety has changed dramatically. The state is a different place than it was years ago," he said. "Both Adam Putnam and Ron DeSantis are out of the mainstream compared to where most Americans are on guns today."
Putnam declared himself a "proud NRA sellout" when he began his campaign last year. DeSantis has said he would have vetoed the law that imposed some modest restrictions on firearms immediately after the Parkland school massacre ― a law that was pushed for and signed by Republican Gov. Rick Scott, who is now running for U.S. Senate.
Neither of the GOP candidates' campaigns responded to HuffPost's queries on the matter. The Florida lobbyist for the NRA, Marion Hammer, hung up on a reporter. Subsequent calls to her number produced only silence on her end of the line, as someone would pick up the phone but then not speak or respond to greetings.
Coker, the pollster, said he doubted this latest shooting would alter public sentiment much at all. He said his polling over the years has found that guns are as polarizing as abortion, with few "persuadable" voters open to changing their minds or even willing to listen.
"If it's there, it's a sliver," he said, referring to any potential shift in opinion. "It's not going to have a major effect even on the general election."