The mother of a competitive gamer wounded in Sunday's deadly shooting at a competition in Florida said her son told his half-brother, "I was shot. Tell my mother I love her," before the phone line went dead.
Sujeil Lopez, at a press conference on Monday, described a terrifying phone call between her son, 26-year-old Timothy Anselimo, and his half-brother and how Anselimo ran for his life as shots rang out during an esports tournament in Jacksonville. The attack left two people dead, plus the gunman.
"As his mother, I thought he would be safe," Lopez said of Anselimo, who is from Tampa and goes by the gaming name oLarry.
"He just said right before he went into surgery, he couldn't believe that this happened to him," she said. "You never expect it to hit so close to home."
Lopez said her son grew up playing video games, which she considered a safe alternative to being out on the streets.
"He started in New York to stay out of trouble, and we let him," she said, adding that his video gaming was permitted as long as he kept up good academic performance. "If your child is playing 15 hours of video games and is doing good in school, he can be doing a lot worse. Let him play."
Instead of enjoying a typically safe environment on Sunday, Anselimo was shot once in his right hand, once in the side and once in the chest. At least one of the bullets struck him while he was running out of the building, Lopez said.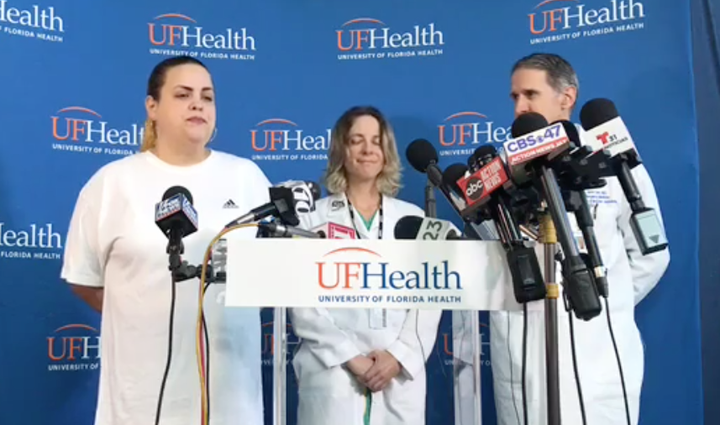 Anselimo's 20-year-old half-brother was watching a live broadcast of the competition on TV and, hearing gunfire at the tournament, immediately called him to ask if he was OK, Lopez said.
"He told him, 'Tim, I heard something that sounded like shots,' and my son told him, 'I was shot, tell my mother I love her,'" Lopez said, her voice breaking.
"And that's the call I got," she said of the news that sent her racing from the Tampa Bay area to Jacksonville to be by her son's side.
He was in surgery on Monday for his hand, and he does not yet know whether he'll be able to play video games competitively again, she said.
"He's very stressed. He's upset. He's depressed. He's sad. He's hurt," she said of her son, who's right-handed. "If you lost your hand and couldn't do what you love, it would be a devastation."
Popular in the Community