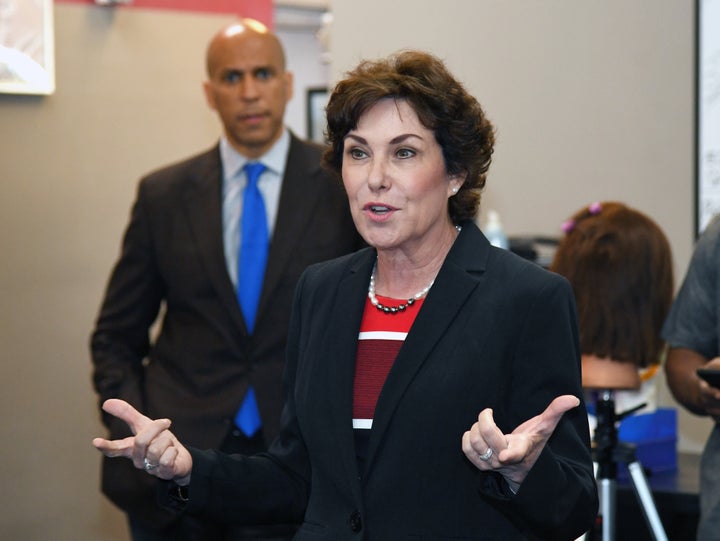 Rep. Jacky Rosen (D-Nev.) defeated incumbent Republican Dean Heller in the race for Nevada's U.S. Senate seat on Tuesday. Nevada is now the fifth state to have two female senators.
"Women are winning up and down the ballot. This is a historic night for us," Rosen said in her victory speech.
Heller was one of the Senate's most vulnerable Republicans this cycle, running for re-election in a state Democrat Hillary Clinton carried in the in 2016 presidential election.
After once saying he "vehemently" opposed Donald Trump, a figure reviled by many communities in Nevada, Heller aligned himself with the president and his policies. His 2017 vote to repeal Obamacare, in particular, opened him up to blistering attacks over the health care law and its protections for people with pre-existing conditions.
"She does have pre-existing conditions, and I will protect those pre-existing conditions for that little Chinese girl," Heller said.
But the bill he referenced ― which was narrowly defeated with the help of three Senate Republicans last year ― would have allowed states to end those protections.
Rosen, a freshman congresswoman who once worked as a computer engineer, made Heller's Obamacare repeal vote a huge part of the campaign by accusing him of breaking his promise to Nevada voters about protecting people with pre-existing conditions. She also called the GOP senator a "rubber stamp" for Trump and his immigration policies, pledging to Latino voters in the state in Spanish-language ads that she would stand up to the president.
Heller and GOP outside groups countered by painting Rosen as an extreme liberal who supports sanctuary cities and hasn't done enough to stop unauthorized immigration or gangs like MS-13. Trump even gave her a derisive nickname: "Wacky Jacky."
Both campaigns focused on early voting and turning out their base to the polls ahead of the election. Ballots cast before Election Day usually account for approximately 60 percent of the vote in Nevada. That why Heller's campaign held several rallies with Trump in rural parts of the state to help offset more urban areas like Las Vegas and Reno. Rosen, meanwhile, rallied with former President Barack Obama and former Vice President Joe Biden.
The decisive advantage for Rosen may have been the fabled "Reid machine," a network of well-organized volunteers, activists, union members and party officials dedicated to getting Democrats to vote. It's named after former Nevada Sen. Harry Reid, the de-facto party boss in the state, who hand-picked Rosen to run against Heller this year.
His bet ― that a safe and generic Democrat like Rosen who isn't as well-known as other lawmakers could defeat a Trump-backed candidate in a purple state like Nevada ― paid off handsomely.
Popular in the Community