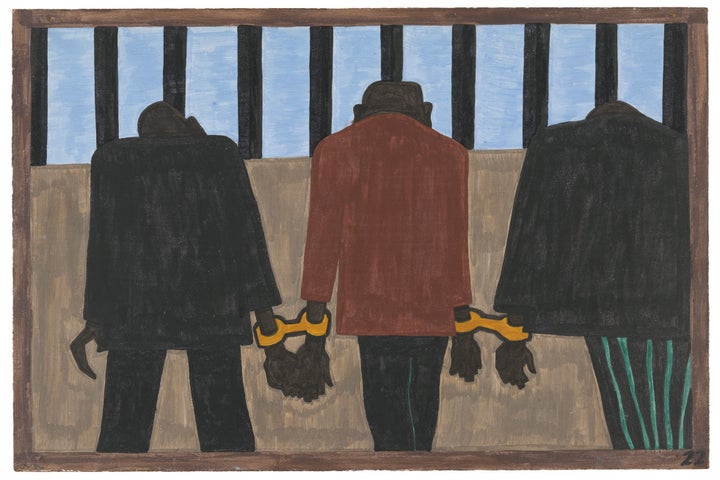 Art museums may seem like the guardians of the past, but they are also the provocateurs of the present, harnessing cultural artifacts to challenge -- even incite -- today's visitors. Great exhibitions are organized not merely to rehash relics, but to reevaluate the artworks in new contexts. And, with those artworks' aid, to reevaluate ourselves.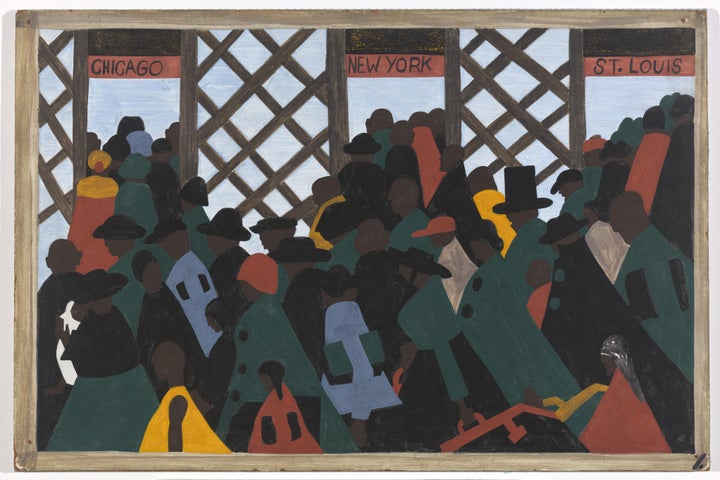 Its centerpiece is New Jersey-born Lawrence's iconic series: 60 paintings depicting the northward migration of African Americans from 1910-1930. During that period, black populations increased by almost forty percent in Northern states, gathering around urban centers like Chicago and New York. The so-called "Great Migration" radically shifted the social and political landscape of America, setting the stage for everything from the Harlem Renaissance to today's racially-charged stop-and-frisk debates.
Lawrence's work, completed in 1941, cycles between different aspects of the journey. Some paintings depict the process of transit, some the social and economic reasons for departure, and others the mixed responses on arrival. His geometric, pared down scenes are done in a striking color palette: bold blue and yellow popping from a background of browns and black. Each image is paired with an extended caption -- all of which were pre-written with the assistance of Lawrence's wife, Gwendolyn Knight, before he ever set brush to paint.
Though Lawrence's first show was at the Harlem YMCA, the African American artist quickly gained mainstream recognition from the (largely white) art establishment. When "Migration Series" -- originally titled "Migration of the Negro" -- was shown at the Downtown Gallery on East 51st Street, it was a landmark event.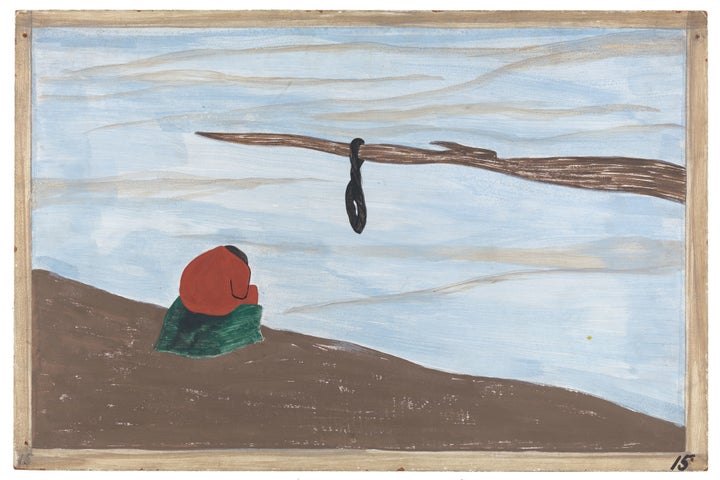 Soon afterward, the paintings found themselves featured in the November 1941 Fortune Magazine and eyed for purchase by two major establishments: MoMA and the Phillips Memorial Gallery. Lawrence wanted the works to be conceived of as a single unified experience -- rather than as 60 individual paintings -- but his dealer Edith Halpert separated the collection. The even ones were distributed to MoMA, the odds to the Gallery.
From time to time they've been reunited, though this is the first time they've been together for twenty years. Perusing them in MoMA's expansive, open room is an experience not to be missed. It becomes clear, quite quickly, why Lawrence wanted the pieces to be seen as a single artwork. Together, they spark links that the isolated pieces never could.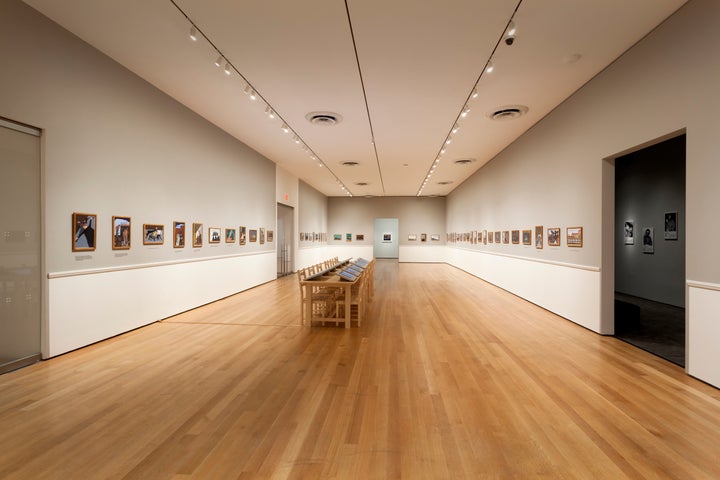 You become attuned, for instance, to how Lawrence oscillates between the "push and pull" of migration: the discriminatory forces that thrust African Americans from the South and the promises of economic opportunity that drew them northward. You realize that racial injustice is not depicted until panel 14 and wonder whether he wanted to lure visitors in before arresting them with images of lynching. You're perplexed when you see that burning steel from northern factories and the explosions from riots that have been painted in vibrant, fanciful hues.
You might ponder the ways panels 19 and 49 -- separated by 30, half of 60 -- juxtapose discrimination in the South and North: a river cutting between fields parallels a rope separating restaurant seating. Or you might observe how the panels sing a rhythmic song rather than linear narrative. They loop back on their own motifs, returning to a chorus-like panel depicting crowded bodies in transit. Railroad cars re-emerge from time to time, swinging you through panels -- until one depicting a St. Louis riot stops you in your tracks.
Because it's begging for a comparison to Ferguson. But you'll have to provide that yourself.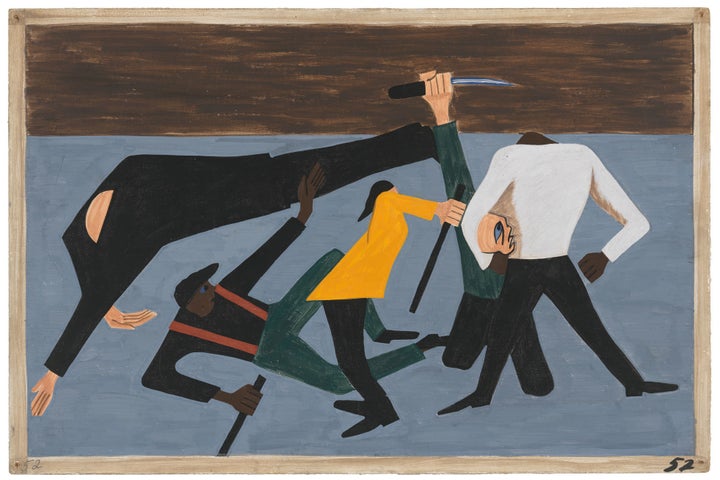 The show has comes at a moment when contemporary racial injustice has risen to the forefront in national consciousness, a time when Americans are asking more earnestly than before why so little has changed from the time in which Lawrence was painting. But what MoMA has done with that chance encounter between art from 1941 and life in 2015 is abstract and ambiguous.
For starters, there's the introductory placard. After several paragraphs of Lawrence's biography and background, it suddenly zooms out. "The story of the migration as Lawrence recognized in his Migration Series, was crucial to understanding the issues confronting Americans in 1941," it explains, "It is crucial to understanding those that confront us today." Phrased almost as an afterthought, these two sentences describe the promise and failure of the exhibit: They gesture at broader historical trends and our contemporary racial context, but do not act upon those gestures.
The trend is visible even in the series' title -- "One-Way Ticket: Jacob Lawrence's Migration Series and Other Visions of the Great Movement North" -- which attempts to reach beyond Lawrence's individual story. "Other Visions," it turns out, refers to a set of auxiliary rooms featuring prominent African American artists, poets, singers, songwriters, whose works contextualize Lawrence and seek to expand the scope of the conversation.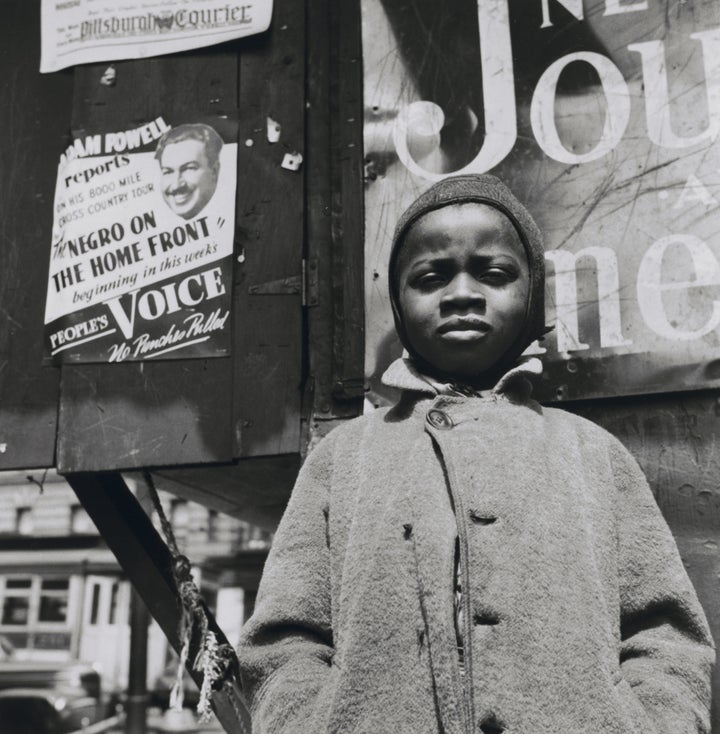 These are incredible materials, which deserve individual attention and significant space. But instead they've been relegated to the background of contextual "otherness." Many of those materials do not even directly address The Great Migration. Both their merits and their specificities have been subsumed under Lawrence's banner. So while MoMA claims to trace the multiple broader historical narratives from a singular example of Lawrence's series, the exhibition cannot help but make its show a "one-way ticket" toward the 60 paintings.
If the collection only gestures at linking Lawrence to today's rampant racial inequalities, some of the critical responses have been encouragingly more explicit. A Daily Beast article notes that the show "has taken on added meaning by virtue of the history it brings to the present moment." A beautiful Hyperallergic lyrical essay interweaves personal reflections on Lawrence with explicit references to the #blacklivesmatter movement. Freddie Grey's name appears, and the writer juxtaposes police injustice with panel 22's caption: "'Another of the social causes of the migrants' leaving was that at times they did not feel safe, or it was not the best thing to be found on the streets late at night. They were arrested at the slightest provocation.' Sound familiar?"
That's the type of direct and insightful comparison MoMA wants to offer. Instead, it operates with broad strokes. Paul Robeson's "Ol Man River" floats earnestly over those viewing Lawrence's paintings; Langston Hughes' poems are paired with Aaron Douglas' woodcuts. It's lovingly arranged, but it feels too passive -- letting visitors glide dazedly through the artistic context with the vague notion that these old issues have relevance today.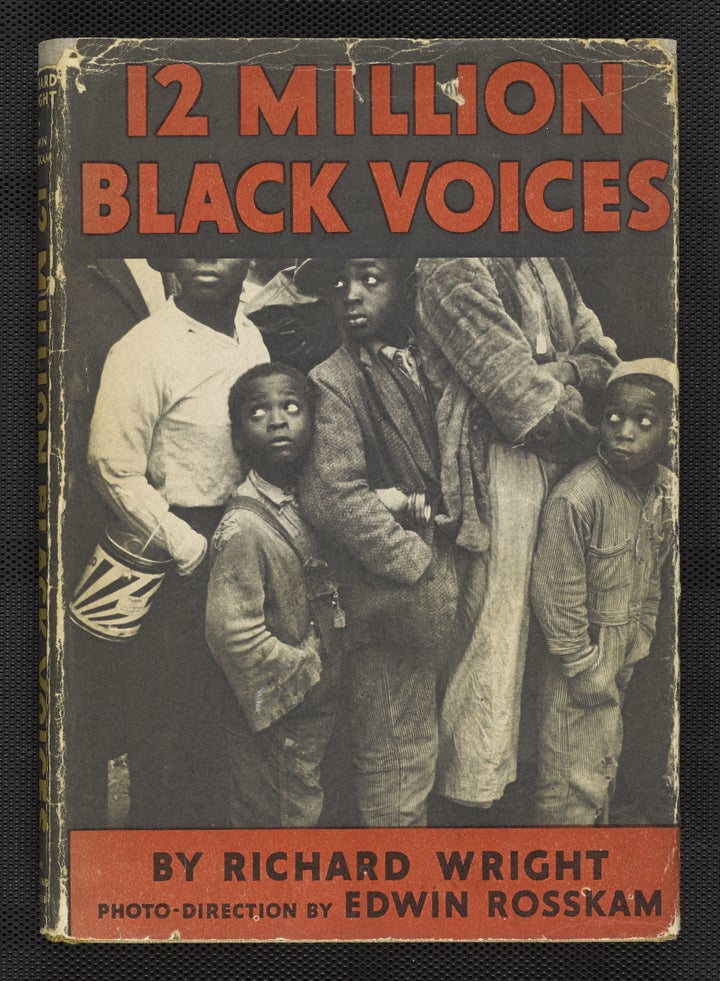 A final attempt is made, when you depart, to sharpen that vague notion: a table with writing implements encourages the sharing of your own migration story, though the effort may seem somewhat half-hearted, shifting responsibility from curator to the visitor.
Still, it's a worthwhile responsibility to take on. And one several critics have done with aplomb, considering journeys through not just space but also time: how racial injustice painted decades ago has arrived as its too-close analog in 2015. Lawrence's works, displayed pristinely and evocatively as they are, can be the beginning of that personal migration. The choice to take it, though, is ours.
"One-Way Ticket: Jacob Lawrence's Migration Series and Other Works" will be on view until September 7, 2015. All images courtesy of MoMA.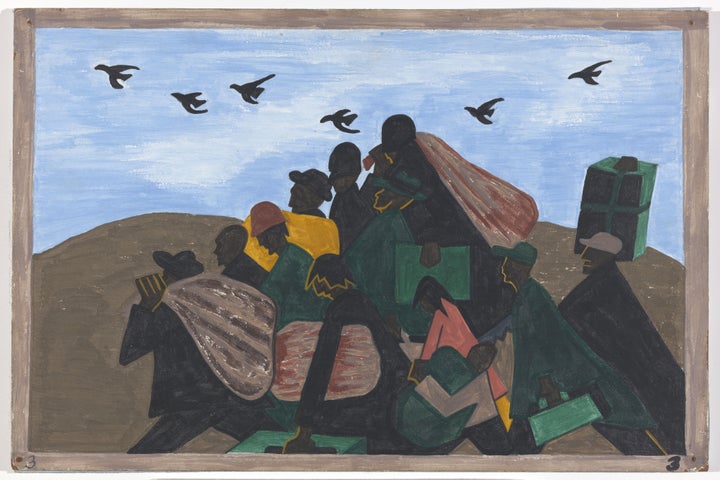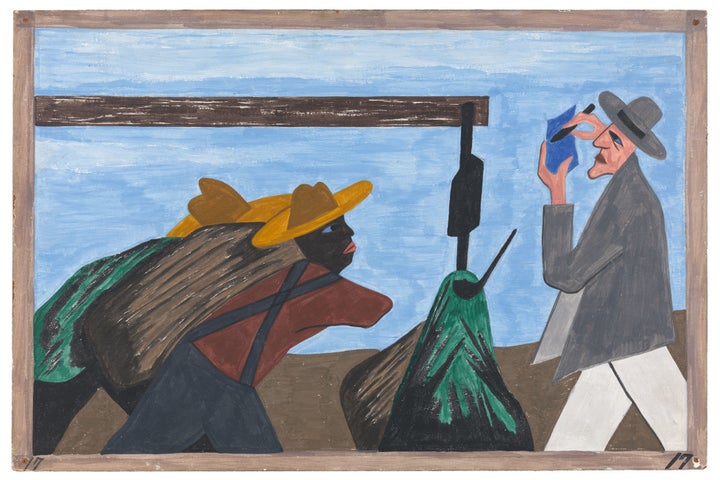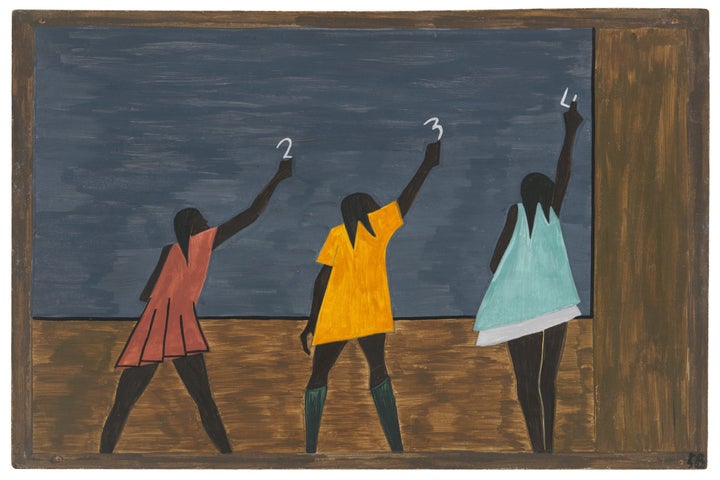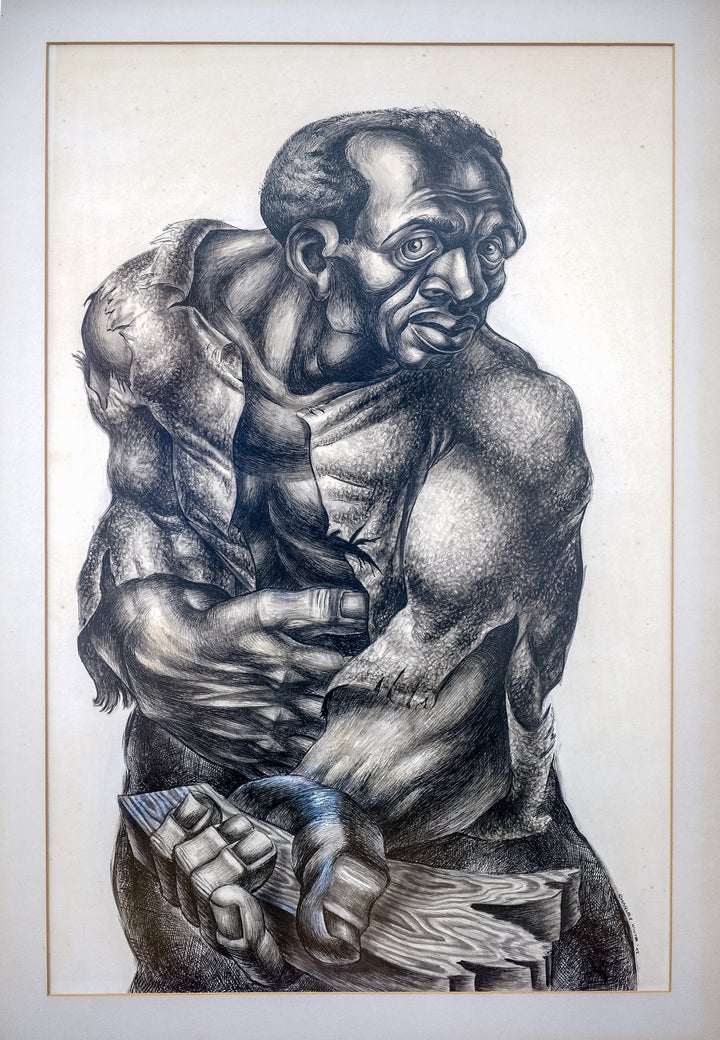 Popular in the Community