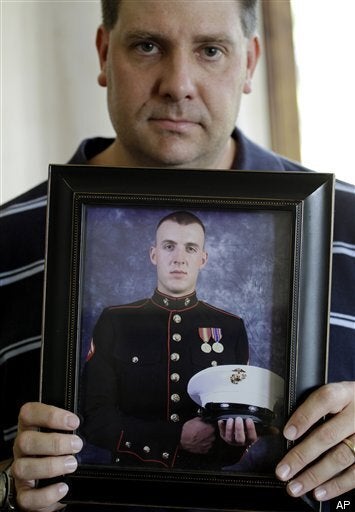 Marine Cpl. Jacob C. Leicht of Kerrville, Texas, the 1,000th American serviceman killed in Afghanistan, would have turned 25 this July 4.
Jacob's father, Craig Leicht, told HuffPost last week that the family hadn't made major plans for Independence Day. "Yeah, we had our moments of sorrow, but that's what life is about -- standing up for what you believe in," he said. "We're not really, I guess, a weeping and gnashing-of-teeth kind of family. We're rejoicing in who Jacob was and what he stood for."
Jacob Leicht died May 27 when he stepped on a landmine in Helmand province. It was his second tour in a war zone -- he'd returned to combat after he'd been badly injured in Iraq during 2007. The Associated Press reported that Leicht "launched a campaign for himself at Brooke Army Medical Center in San Antonio, writing letters and making phone calls about returning to combat."
The Kerrville Daily Times reported that "Leicht fought through 18 surgeries to recover from his injuries in 2007 just to rejoin his band of brothers fighting in Afghanistan. He could have taken a medical discharge and drawn disability payments for the rest of his life, but his character would not let him."
He'd been in Afghanistan less than a month when he died.
On Memorial Day, the people of Kerrville turned out to honor Jacob and show support for his family. "My heart goes out so much to this family and their loss of our American hero," said one woman interviewed by the the Daily Times, which produced a video of the day's events and also a video slideshow of the memorial service.
The service for Jacob Leicht:
"As a Vietnam veteran from California, I never would have expected the outpouring of love and appreciation from the thousands that lined the streets, standing with hands over their hearts, reverently holding flags and saluting, many with tears running down their cheeks as our procession passed by," said Leicht's uncle, Joe Steinmeyer, in a letter to the Daily Times. "It was deeply moving to see that many people that truly 'get it' and who understand and appreciate the willingness of Jacob and others like him to make the ultimate contribution toward the price of our freedoms."
Jacob's father told HuffPost the media attention "was kind of odd at first," but "then we kind of realized it was an incredible story. We knew it all along, having lived through it with him." He said they received calls from senators and the governor.
"It's nice for our family in that it's been probably more publicized because [he was the 1,000th soldier to die in the war] and because it happened so close to Memorial Day," he said. "We don't feel the other 999 were any less of a sacrifice."
Of the mission in Afghanistan, Leicht said, "We believe strongly in it -- and he did as well, that there was a definite evil in the world that has to be stopped."
Leicht's younger son, Jesse, enlisted in the Marines nine days before his older brother was killed. He told the AP he hoped his older brother knew he'd signed up.
Related
Popular in the Community