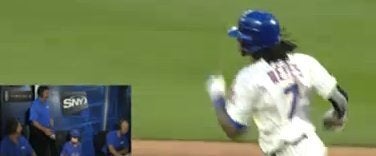 Resnick--who took over for the bottom half of the third inning for Mets announcers Gary Cohen, Ron Darling and Keith Hernandez--sounded like a seasoned pro in booth from start to finish.
When Reyes took the first pitch he saw from Marlins left-hander Brad Hand over the left field fence, you could hear the elation in Resnick's voice. But rather than jumping up in down in the booth like, well, an 11-year old, Resnick proceeded to provide context and analysis of the home run, noting that it was hit as a result of a hanging breaking ball and was also Reyes' first home run since July 23rd.
The call was so impressive that when Cohen took back control, all he could say was what everyone else was thinking: "That was fantastic, Jacob."
Related
Popular in the Community