Sign up here for The Tea to read exclusive celebrity interviews with stars like Normani Kordei, Maddie Ziegler and Willow Shields!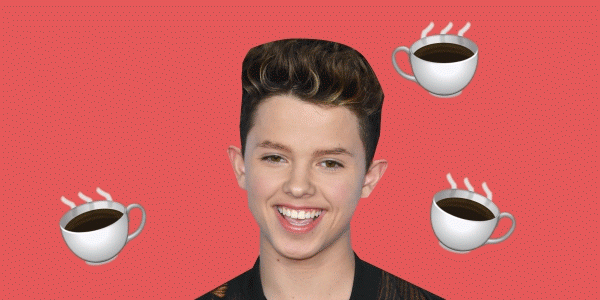 Jacob Sartorius has been called the "new Justin Bieber," and we have to say, the comparison holds up. The 14-year-old singer got his start on Vine, then achieved viral fame on Musical.ly. Sartorius turned his social media stardom into mainstream success in 2016, releasing his debut single "Sweatshirt" and selling out his first headline tour. Now, he's taking 2017 by storm. He released his EP "The Last Text" in January, and is currently on the road with The Last Text World Tour.
In an exclusive interview with The Huffington Post, Sartorius chatted about his new music, his undeniable crush on Selena Gomez and his dream to get a tattoo of Bill Nye on his back. (Yes, really).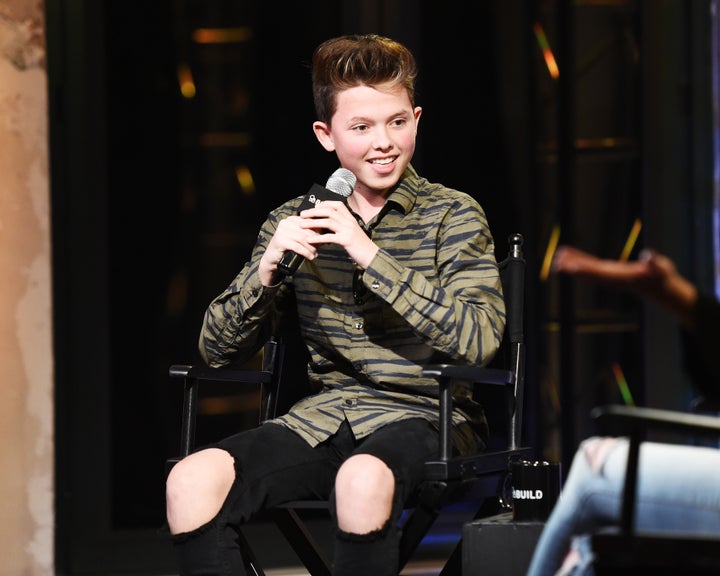 What made you get involved with music?
I started musical theater at the age of 7, and from there I fell in love with just being able to connect with people. Just a couple simple words, add a couple notes in there and it becomes a song. To be able to sing and connect with people is pretty cool. I think the thing that attracted me most to music was that you can always spread a positive message through it.
How has social media played a role in your career?
I think it's a great way to connect with my fans. It's great to check what people are saying on Twitter. I can share with them certain things that are going on throughout my day, whether I'm in the studio or I'm writing new songs on a notepad. I think that social media will be something that I always use throughout my career because that's where I started. You can't just forget about where you came from.
What was it like going from lip-syncing on Musical.ly to releasing a single of your own?
Ever since I started, I had some songs I had recorded and I played the guitar all along. So I built all the social media stuff as a platform for my music. If anybody wants to get to know me better, they can go on my social media. I think that's where I connect with my fans the strongest. Everything that I do, I try to connect with people. That's always been the main focus.
Which show has been your favorite on The Last Text World Tour?
I promise 2017 is not ready because I know that we've got some big things planned. I don't think anybody's ever done what I'm about to do. Manchester was crazy, London was crazy. Everywhere I go, it's a completely different crowd, and I can connect with those people in different ways. So, in a way, every show is my favorite, because every night I go out there and give it what I got.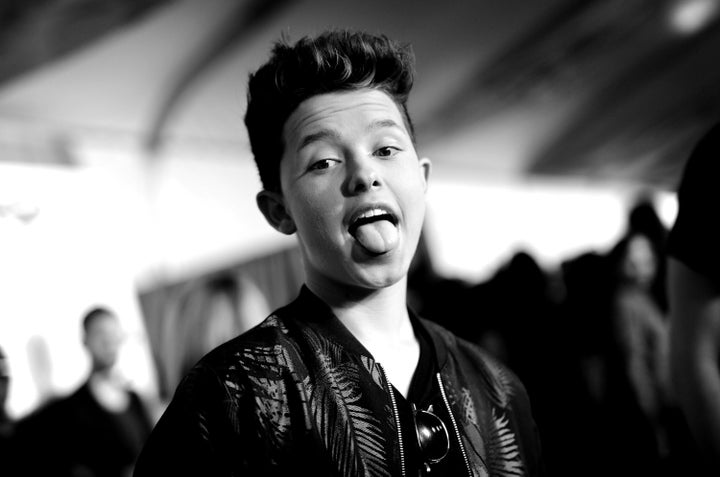 According to Google, you were the ninth most-searched musical artist of 2016. How does that make you feel?
I think I owe it all to my fans. I just try to stay as humble as I can about everything because I know 2017 is going to be pretty crazy. Being the ninth most-searched music artist in the world is really something I take pride in, and I think next year I could be No. 1 if my fans keep going at the rate they're going. I think this is building so fast, it's pretty overwhelming.
How has your life changed since your rise to fame?
There are a lot of upsides to it. I can make an impact on people's lives. It's crazy because you see it from a spectator's perspective and now I'm in the perspective of the actual artist. I grew up watching The Kids' Choice Awards and now I've performed at the Kids' Choice Awards. Little stuff like that just messes with my reality. It's really crazy.
You've experienced your share of bullying. What advice do you have for other kids who deal with haters?
My No. 1 thing that I always say is just try to realize where those people are coming from. I think those people are coming from a state where they are insecure about themselves and unsure about what they want to do, so they try to bring you down to that level. That's what my mom had to tell me, especially as my social media and music stuff started. I would go to school and people wouldn't be a fan of what I do. I think it really got to me at first, but I had to realize a lot of other people go through bullying too. My first Vine ever was actually an anti-bullying Vine. It's hard, but if you just keep your head up and stay positive, you can power through. If you're at that low point, it only goes higher from there.
Since social media played a key role in your career, what is the best app for upcoming singers right now?
Snapchat and Instagram. On Instagram, you can show pictures and little moments of your life. It's a great way to connect with the people who are supporting your music. Twitter is cool, you can respond to tweets. Musical.ly's cool because you can post covers on there, or lip-sync to your own music. Every app is different in some way and great to communicate with people.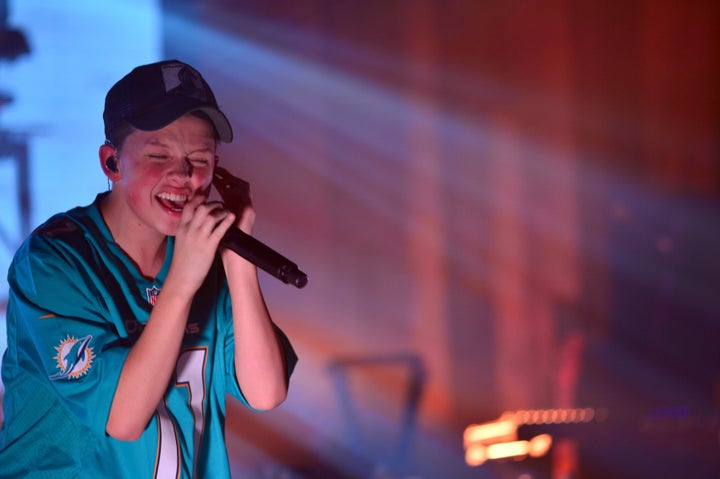 What social media app are you most addicted to?
Twitter.
You sing and you rap. Which is your favorite?
I think both, especially with my upcoming music, we have a little bit of rap and a little bit of singing. I think it's all grown from pop music. It's more pop-rap if I do rap. I love both of them. It's a whole new style of music.
Do you get nervous when you perform?
Not really. I kind of just get the mic and just vibe with it from there. Before I go on, I'm like, "Oh gosh ... what's going on right now?" But once I'm onstage it all goes away.
Who is your favorite social media star? 
Uh … there's this kid I've heard of … his name is Jacob Sartorius. He's pretty cool, I like his Musical.lys.
What's your favorite song to lip-sync to?
There's this song called "Jordans" by Jacob Sartorius … But I think Ed Sheeran's "Shape Of You."
Do you have any pets?
I have two cats at home, and I had a bird but it flew away.
Name one musical artist you would LOVE to see in concert.
Well, I just saw Drake in concert and I think that made my life complete. I think that was one of the best things I've ever seen. He's one of the best performers. I saw Prince when I was 8 years old at Madison Square Garden. I've seen a lot of the people I loved growing up. The next person I would probably see is Ed Sheeran, because I love his new album.
If you could collaborate with any rapper who would it be? 
Desiigner, Migos or Drake. Or Kyle! Probably Kyle. The rap industry is really blowing up, lots of good artists.
What's one thing you're afraid of? 
Swimming in the ocean with sharks under me.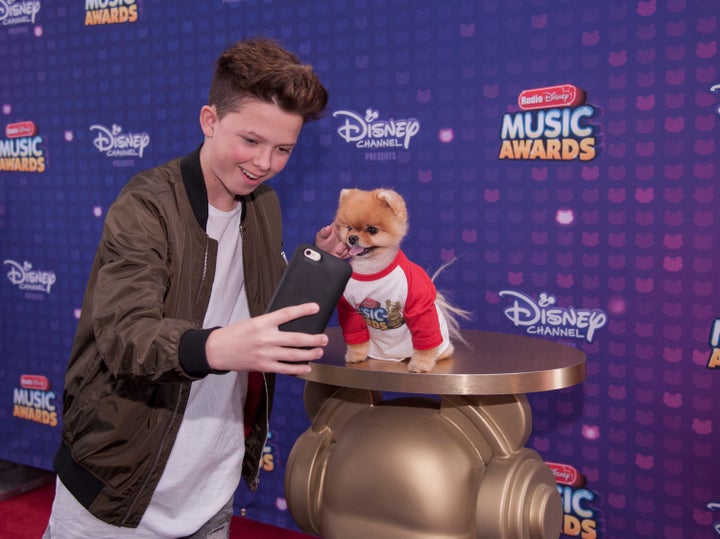 What's your favorite food of all time?
Hamburger sliders. Or mac and cheese.
Who is your celebrity crush? We saw your tweet that you need a girlfriend, so we might as well publicize this for you! ️
Selena Gomez. 100 percent, no doubt. I think Selena might be perfect for me, but I have to talk to The Weeknd and make sure it's cool with him. 
When you turn 18, will you get a tattoo?
I'll get a lot. I've always wanted to get a Bill Nye the Science Guy tattoo on my back because I grew up watching him in school. I want my tattoos to be quirky and funny. Maybe one of a squirrel. Just random little things.
What's your favorite part about being famous?
Just being able to make a difference.
Who would win in a rap battle: Biggie or Tupac? 
Biggie.
What picture is your phone lock screen right now?
It's the default one that my iPhone came with. I never changed it.
What's your favorite color?
Blue.
What's one movie you'll never get sick of watching?
"The Truman Show."
What's your go-to movie theater snack?
Skittles.
What's your least favorite thing about social media?
Haters.
Where do you see yourself in five years?
Arenas, stadiums. Hopefully. That's the goal. Five years from now I'll be 19 ... what the heck?
Do you have any upcoming projects your fans can look forward to?
I have a lot of singles coming out. It's really cool, I can't give too much away. We're working on it right now.
Calling all HuffPost superfans!
Sign up for membership to become a founding member and help shape HuffPost's next chapter
BEFORE YOU GO