On Tuesday morning, I got dressed. The light on my porch woke me up. Jacob's light, his sign, to come home. Sick to my stomach, I got dressed. Dreading the day, I got dressed. Knowing I would learn, with all of you, what really happened to Jacob Wetterling.
I dressed. I prayed. I went to work. I kept my head down. I learned what happened to him. I prayed again.
I went on the air. I did my best. I gave that newscast every single shred of hope and love I had for Jacob. For his family. And for every single one of you who was hurting. I left everything I had on that newsroom floor.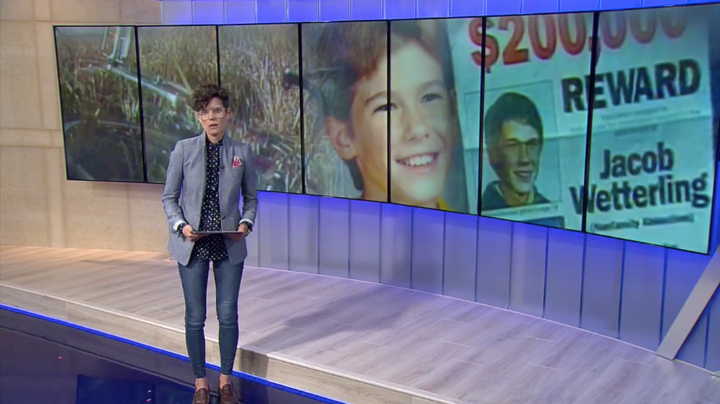 You made it about my pants.
You. You, whose name I will never write again.
You. You with the column I will not link to.
You. The bully with the keyboard who took this night, this story, and made into gossip about my pants.
You suggest this: "I would think that hipness wouldn't be a priority while covering one of the biggest, saddest stories in Minnesota history."
You are at least correct on that.
But have you no dignity, person with the name I won't write?
You wrote about clothes in the darkest moment of Minnesota news history.
You were asked to create joy.
You took the life out of what was meant to be a tribute to a life lost.
I won't let you do that to me.
I'm going to help my neighbor.
I'm going to go turn my porch light on, now.
And remember why I did that show the way I did it.
And I promise you, what I won't remember was the cut of my jeans.
I have spoken with the Star Tribune, and I accept the apology ― I accept it.
But this isn't about me. It is about the blatant disrespect of the Wetterling family and our greater community. It is about the fact that our newspaper of record employs a woman who has for decades cashed a paycheck by bullying others.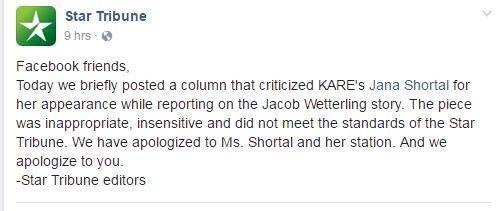 The Star Tribune is sorry. But that woman is not. She continued with this line against me from 11:30 a.m. yesterday until well into the night on her social media feed.
The solution here is to end her column. Give her a "re-assignment" so she can keep her job if you so choose... but take away her bully pulpit. In 2016, there is no longer a place for this.
And this is not for me. I'll be fine. It's for all of us. We are better than this, Minnesota. You are better than this, Star Tribune.
It's time to give that byline space to something that builds joy, not tears it down.
Calling all HuffPost superfans!
Sign up for membership to become a founding member and help shape HuffPost's next chapter
BEFORE YOU GO