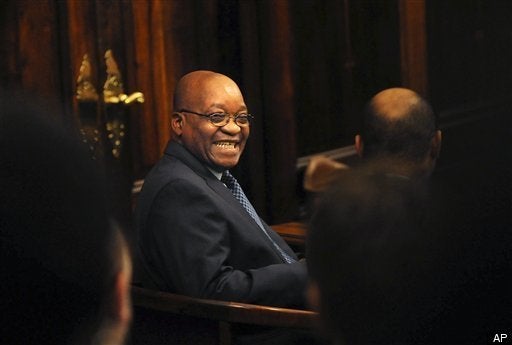 South African President Jacob Zuma has allegedly fathered a child with friend and powerful soccer businessman Irvin Khoza's daughter Sonono Khoza, according to a report in South Africa's Sunday Times.
The paper reports that the child was born on October 8 of last year, and is registered under the name Thandekile Matina Zuma. The child brings the number of offspring known to be fathered by Zuma to 20.
The claim was not denied by Zuma's office, the Guardian notes. The news report led to Zuma being criticized for undermining the fight against Aids by having unprotected sex with someone other than one of his three wives.
Zuma is well known as a Zulu traditionalist and a supporter of polygamy. The child was born three months before Zuma married for the fifth time. Miss Khoza, a 39-year-old divorcee, is the seventh woman with whom Zuma has fathered a child.
According to the Daily Telegraph, Zuma had been criticized for his polygamy just last week at the World Economic Forum in Davos, prompting him to hit back at the accusations that the practice was insulting to women:
"People interpret cultures in different ways," he said. "Some think that their culture is superior to others, that's a problem we have in the world."

In South Africa, he went on, "we follow a policy that says you must respect the cultures of others. That's my culture. It does not take anything from me, from my political beliefs and everything, including the belief on the equality of women".
However, his latest child has brought more attention to his sex life, with some even comparing him to Tiger Woods, and requesting he be treated for sex addiction.
"Zuma's behavior directly contradicts the government's campaign against multiple sexual partners and the inherent AIDS risk in having unprotected sex," Helen Zille, the leader of the Democratic Alliance, said in a widely reported e-mail statement. "There are some people who may argue that Jacob Zuma's sex life is a matter of private morality or culture, but this is not so. His personal behavior has profound public consequences."
Zuma had been tried and acquitted in 2006 for raping an HIV positive family friend half his age. He argued that the women had consented and that he had taken a shower to minimize his risk of infection. After the trial he admitted, "I erred in having unprotected sex. I should have known better."
To make matters worse, Irvin Khoza, known as the "Iron Duke", is head of the upcoming World Cup local organizing committee. The World Cup is one of the largest sporting events in the world and has been expected to provide a much needed economic boost to the country. Khoza is reported to feel betrayed by a man who he thought was a friend.
Calling all HuffPost superfans!
Sign up for membership to become a founding member and help shape HuffPost's next chapter