Jacob Zuma, current president of the African National Congress and the leading candidate in South Africa's presidential election Wednesday, is quite the character. Despite constantly being caught up in political and personal drama, he is poised to become South Africa's next president. Still, as the first Zulu to lead the ANC and potentially South Africa, many South Africans are voting for change, according to the Associated Press.
Here is a list of the top 5 most interesting things you didn't know about Jacob Zuma.
1) SOVIET UNION TRAINING According to a short autobiography Zuma wrote when he was part of the South African Communist Party, he received military training in the Soviet Union before joining the African National Congress' feared Department of Intelligence as the Head of Intelligence. He also wrote that he was incorporated into the Communist Party. The biography is posted here on Politicsweb.
2) CHILDHOOD AND EDUCATIONThe Sunday Times authored a three-part series on Zuma's life and rise to power, in which it reported about Zuma's dysfunctional family.
Jacob's middle name, Gedleyihlekisa, encapsulates the household tensions -- the name, given to him by his father, is a shortened form of the Zulu sentence "ngeke ngithule umuntu engigedla engihlekisa" ( I won't keep quiet when someone deceives me with a beautiful smile while he is doing damage to me) -- a name pregnant with meaning, if there ever was one.
When Zuma was five years old, his father died and his mother was left on her own. As a result, Zuma was never educated because he was forced to help support his mother (the second wife of his father) instead of going to school. He taught himself how to read and write Zulu in the bushes while the other children went to school. Nevertheless, he speaks French, Russian, Xhoso, Zulu, Portuguese and Swahili fluently, according to the same biography.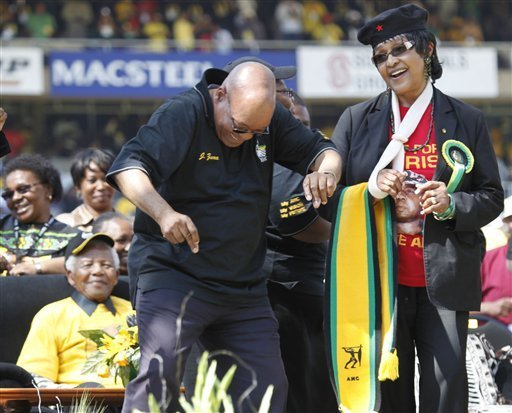 3) CHARGES Zuma has had more than 750 corruption charges against him, according to a PBS Wide Angle interview with Azad Essa, political blogger for the South African newspaper The Mail and Guardian.
The most significant issue was this arms deal with a French company, a multi-million dollar arms deal, and Zuma was accused of accepting bribes, et cetera, et cetera. He was charged and as a result was pushed to resign; he lost his job as deputy president. The issue has dragged on from that time, since 2005, and has been dropped and recharged and dropped, but now it's been dropped completely because there's enough evidence to suggest that the entire accusation against him was motivated politically. It's very interesting that that happened last week, one week before the elections.
4) ROBBEN ISLAND Zuma served a 10-year sentence on Robben Island with the likes of Nelson Mandela and Govan Mbeki; he was arrested in the Transvaal for attempting to leave the country, reported Politicsweb. The Sunday Times series added that Mbeki taught him how to use a gun and both had a huge impact on his involvement in political activism after his release.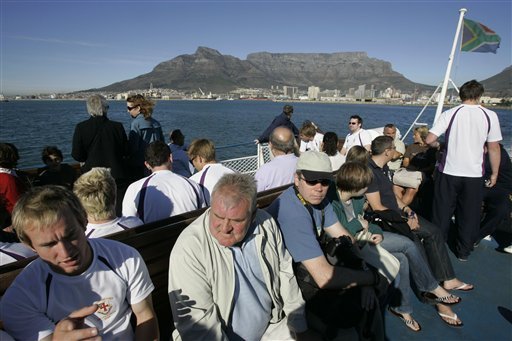 5) WIVES Zuma is a self-proclaimed polygamist and has been married at least four times and has at least 18 children,according to Wikipedia. Multiple sources disagree over how many wives Zuma has had (though the range is between three and five). One of his wives committed suicide in 2000. (See Zuma at one of his wedding ceremonies below.)
From the Sunday Times article, describing his first marriage after his release from prison:
He was unemployed, but wanted to marry his childhood sweetheart, Sizakele Gertrude Khumalo. The wedding was finally financed, to a large extent, by one Mrs DM Wall of the West Midlands in England. She was linked to the International Defence and Aid Fund that helped sustain political activists who, upon their release from prison, often found themselves unemployable.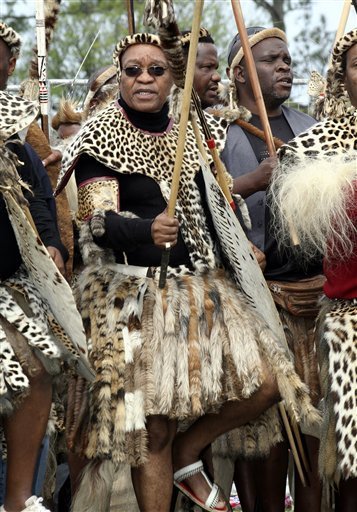 Below is a smattering of Zuma's statements on a variety of controversial issues: On gay marriage:
South Africa's gays would also be disturbed by a president who describes same sex marriages as "a disgrace to the nation and to God,"adding: "When I was growing up, an ungqingili (a rude Zulu word for homosexual) would not have stood in front of me. I would have knocked him out." - Times Online (UK)
Our dear president-in-waiting has been saying that teenage mothers "must be taken to colleges and forced to get an education so that they can be in a position to look after themselves." And, he says, a child who does not go to school "must be taught by force until [he or she] gets a degree. We then return him to his parents as a person who has been developed." - The Times (South Africa)
"God expects us to rule this country because we are the only organisation which was blessed by pastors when it was formed. It is even blessed in Heaven. That is why we will rule until Jesus comes back. We should not allow anyone to govern our city when we are ruling the country."

"Those that stand in opposition to me or my party are evil and must be opposed; for they stand not only in opposition to us but in opposition to God, who has appointed and blessed us as his representatives here on earth. Thus, my party will remain in power forever and it will not subscribe to the will of mortal men, because it rules by divine right and, therefore, until the end of time and at God's grace. Nevertheless, those who would oppose me or my party cannot be allowed to govern, irrespective of the broader democratic will, and we must stand together to prevent this from happening." - Politicsweb
According to AllAfrica.com, the South African elections are expected to have the highest turnout of the four election cycles since apartheid ended in 1994 with the election of Nelson Mandela as president. Twenty-three million people are currently on the voter roll sheet, and this is the first year that expatriates are also allowed to vote.
South Africa uses a proportional representation voting system that is based on political party lists at national and provincial levels. Voters do not vote for individuals, but for a political party which decides on members to fill the seats it has won.

This means that a registered political party receives a share of seats in Parliament in direct proportion to the number of votes cast for it in the election.
Officials say the election is a chance for South Africa to show that it is a stable democracy capable of holding free and fair elections for the highest leadership of the country. Keep up with HuffPost World on Facebook and Twitter!
Calling all HuffPost superfans!
Sign up for membership to become a founding member and help shape HuffPost's next chapter