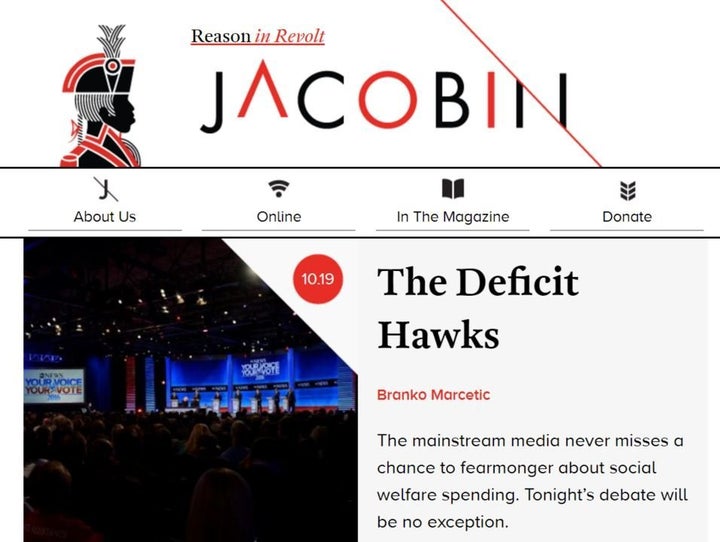 Editorial staff at the online and print socialist magazine Jacobin unionized, the workers announced Wednesday morning.
All seven of Jacobin's full-time and part-time workers signed cards electing the News Guild, which represents journalists at The New York Times and other news outlets, as its agent for collective bargaining with management. The magazine's management recognized the union immediately.
Unlike workers at many other relatively new publications, Jacobin staff did not mention any workplace issues in the announcement that they had unionized, framing it instead as a natural extension of their socialist beliefs.
"This past year Jacobin's ideas have reached more people than ever before," said Elizabeth Mahony, an assistant editor at Jacobin, in a statement. "It's important for people to see that those ideas are reflected in our everyday practices at the magazine, and that we're in solidarity with a wider labor movement that is increasingly made up of unconventional workplaces."
Jacobin is a small publication, publishing a quarterly print magazine and regular online content, so the unionization is not likely to have a significant impact on the media industry as a whole. A press release from the workers who organized the union said it gets 1 million readers a month online and has a print circulation of 20,000.
The presidential campaign of Sen. Bernie Sanders (I-Vt.), a self-described democratic socialist, has helped Jacobin attract new readers, according to Micah Uetricht, an associate editor who is co-chair of the union organizing committee.
"Our Bernie coverage did extremely well," Uetricht said. "He helped detoxify the word 'socialist.'"
Jacobin launched in 2010, but the socialist magazine has only unionized now because it only recently started employing and paying a significant number of people, according to Uetricht.
Before that, putting in the work necessary to publish the Jacobin "was just a labor of love," he said.
The union drive at Jacobin is the latest in a series of organizing campaigns at digital media outlets in the past two years including at Salon, Vice, ThinkProgress, The Huffington Post and the collection of websites once known as Gawker Media, now owned by Univision. The trend attests to the growth of internet-based journalism in recent years and the desire of a maturing workforce for some of the protections enjoyed by colleagues at legacy media publications.
This article has been updated to include comment from Uetricht.
Popular in the Community