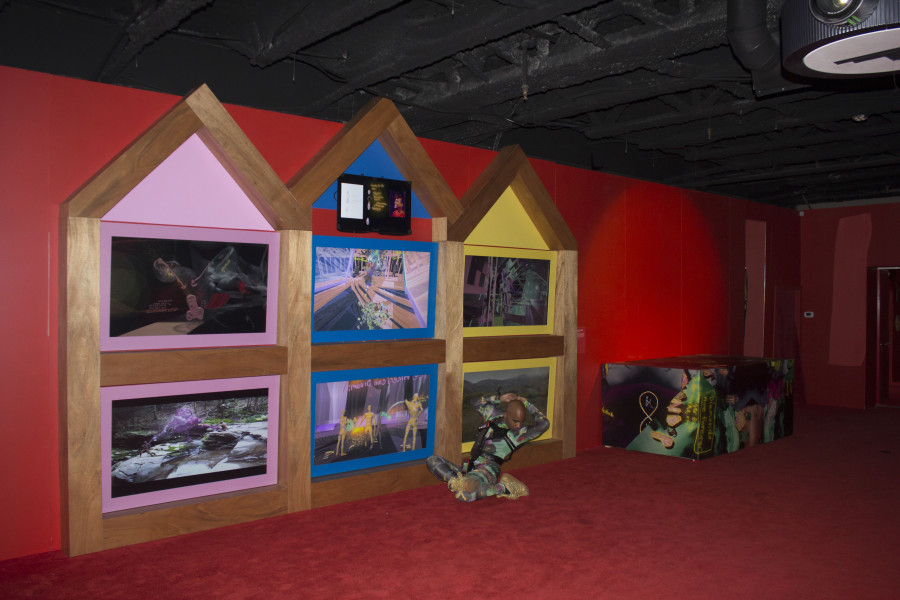 Satterwhite's virtual landscapes stem from his childhood, growing up in Columbia, South Carolina with his mother Patricia, who has been diagnosed with schizophrenia. After quitting her job, Patricia spent hours on end glued to the Home Shopping Network, creating drawing upon drawing of consumer objects with the hopes of one day becoming a famous inventor.
The hypothetical objects, despite being rooted in necessity rather than aesthetic appreciation, come off as radically surreal, especially when combined with the brusque instructions she imagined to guide each product. One image, entitled, "Pussy Power," is accompanied by directions for properly eliminating female odor. "For Pussy Power, pour bubble bath into the bathtub into the water and soak for a while to turn the smell of pussy off," Ms. Satterwhite instructs.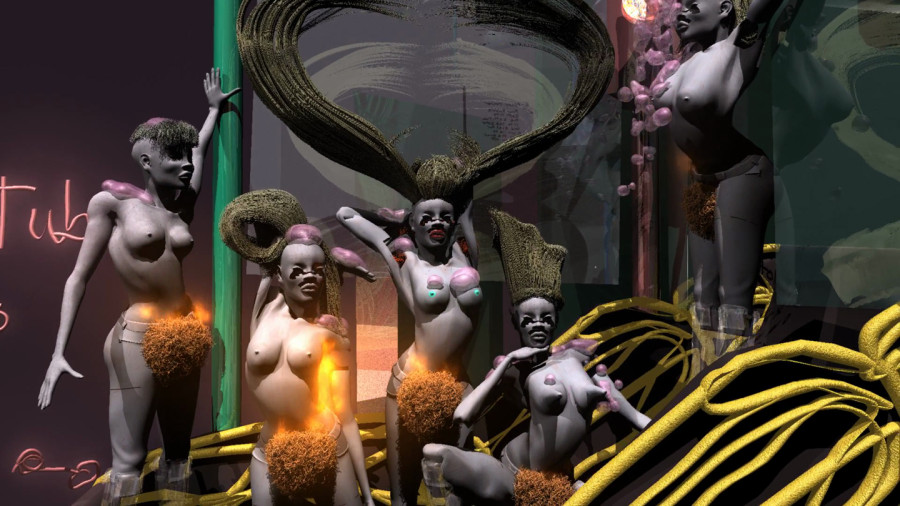 Jacolby uses his mother's inventive doodles as springboards for his own moving digital landscapes, infusing them with the spirits of dada, fluxus, modern dance, voguing, gaming culture and the endless mutability spawned by social networks and virtual realities. Transforming Patricia's drawings into undulating, four-dimensional visions, Jacolby layers images, remixing the designs with art historical relics, queer desire, and the sharp angles of the body in motion.
Jacolby himself dances through the works like a DJ-slash-action-figure, serving as the thread connecting his family memories and digital dreams. With the same erratic sensation of scrolling through a stranger's Facebook photos, viewers enter Jacolby's reality and fantasy at once, engaging with his autobiographical imagining of himself. Satterwhite scrambles interior and exterior, body and object, insider art and outsider art, all using the possibilities of his own form.
We reached out to Satterwhite to learn more about his work.
What is your mother's reaction to seeing her work included in yours?
I went home for Christmas and shared some works in progress. I often remind her that I am tracing her drawings to construct digital performance arenas, but she seems more interested in the gadgets I brought home, the consumer products I use to make the work. She watches the Home Shopping Network a lot because she's interested in the evolution of consumer objects. When she watched my videos she enthusiastically exclaimed "You and I should work together sometime, you seem like you have some good ideas!" That is a testament to how prolific she is. She makes thousands of drawings, so it's hard to keep track of the small selection that influence me. This makes it difficult to process our collaboration. But she's very happy to be involved in my life and I'm very happy to have her in my life. South Carolina is so far away from the New York art world. I think it's difficult for my family to understand my artistic endeavors. My mother is in a group show at The Studio Museum in Harlem with great artists like David Hammons and Kara Walker. I told her about her inclusion in the show and she's responds "Oh, that's nice, does that mean I'm getting out there?" so she's not really aware of the magnitude or scale of her audience. But she still makes her drawings! It's such a form of pure expression for her, and she doesn't care if her art objects have an audience.
How long has she been making them?

Since I was a kid, maybe since I was five years old. Watching her draw influenced me to start making art. My mother told me I had to learn how to draw If I wanted to help her out. I learned to copy video game characters to show her my understanding of line and color. Eventually I evolved into my own creative expression and visual concerns.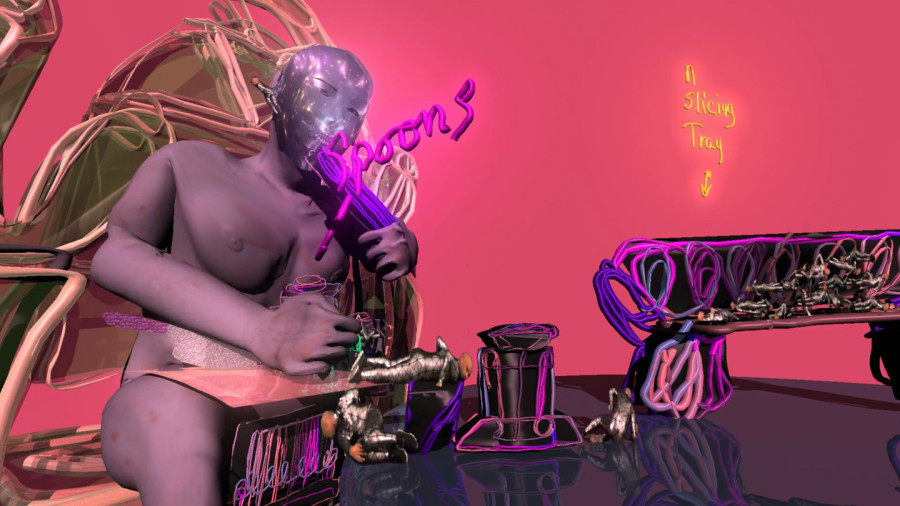 What's the art scene like in South Carolina? What were your first exposures to the art world?

I used to go to the Columbia Art Museum a lot. My high school teacher Janis Johnson would stay at school until 7pm or 8pm to help me with my projects because she really believed in me. She helped me apply to Governor's School, a boarding school [for artistically talented students] five hours away from home. Classes lasted from 8am until 9pm. I think the pre-professional rigorous training really shaped my commitment and dedication. I went on a psychologically intense journey there, but I realized if I can put up with this, I definitely want to do it for the rest of my life. South Carolina was basically a boot camp. You know, Jasper Johns is from South Columbia. It makes peculiar people.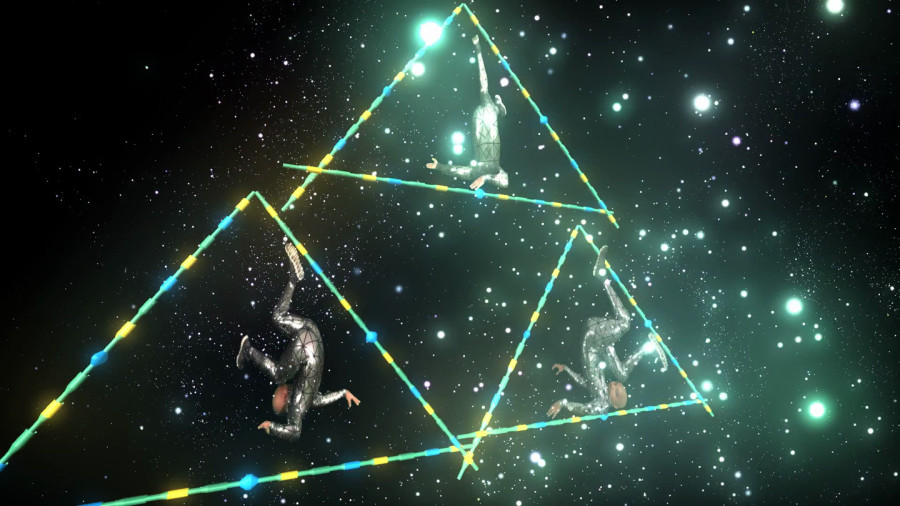 When did you make the switch from painting to CGI and what compelled you about the digital realm? What, if anything, did you find unsatisfying about painting?

I find painting very satisfying, but the history of painting was getting in the way of my own voice as an artist. As a painter, I felt obligated to establish a weird binary between my history and art history. My own autobiography is more valuable than trying to pay homage to western painting's narrative. Naturally, I thought if I want to leave painting to establish my own personal mythology, my body needs to be involved. I spent a summer with a cheap point and shoot digital camera experimenting with live performance in public places. They were stripped away from CGI and animation.
Patricia's drawings are about assisting the performance of the body and the space that body inhabits.. But my performances and the drawings were separate. I wasn't planning on using them in my work. As my performance language expanded, I felt like the drawings could act as scores, the kind found in Fluxus or Dada documents. I wanted her objects to pivot how my body moved for the camera.
I tried to use the drawings to choreograph live performances but that wasn't enough. I had an itch to construct and mediate live images, so I decided to teach myself how to use CGI technologies. I started experimenting with animating on top of performance footage. Eventually, through a lot of failure, I discovered sculpting and tracing processes that would allow me to use my mother's drawings. I realized I could create these massive virtual landscapes where the text, language and objects could pivot what I do narratively, performatively and visually. And I could explore composition, lines, angles, textures, my body, and movement.
I found myself creatively traveling full circle, using the same principles I was interested in as a painter.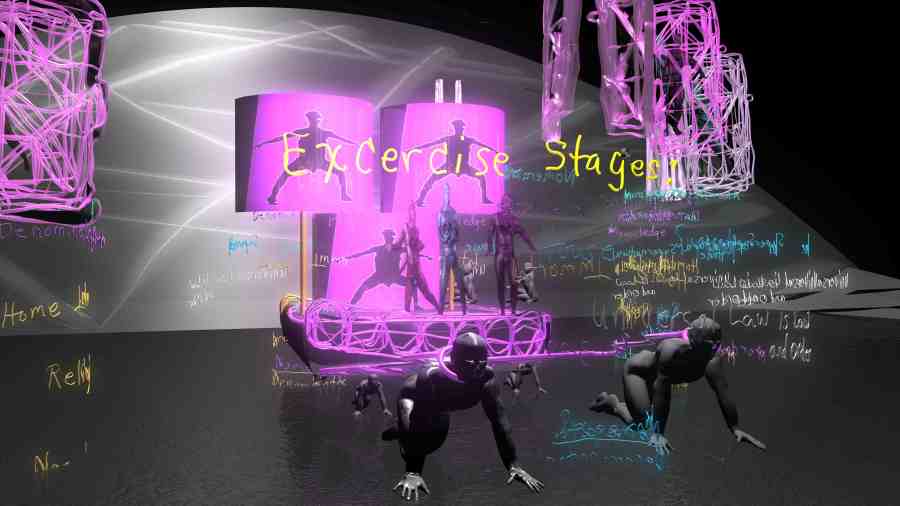 Gaming is obviously an influence in your pieces and that seems like a particularly normative, macho world to broach. Are you toying with those connotations in your pieces?

I'm not sure if it's normative or macho. Gaming can be an escapist zone for people who feel non normative. I think gaming culture exploits the expression of the body, landscape and culture. I've always been humored by the African American character Barret from Final Fantasy VII and his blackxploitation persona. In the Role Playing Game he has guns for arms and uses profanity in every sentence. Growing up I had a very queer gaze on gaming. I would only select the female characters, and preferred to go on an adventure inside a female vessel, like Tomb Raider's Lara Croft, Street Fighter's Chun-Li or Mortal Kombat's character Kitana.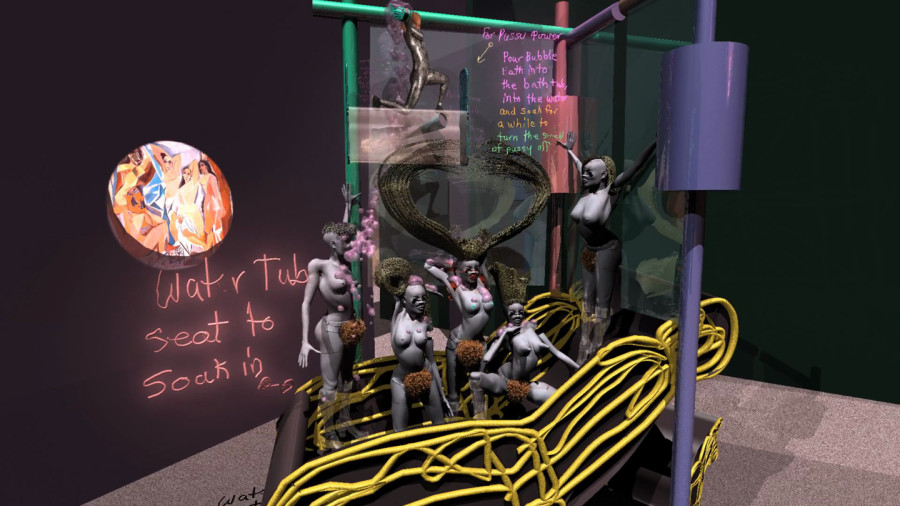 What led you to incorporate Pablo Picasso's "Demoiselles D'Avignon" in your work? I sort of imagine your piece is to Picasso as voguing is to high fashion. Would you agree?

Before I address Les Demoiselle D'avignon, I want to address modern dance and voguing. Voguing is a dance expression with a phenomenology sensibility. Its a movement style that has a direct relationship to objects, consumerism, class and luxury. It also has the strongest relationship to drawing. The movement style assists me in strong image construction. Referencing modern dance and voguing echoes the lyrical angles, positive and negative space relationships found in my mothers drawings. For me voguing lends itself to image making. Not only am I describing the object my mother drew using my body. I'm also using my body to create much more interesting shapes.
I've always been obsessed with Les Demoiselle D'avignon. Public images assist me in creating a spine for the selection of drawings scoring my 3D animations. Les Demoiselles D'Avignon" intrigues me because its an image of prostitutes getting ready for their daily ritual. I'm interested in what happened outside of that ritual, and what happens next. My curiosity led me to push the painting from 2D plane into a 4D sphere. I asked myself "What objects would these women use?" I decided to find 30 drawings of toiletries and female products like robotic tampons and genital lipsticks. I like to slip between public and private in these videos; it's very loose in that way.
The slippage between public and private reminds me of how close you place family memories and sexual desire in your works. You don't see those themes jammed together very often.
Families are made from sex! That's what I'm here for.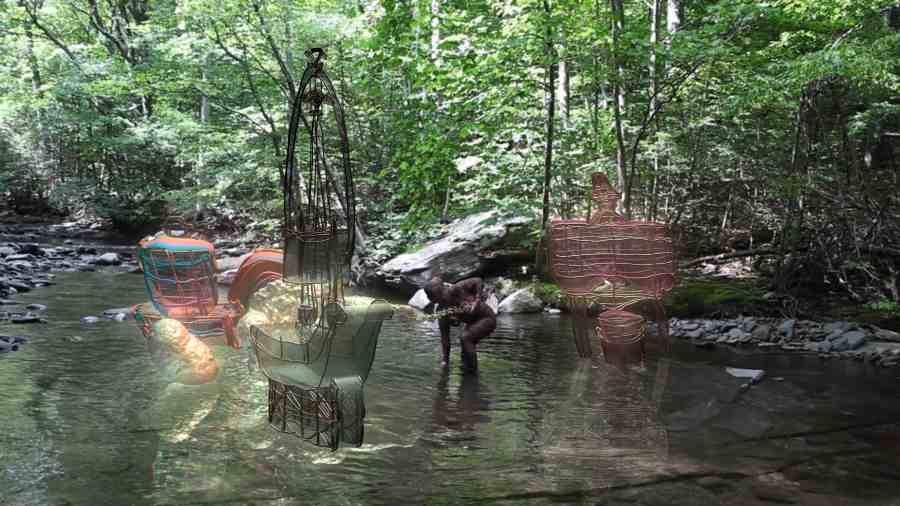 Tell me about your piece at Sundance.

At Sundance I installed Reifying Desire 1-6 and the Matriarch's Rhapsody all together in one structure that imitates "The Stefaneschi Triptych (recto) By Giotto di Bondone, 1330" The framing strategy feels appropriate because my body of work is heavily influenced by biblical narratives and allegories illustrated in the Renaissance.
The videos often document surrealist gestation cycles. I think this is a subconscious testament towards my journey from using private archives to using public archives as a creative source. Reifying Desire started out as a very private performance practice. I used my body, my mothers drawings, digital media, family photographs and my subjectivity as a limited palette to create each chapter. As the chapters advanced towards the final iteration, I began to outsource from more public arenas like city space, other performers, google etc. When building the live performance archive, New York City was a major site of influence. I filmed myself performing for six hours in Lower Manhattan's subway stations, chinatown, the financial district and the Brooklyn Bridge.
When soliciting performances from the general public, I invited the performer into my studio at Recess Activities in Soho. I'd give the performer one of my mother's drawings and ask them to react to her hybrid objects. I've asked the performers to "react as if you're using this hammer," or "I want you to react as if you're using this tampon." Developing a databank of outsourced movement expands the possibilities for my work. My body has a limited vocabulary.
In the final video, all of the performers make an appearance as a result of gestation. I don't want to reveal too much, but it will premiere fully at the Whitney Biennial in March.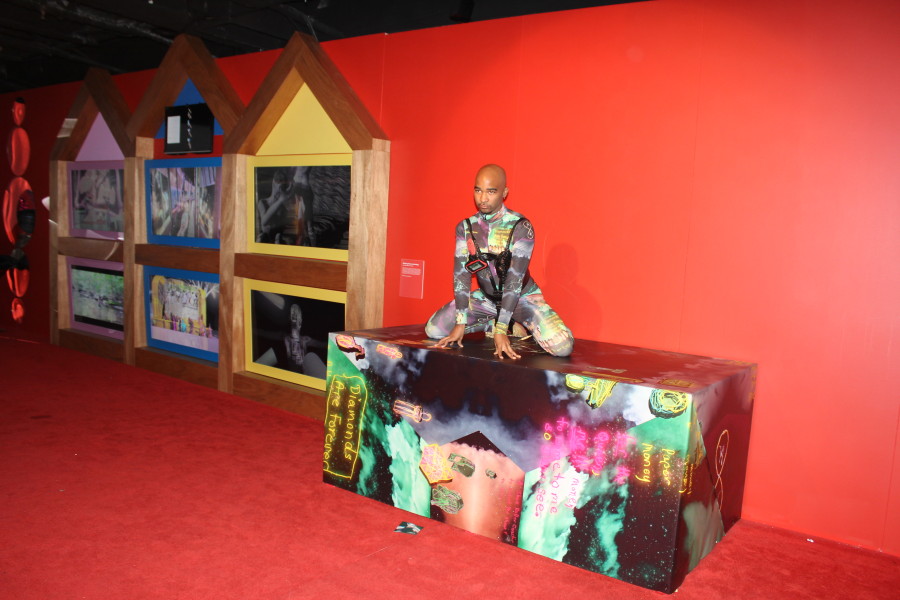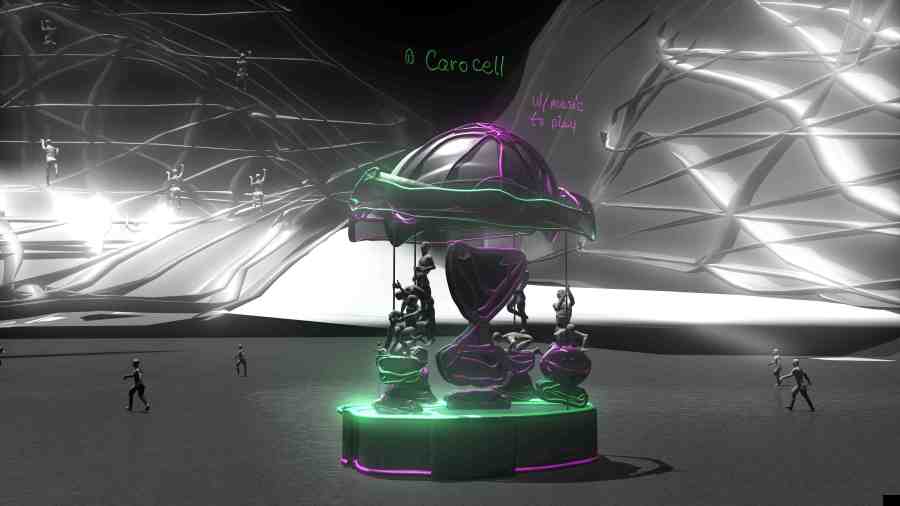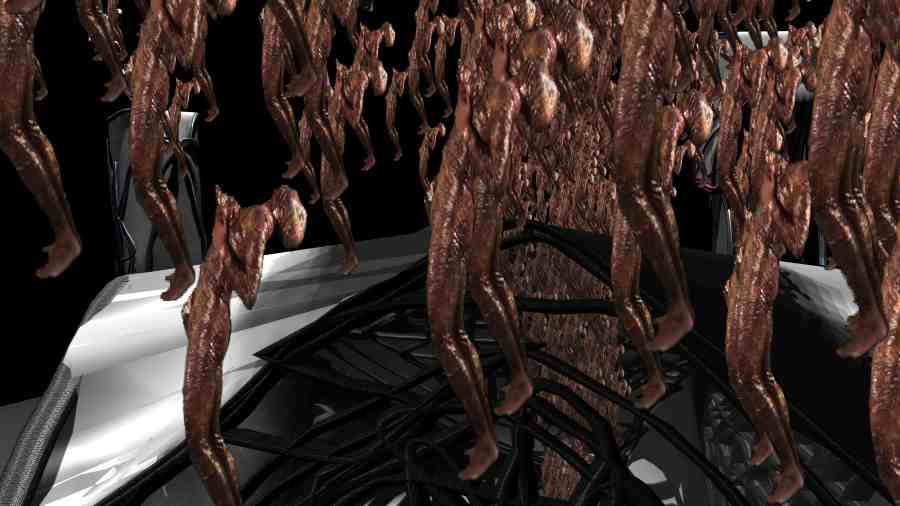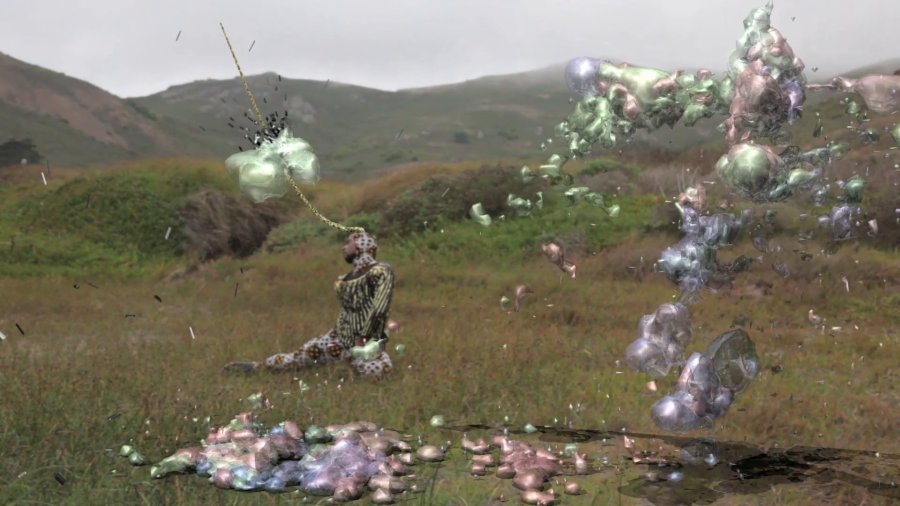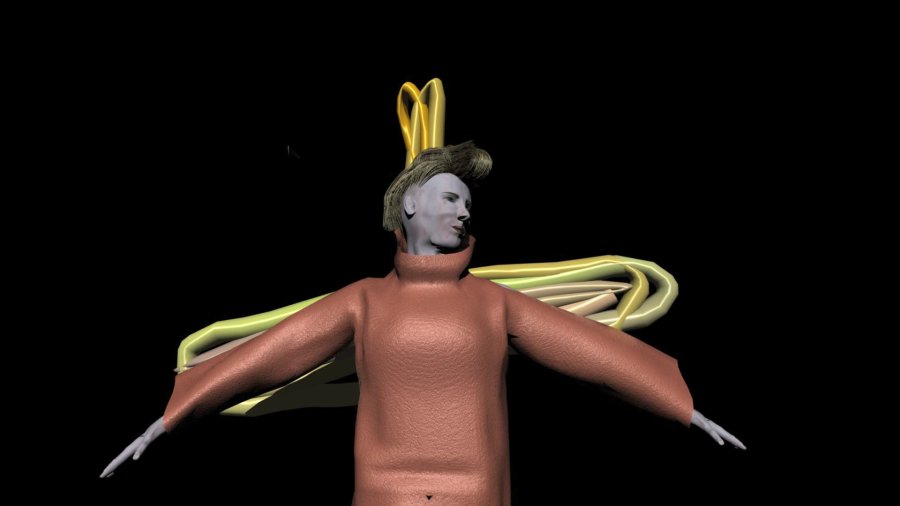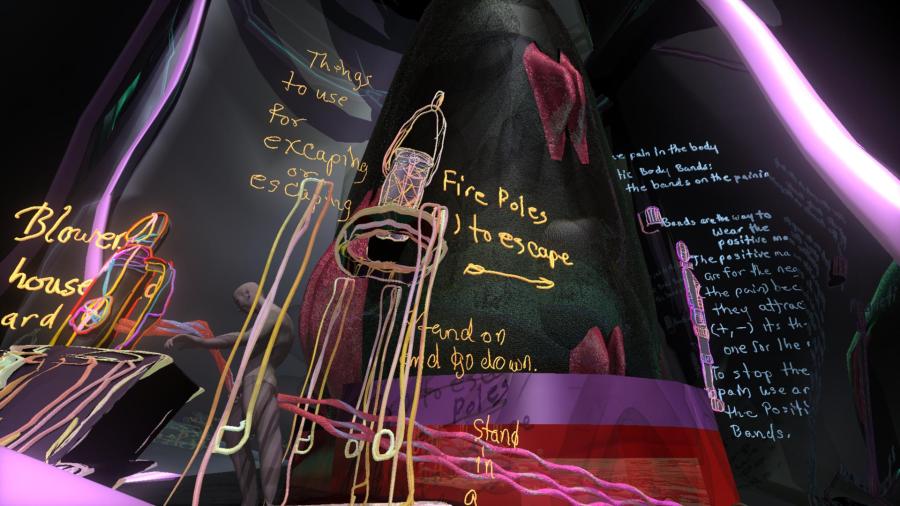 Calling all HuffPost superfans!
Sign up for membership to become a founding member and help shape HuffPost's next chapter
BEFORE YOU GO
PHOTO GALLERY
30 Black Artists Under 40