Director/writer Boaz Yakin's new film, Death in Love, stars actress, Jacqueline Bisset -- looking much younger than 64 -- Josh Lucas, 38, and Lukas Haas, 32, who play her extremely troubled sons. Much of the film is set in New York City in the 1990s. Yakin, a native New Yorker, shot the film in 25 days and financed it himself.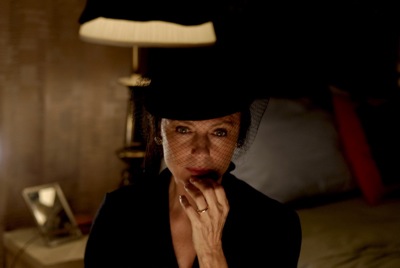 Jacqueline Bisset playing far against type, yet still looking luminous,
as the monstrous matriarch in Death in Love.
There have been musings about the film ever since it debuted at the Sundance Film Festival in January 2008. Duane Byrge, writing for The Hollywood Reporter, called Bisset's performance "truly ferocious," while Liz Smith compared it to Julie Christie's tour de force in Away from Her. The film was featured at the Boston Film Festival in September 2008 with Bisset winning the Award as Best Actress and Yakin as Best Director.
Bisset began her career in 1967 in Two for the Road with Audrey Hepburn and Albert Finney and Casino Royale, which featured David Niven, Deborah Kerr, Peter Sellers, and Orson Welles.
Her career has taken different turns over the years. In 1971, she starred in Day for Night directed by Francois Truffaut in which she spoke near-perfect French and received rave reviews. Then in 1977, a photo of Bisset deep sea diving in The Deep emerged and became as ubiquitous as the swimsuit poster featuring her friend, the late actress Farrah Fawcett, and equally difficult for the British actress to live down.
Bisset has worked with classic film directors such as John Huston, George Cukor, Sidney Lumet, Roman Polanski, and Claude Chabrol; starred with Finney two more times in Under the Volcano and Murder on the Orient Express; and acted alongside Hollywood, British, and French acting legends Paul Newman, Steve McQueen, Frank Sinatra, Anthony Quinn, John Gielgud, Ingrid Bergman, Vanessa Redgrave, Lauren Bacall, Isabel Huppert, and Jean-Paul Belmondo among many others.
Bisset has lent her screen gravitas to other independent films including The Sleepy Time Gal (2001) with Martha Plimpton, Nick Stahl, Amy Madigan, and Seymour Cassel, New Year's Day (2001), Swing (2003), Latter Days (2003), and Fascination (2004).
In 2005, she played opposite Kiera Knightley and Mickey Rourke in Domino and received critical acclaim for playing against type as an edgy extortionist, James LeBeau, in the television series Nip/Tuck during its 2006 season.
Besides Death in Love, she stars in The Last Film Festival, currently in post-production with Dennis Hopper. Bisset has just finished shooting a pilot for CBS with Donald Sutherland called The Eastmans in which she plays an ER nurse in a "dysfunctional family" of physicians, which I think I'm correct in assuming pales in comparison to the family in Yakin's film.
Bisset hasn't had such a substantial role since The Sleeping Time Gal, which drew an inspired--but largely ignored--performance because of a very limited, theatrical release.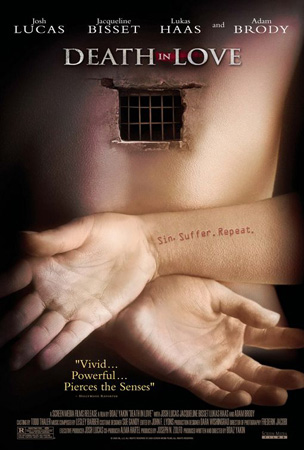 Nightmarish surrealism as suggested by the poster for Boaz Yakin's Death in Love.
Death in Love -- with a tagline on its surreal and haunting theatrical poster typed/tatooed on an arm reading: "Sin. Suffer. Repeat."--unfolds tragically (and often shockingly) through flashbacks of the traumatic events Bisset's character endured (and participated in) as a young girl, which runs the gamut from abandonment by a narcissistic mother and milquetoast father to calling upon her considerable survival instincts in seducing and carrying on a clandestine affair with a brutal, Nazi doctor.

The film's theme--that victims of trauma are doomed to repeat and re-enact their tragedies throughout their lives and pass it down generation after generation--is an important one. It's the crux of very different, but emotionally raw, films in the traditions of Waltz with Bashir, The Night Porter, Sophie's Choice, and others. "Transgenerational trauma," the term used by psychotherapists, affects not only the children, but the grandchildren (and beyond), of trauma survivors and casualties. Yakin takes this phenomenon and the blurry line between pleasure and pain to their psychological limit and sharpest dramatic edge.
He admits in the press notes that the script, "would make me uncomfortable every day that I was writing it" and confided, "much of what happens on screen in an imaginative fantasy... built out of an entirely true emotional reality." He did not shy away from admitting his own battles with depression and his views on the commercial film business, which he feels "can be morally bankrupt and dishonest."
Death in Love might be understood as a (horror) film that is a metaphor for exploitation in love and in work.
It is also laced with the haunting, melancholy of Zach Condon and his band Beirut performing their song "A Sunday Smile" reviving the musical genre of moody, French chanson.
Ultimately, the film, like a nightmare, doesn't always make sense and is far from perfect or consistent but is a deeply personal and very shocking statement by its director. It is also testimony to the bravery of his actors Haas, Lucas, and Bisset.
Death in Love opened in New York City and Los Angeles on July 17.

Calling all HuffPost superfans!
Sign up for membership to become a founding member and help shape HuffPost's next chapter