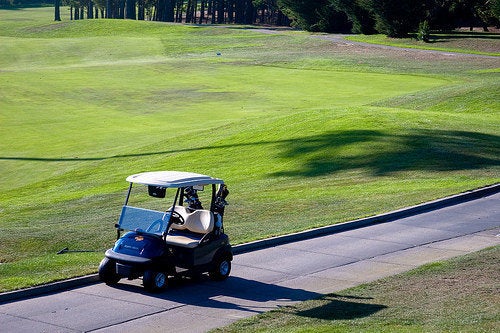 An Indiana woman was arrested Wednesday as she left a drug store with a scarecrow and a bottle of whiskey following reports that she had been driving a golf cart erratically around Chesterton, Ind.
Police responding to a call from a motorist about an intoxicated woman on a golf cart weaving between lanes with no lights on say they found Jacqueline Hamilton, 59, stumbling out of a CVS pharmacy about 7 p.m. Wednesday, the Post Tribune reports. Hamilton was holding a bottle of Canadian Mist whiskey and a large scarecrow, and told police she was buying Halloween decorations for her grandchildren. She said she planned to return home and drink the whiskey by the fire.
Officers noticed the smell of alcohol on Hamilton's breath and a police report said she had difficulty standing up while talking to them, the Chicago Sun-Times reports. When officers told Hamilton she appeared very intoxicated, she said she had only had a few drinks. She later told officers she'd had about 10.
A field sobriety test was not administered because the arresting officer feared she might hurt herself, the Post-Tribune reports.
The Chesterton, Indiana resident was charged with public intoxication and was taken to the Porter County Jail in Valparaiso, the Sun-Times reports. The golf cart was returned to her husband.
Related
Popular in the Community