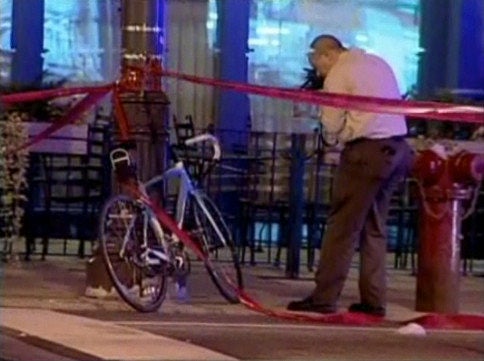 A Chicago fitness instructor and Lollapalooza festival-goer was killed in downtown Chicago Friday evening after she lost balance while riding her bicycle back to her Lakeview home.
Jacqueline Michon, 25, had been riding north around 10:45 p.m. Friday when witnesses say she rode between a dump truck and a car stopped for a red light at the intersection of Wacker and Wabash, the Chicago Sun-Times, reports. She then may have lost her balance and fell under the rear axle of the truck. The driver did not see her before taking off when the light turned green. She was pronounced dead a few hours later.
(Scroll down to watch a video report from NBC Chicago on the incident.)
Police say it was a "tragic accident," according to NBC Chicago. Police were reportedly alerted after a witness had flagged the driver of the truck, who remained on the scene to speak with officers. Police are still investigating the incident, the Chicago Tribune reports.
According to NBC Chicago, Michon had attended Lollapalooza on Friday with several friends who had visited her from California in order to go to the event in Grant Park. A friend who knew her described her as "an amazing person, always willing to help somebody, train somebody." Michon was originally from Novi, Mich., according to the Kalamazoo Gazette, and was a 2007 marketing graduate of Western Michigan University. She was working for Abbott Laboratories Diagnostics Division and with the Kellogg Co., in addition to working as a trainer with I.A.M. Outdoor BootCamp.
On their website, I.A.M. described Michon as "an incredible member of our team" who "will be missed greatly by everyone who had the privilege of connecting with her bright, compassionate, spirit."
Popular in the Community