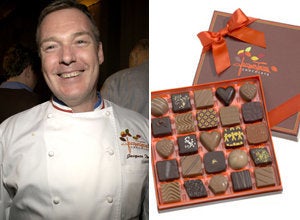 Jacques Torres, the master chocolatier, revealed some plans last night that will no doubt be sweet news to chocoholics, New Yorkers and visitors to this city.
Speaking at the 92nd Street Y in New York, he said he was considering opening "an ice cream place," with seating, this summer next to his original store in the Dumbo neighborhood of Brooklyn.
Torres, whose three New York shops already sell ice cream sandwiches during the summer, said ice cream in the proposed store would incorporate chocolate trimmed from candy during the manufacturing process. "Imagine ice cream with chocolate and passion fruit, raspberry, peanut butter, banana," he said.
Torres also said he was exploring the purchase of an ice cream truck. "How cool will it be to serve ice cream on a truck in New York City in the summer?" he asked.
Discussing other expansion plans, he said he thought New York could accommodate two more Jacques Torres shops, on the Upper East Side and in midtown Manhattan, beyond his current three in Dumbo, on Hudson Street in SoHo, and on Amsterdam Avenue on the Upper West Side. He also said he hoped his newest ventures--Temptations, a shop that opened last month at the Harrah's Resort Atlantic City, serving his chocolate and Illy coffee, and a franchise shop in Traverse City, Mich., opening shortly--would grow further.
Surprisingly, when asked which chocolatiers he respected most, Torres mentioned not only Francois Pralus, a contemporary French chocolate-maker famous for his single-origin bars, but also Forrest Mars.
"If I can go back in time and work with someone, I would love to work with Mr. Mars. I love the character, he was a very interesting man. He created the two first candies in the world today, M & M's and the Snickers Bar, I find that unbelievable," he said.