I met legendary dancer, Jacquie "Tajah" Murdock, while stopping her for a quick photo in downtown Manhattan. It took only a few minutes to learn there would be more to her than meets the eye. At 80 years old she is busier than ever, performing at museums around the city and giving lectures on the history of jazz dance. Just last Monday, Jacquie performed the Lindy hop and the Charleston for a crowd of people at the Museum of The City Of New York, at a show in celebration of the Apollo Dance Theater.
"I thought I'd be an old lady with a cane who keeps on dancing and it looks like this has come true", Jacquie told me as I sat down with my friend, Advanced Style contributor Maayan Zilberman. This statuesque beauty told us about how style and fashion have informed her life and work.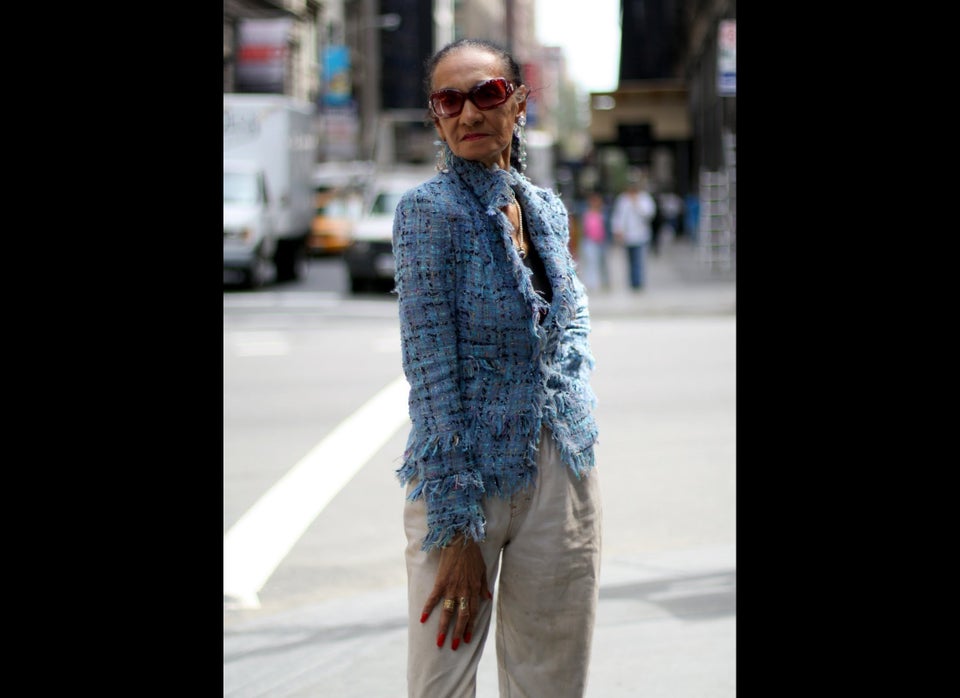 80 Year Old Style Icon and Dance Legend Jaquie
Jacquie, or "Tajah" as she is also called, was one of the original jazz dancers at the Apollo Theater and Savoy Ballroom in Harlem, a part of her life you'd find hard to miss if you visit her apartment in The Village. Her most vivid memories are of these times, dancing with some of the greats and being photographed in gowns made of every fabric, shade, and hemline.
She tells Maayan and me that she has always loved fashion, and describes her personal style as "glamorous," and "just being me." Jacquie believes dressing is a form of art and her style ranges from couture to contemporary street style. Seated in an elegant gown by Carolina Herrera she exclaims, "To me fashion is an art, especially high fashion." Growing up, Jacquie knew that she didn't want to be a secretary like her other friends, she wanted to do something creative. Jacquie has a unique personal style informed by her love of music and dance. She describes herself "the show girl type," loves wearing flowers in her hair like Billie Holiday, and loves her white petticoat, which she once wore as a layer in a dance costume. It now appears as an everyday spring "peasant style" skirt.
Jacquie showed us several of her favorite outfits, a designer suit in coral with gold buttons purchased at local thrift store. She admits she loves expensive things but is not afraid to shop at thrift stores wear she has found many of her beloved designer pieces: "price has nothing do to with it, if I like it than I buy it." Insisting the look is not complete without her Kangol hat to match the coral suit, she says "It's what all the younger women are wearing these days, I see them out in the Village with this kind of hat."
Her smile shone brightest when we sat out on her new balcony and talked about how dressing up makes her feel. She told us dressing up and playing with clothes, color, and accessories can be healing as you age.
Jacquie emphasizes education, it being a big part of staying true to yourself and your style as you mature. We asked Jacquie the secret to staying stylish and young at heart and she responded, "Someone told me that I would even look good in a potato sack, I don't know if that's true, but it's all about how you carry yourself. I love being active and I think that is what keeps you young. Style, it's the way you present yourself. Some women are afraid to tell their age, but I'll tell you that I'm 80 years old."
Related