 Four years since voicing the role of Gloria the Hippo in the sequel to Dreamworks' animated comedy "Madagascar," Jada Pinkett-Smith returns for the series' third installment, titled "Europe's Most Wanted." The film revisits the all-star cast of animated animals -- played by Pinkett-Smith, Ben Stiller, Chris Rock and David Schwimmer -- as they attempt to navigate Europe, in the guise of a traveling circus, in an effort to return home to New York City.
We recently caught up with the multitalented actress, who opened up on her latest role, producing the remake of "Annie," recording music with daughter Willow, and the idea of the Smith family starring together in a film.
In preparing for the voice of Gloria, did you do anything differently [from the previous two films] for "Madagascar 3: Europe's Most Wanted"?
Well it's kind of like putting on an old pair of slippers, like something you know already [Laughs]. It didn't take a lot of prepping. This is our third go-round, so it was pretty much an easy go.
With the film's release just two weeks after the opening weekend of "Men In Black 3," have you and Will discussed the possibility of "Madagascar" topping "Men In Black" at the box office?
Oh no, never. You have to understand what it takes for us to exist as a family. It's like every success belongs to every single family member, because of what we do as a family to help one another and to support one another. So we're never in competition. "Men In Black" did really fantastically well, and that's what the summer's about. There's room for everybody.
As a family, are there any future plans for you all to star in a film?
We actually are. Will and I are trying to figure that out, right now. We're talking about us all starring in a film together. Will and I are definitely planning on working together in the next year. And of course, we're working on the "Annie" project with Willow. But we're just producing that. And then Jaden is finishing up a film with his dad now. But, as always, there's tons of creativity happening in the Smith family household. We're artists to the core.
Where are you all at with the work on "Annie"?
Right now we're still in the "getting the script together" process. It takes a little more time when you take a classic and try to recreate it. It's like what we did with "The Karate Kid." That took a lot of work. When you take a classic, you have to be very, very careful.
With Jay-Z producing the film's soundtrack, can fans expect you and Willow to do a track?
Willow and I definitely talked about doing something, but not for "Annie." My music is like my freedom space. But Willow and I definitely talked about doing a collaboration. She really loves rock music, so she wants to come on and get crazy with me on a track. Which I would love, because she has a fantastic voice. But she has new music that's coming out this summer and she'll be jumping back on tour. So you can expect some new tracks coming from Willow and Jaden. And I think they're doing a tour this summer as well.
Are the forthcoming tracks off of her debut album or just singles?
Just singles. She definitely wants to put an album out, but we're trying to give her space to grow as an artist. Which is another reason why I adore Jay-Z, because he really understands that process. He's so artist friendly, and he has so much love and respect for Willow. And he's doing such a fantastic job being in partnership with us, in regards to her career and really helping her develop as an artist.
Following the series finale of "Hawthorne" last year, can fans expect you to return to television with any projects, such as "Red Table Talks"?
I'll be producing Queen Latifah's daytime talk show, "Latifah," with Shakim [of Flavor Unit] and Overbrook Entertainment. I'm also in talks of creating "Red Table Talks" into a television show and a web situation as well.
For the future episodes of "Red Table Talks," are you planning on featuring other guests?
Yes, there will be other people involved. I think the only other one that I will be featured in is the one that Will and I are talking about doing. I just did a thing on my Facebook page where I asked people to request people that they would like to see on the show, such as Afeni [Shakur], Mary J. Blige, Michelle Obama and her two daughters, and Beyonce with her mother and sister. So we'll see how it goes!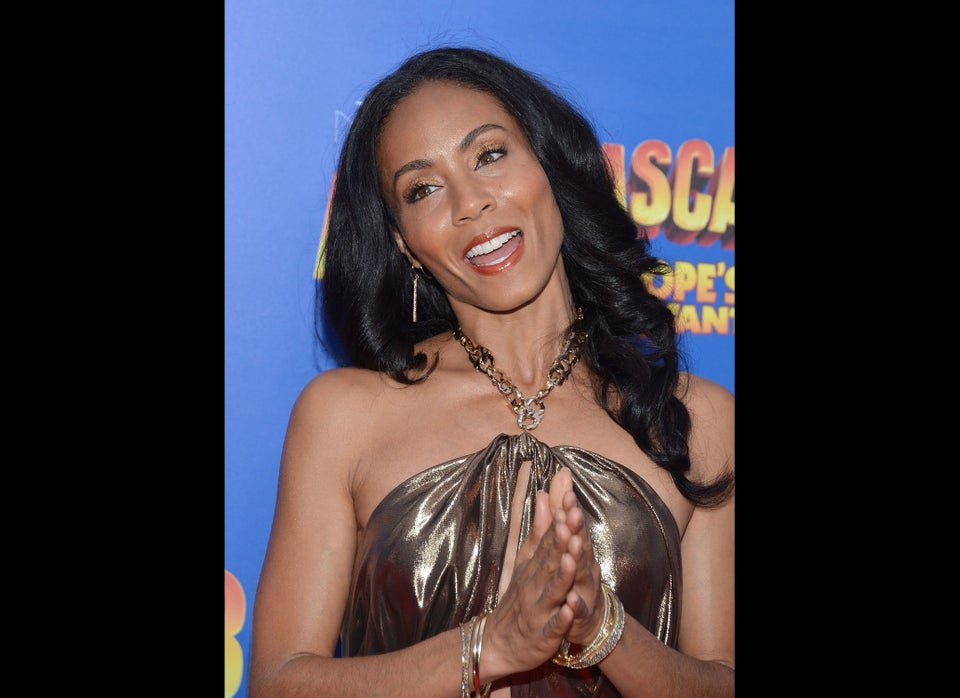 Jada Pinkett-Smith Photos
Popular in the Community