The recent events that have taken place, involving 16-year-old Houston teen Jada, reemphasizes the need for social growth. After being drugged, undressed and raped, while attending a friend's party, Jada dealt with onlookers taunting her with photos, hateful words, and chatter. This reflects what may very well be the most excruciating and detrimental experience of her life.

At 16, the ideal day-to-day life of a teen girl should entail writing papers, studying, often complaining about it and enjoying the company of friends, family and extracurricular activities. You awake one morning and receive phone calls from friends and family concerned about you. Why? They came across nude photos of you that went viral, displaying compromising poses that suggest sexual assault and ultimately rape. Jada quickly becomes a trending topic but this teen chose to boldly fight her persecutors. "Everybody has already seen my face and my body, but that's not what I am and who I am," she said.

The department of Justice estimates 300,000 women and girls are raped each year in America. This is an alarming statistic, which deserves attention and a proactive approach. Every ethical person should work towards its eradication. Rape is not only community based; it is indeed a global problem. It's shocking to think that such barbaric acts occur. Those that commit these dreadful acts, are vile enough to spread the news of their crimes vividly, as if they are the recipients of an award. It NEVER occurred to me that "early adopters;" thoughtless, insecure individuals who re-tweeted or posted the first photos of Jada, could gain followers. Yet, they did.
How did the rape of a young girl become a trending topic? Many of us are appalled that this event occurred and sadly enough it's not the first time. Victims like the late Rehtaeh Parsons, a 17 year old, committed suicide in 2013, after photos of her rape by four male students went viral. Have you heard of Daisy Coleman? At the age of 14, she was raped and left nearly dead in 2012 and watched her alleged rapist, walk free to continue his career as a high school football player. Additionally, lets keep in mind the 16-year-old Steubenville high school student, who was sexually assaulted by two high school football players in 2012. These are a few recent cases; it is virtually impossible to list and detail the plethora of assaults. We must also remain mindful that many women/girls never report these crimes, so the numbers we banter around are woefully low.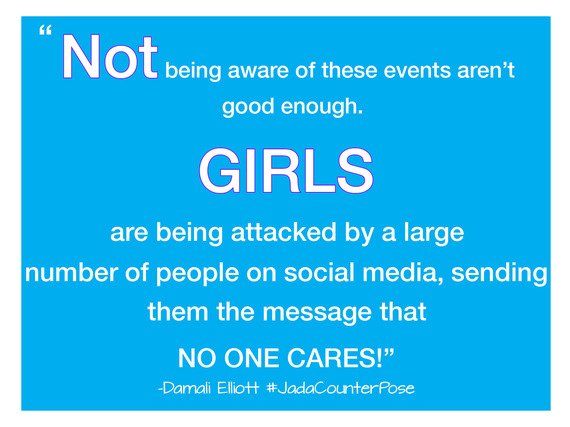 Excuses! Not being aware of these events aren't good enough. Girls are being attacked by a large number of people on social media, sending them the message that NO ONE CARES! When I think of social media, responsibility comes to mind. What is your individual responsibility? The hashtag #JadaCounterPose was created, perhaps by an individual or a group who is just as fed up as I am. The hashtags are followed by supportive messages to the teen, creating a voice for HUMANE individuals, who despise these acts of violence. It's no longer enough to shake your head or have a conversation with friends regarding recent events. Everyone who is against viral bullying of rape victims MUST take responsibility; and tweet, instagram, blog, write letters and use every social media platform, to counteract hateful words that impact helpless teens.
In this age, CHANGE can begin with a tweet!
Damali Elliott -- Petals-N-Belles Founder | Chief Dream Builder