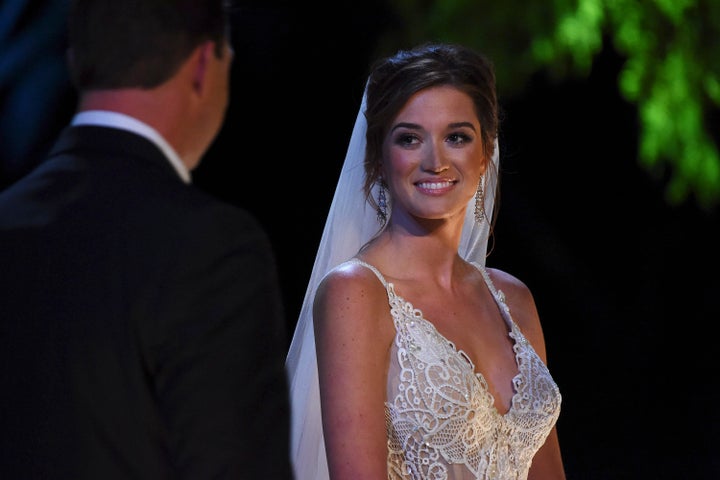 Fans of "The Bachelor" know Jade Roper (now Tolbert) as a "Wild Mustang" who got sent home in tears on Chris Soules' season, only to find true love with Tanner Tolbert on "Bachelor In Paradise." The pair got married in January, and the reality TV wedding aired on ABC on Valentine's Day, to much fanfare and with a performance by Seal.
"When I saw Gaga fill the whole room with emotion as she sang with conviction and urgency, as I saw survivors of sexual assault bravely stand up there showing the world that what happened to them does matter, tears streamed down my face," wrote Roper. It was this powerful moment that pushed Roper to write about her own story. 
Roper's essay describes how she was assaulted after a party in high school by two boys she was friends with. (According to RAINN, 82 percent of sexual assaults are committed by someone the victim knows.)
"I remember one guy holding me down while another got on top of me," she wrote. "When my parents got home, my dad said he found me in my room on the floor in my underwear, mumbling to him I wasn't innocent anymore. I was a virgin."
She goes on to write about the painful emotional fallout that occurred after the assault.
"I convinced myself I must have deserved it. That this bad thing happened to me because of something I had done," she wrote. "That I wasn't worth being loved. That I wasn't worth having sex for the first time with someone who cared about me. All the hurt and the anger I had towards the boys that assaulted me, I took out on myself."
Roper ends her piece by examining the healing process she's undergone over the years, and explaining why she is refusing to stay silent now:
I am not chained to this experience, it doesn't have to control my life. I am unafraid of the feedback anymore. This happened to me and it matters. I matter. And I am worthy of love. The Lady Gaga performance gave me the courage to speak about my story, a story that's been trapped inside me for over 12 years. I hope that sharing my experience will help girls and women know that they are not alone. And that you have to voice things in order for things to change. And always always always: You matter.
In addition to posting on Instagram and her blog, Roper also tweeted her story, along with a heart-wrenching still from Lady Gaga's performance.
Lady Gaga responded in kind:
REAL LIFE. REAL NEWS. REAL VOICES.
Help us tell more of the stories that matter from voices that too often remain unheard.
BEFORE YOU GO
PHOTO GALLERY
40 Powerful Images Of Surviving Sexual Assault