When faced with loss and sadness, a smile can make a difference. Just ask 6-year-old Jaden Hayes.
Jaden lost his father two years ago. Earlier this month, Jaden's mom died in her sleep (Yahoo! reports that the cause of death is still unknown). As family and friends grieved, Jaden told his aunt he was tired of all the "craggy" faces and wanted to make people smile.
And so, "The Smile Experiment" was born.
Armed with beads and toy dinosaurs to hand out, Jaden has collected smiles on the streets of Savannah, Ga. He especially loves to give away little rubber ducks, which he saves for small children.
Thanks to the Internet, the experiment has already started growing. The little boy's cousin Natasha Compton, who gave the experiment its name and documents the mission on Instagram, told The Huffington Post that people as far away as Australia have sent their smiles.
"He started with a goal of 500 smiles and, not including the smiles that have been pouring in on the Internet, last count was just over 300," she said in an email.
Compton credits her cousin's collection of smiles for helping him cope with his loss.
"I do believe that The Smile Experiment is helping Jaden process the loss of his mother, but it is also showing him that even one smile can make a difference," she said. "I am pretty sure that is something he already knew, but just needed to be reminded of."
The boy's heartwarming mission has helped others through the healing process as well, Compton included.
"As far as others go, the experiment is definitely helping my mother and I cope with our loss and through Jaden we are seeing that no matter how bad you are hurting, if you can smile, for whatever reason, it will eventually start to get easier," she said.
Those who want to share their smiles can do so on social media with the hashtag #TheSmileExperiment. Compton shows Jaden the photos so he knows that his mission, just like a smile, can go a long way.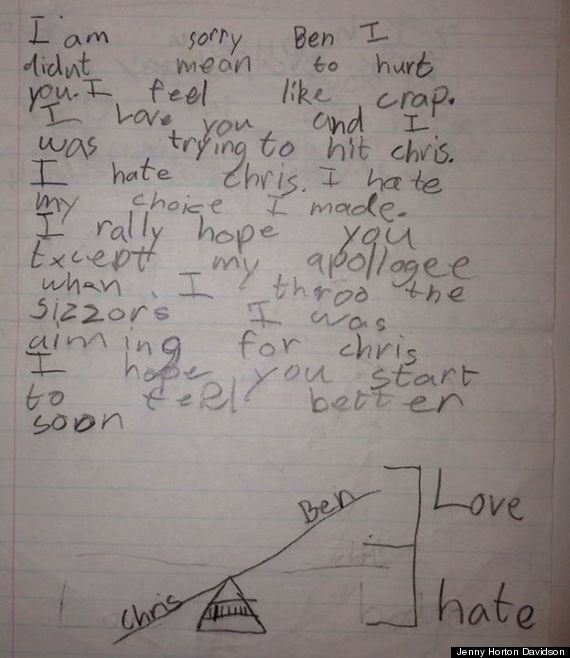 Cute Kid Notes