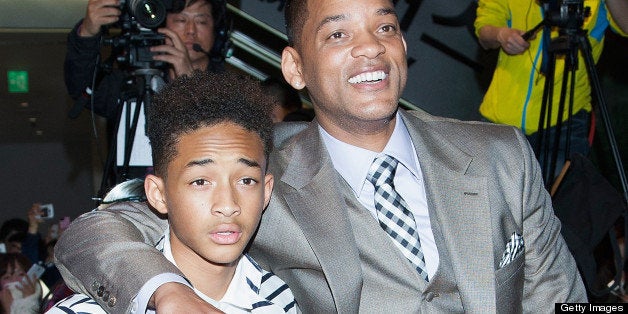 Does Jaden Smith, the precocious 14-year-old son of movie star Will Smith, want to be emancipated from his parents? Not so, said the rising teen star on "The Ellen DeGeneres Show" Wednesday.
The rumors sparked after British rag The Sun printed an alleged interview with Will, who is promoting his and Jaden's new sci-fi flick, "After Earth." After reports spread that the comment was in earnest, Jaden candidly broke down the reasons why he wouldn't be leaving the Smith household -- which he shares with mom Jada Pinkett Smith and sister Willow Smith -- just yet.
"Here's the thing I need to explain. I'm not going anywhere," Jaden said on-air, to laughter. "The thing that people don't get is that everything at his house is free. So I can get anything and everything that I want at his house, so I think Imma be there for 20, 30 more years. But he [Will Smith] says as soon as I have a movie that's bigger than one of his movies, then I have to get my own house."
Of course, Jaden's smooth response about a pesky tabloid rumor should hardly come as a surprise. The teenager has been acting in his dad's movies since the age of 8, when he appeared in 2006's tearjerker, "The Pursuit of Happyness." (He's also had to bear witness to younger sister Willow's instant success with her 2009 single, "Whip My Hair.")
Take a look at him deftly handling DeGeneres in 2010, at age 11:
And again in 2008, at only 10:
Popular in the Community